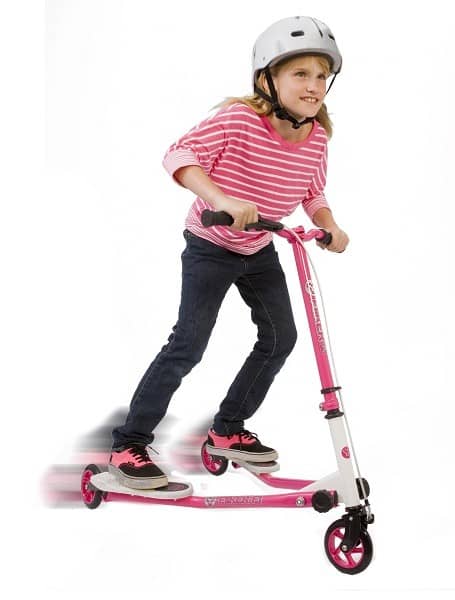 Scooters are all the rage with almost every kid I know. Little kids, big kids, in between kids, husbands (who act like kids?!) and everyone in between seems to be loving scooters and everything about them. I know my kids are no strangers to scooters, and when I was asked if I would share with you all about Yvolution's YFliker scooters, I had to jump at the chance. I have been hearing a LOT about this HOT HOT HOT Holiday toy and wanted to give one of you the chance to have one for your house!
What I like about the three wheeled scooter idea is that you aren't pushing with your foot on the ground- I think this allows more kids with different abilities to be able to successfully use the scooter itself. A hand brake is always a good safety feature in my book!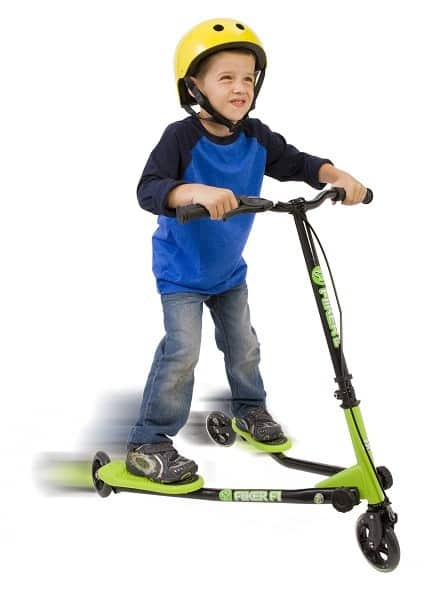 Yvolution presents Y Fliker, a new family of revolutionary three-wheeled scooters that will get kids up and active! Riders simply move their hips from side to side to get going and keep moving using body power for self-propelling fun. (No more kicking the pavement like in the olden days!). Y Fliker's reinforced steel tubing, three-wheeled design and enhanced foot grips make it sturdy, stable, and easy to balance. Its light-weight and sleek design, combined with performance-rated wheels, also allows this free-style scooter to perform smooth carving and drifting actions. The quick response hand brake offers kids increased control and ensures a safe ride. Y Flicker also sports anti-vibration hand grips for extra comfort, and can be stored away easily thanks to its twist & stow folding system. (I would like to have ALL kids' scooters and bikes be like this so we can save some space! There's only so much garage wall space in the world!!)
Y Fliker F1: Ages 5+ (max weight 105 lbs); MSRP: $99.99; Available in pink and green.
Y Fliker F3: Ages 7+ (max weight 220 lbs); MSRP: $129.99; Available in red.
One reader will win their choice of a Y Fliker (you choose size and color)
To enter, visit www.yvolution.com and tell me something you like or learned. Even another color of the Flikers!
Want extra entries?
(Leave a comment for each entry method you do and either leave your username or the URL of your "share")
Visit this post and click one of the traceable links (can be done daily)


*
*
*
*
*Share this giveaway on any social networking site- can be done 1x/day but leave the url of each share in it's own comment!
This giveaway will end on December 17th, 2012 at 11:59pm EST.
A sample was provided in exchange for the post. Opinions are my own.