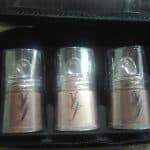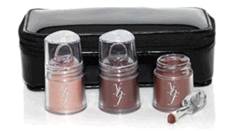 The ybf Delightful Dips Eyeshadow is something I never heard of before recently, and may never live without again. First of all, I LOVE the colors.
This beautiful eye shadow collection puts sheer to full color all over your gorgeous bedroom eyes! It is ideal for all skin tones will accentuate and eye color! 3 extremely wearable and blendable eyeshadows in beautiful hues of can-do chocolate, confident cocoa and carefree chai.
Price: $24.80
What I liked about this trio of colors in the Delightful Dips, aside from the gorgeous shades, is the actual packaging for the shadow. A screw on top (if you have a toddler like me who likes mommy's makeup, you understand why this is a good thing) and the applicator tip is the only thing that touches the shadow itself. For my shaky hands, the container these are in is fabulous-so easy to use and no wrory about spillage (and waste). The shadow goes on quite nicely, and smoothly. Lasts a nice long time. I would love to see some more sets like this one!!
ybf is a socially conscious company, as well. They have supported many charities and local organizations (including some in CT, my home state) which is something that I value.
One of my readers will win the same ybf Delicious Dips Eyeshadow set!



I received a sample of this product to facilitate my review. Opinions are my own.