My heart rate seems to have doubled, and my breathing becomes quick and shallow. There isn't a mirror around, but I'm almost positive my pupils must be dilated much larger than normal. I peer around, just to double check that no one else is around to watch me. I know that they aren't. I checked the house thoroughly, and planned my timing perfectly. All to make sure that I am all-alone. I told myself that I wouldn't do this…but here I am again. Perhaps it would be okay if this didn't happen so often. But it does. And once again I'm finding myself indulging in my guilty pleasure. My secret addiction. Cheesecake. This blog post is part of a paid SocialMoms and The Cheesecake Factory blogging program.



What were you thinking?!?!?
If you can relate to this, than you can feel my pain! If you can't, you've probably never visited the Cheesecake Factory. That's where my guilty pleasure started! Before visiting there, I only knew of two types of cheesecake: strawberry and cherry. Upon entering my first time, however, I was transformed into a world of rich and delicious flavors, plenty of choices, and total loss of self-restraint! It was just that good.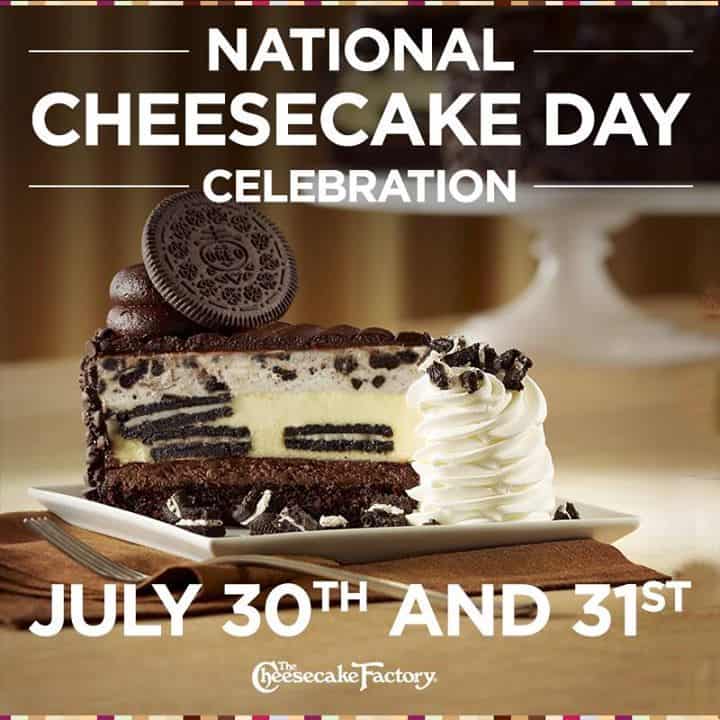 Luckily for me, July is my month.  That's because July 30th is National Cheesecake Day! Honestly. I couldn't even make this up if I wanted to! An entire day devoted solely to honoring the all mighty cheesecake, because it's just that good.  I personally think it deserves more than just one day, and The Cheesecake Factory agreed with me! That's why they decided to extend National Cheesecake Factory for an entire additional day!
Here are the details:
 National Cheesecake Day Celebration at Cheesecake Factory
When: July 30th – 31st
Where: The Cheesecake Factory locations Nationwide
What: Experience 30 flavors of cheesecake at HALF PRICE when you dine in
If you think an entire two days dedicated to cheesecake is silly, I challenge you to pop in to The Cheesecake Factory on one of the dates above, and THEN tell me the same. There's something to fit everyone's palate, and you won't be disappointed, I promise.
But WAIT….There's More!!!!
As if this awesome celebration isn't enough, The Cheesecake Factory is uping the stakes on National Cheesecake Day even more with an AWESOME contest with phenomenal prizes!
 Check out the #SayCheesecakeContest !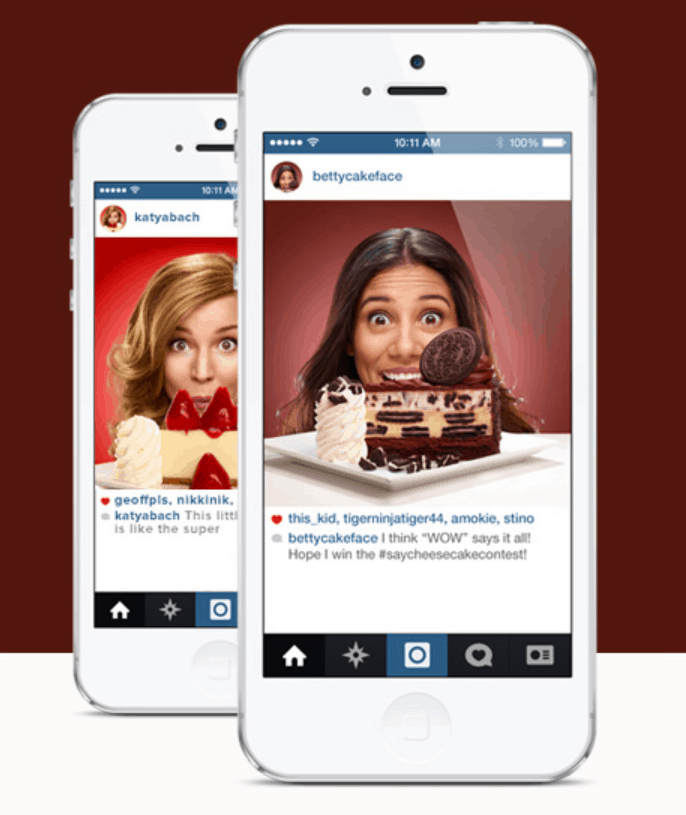 The Prizes:
One GRAND PRIZE of $4,000 will be awarded!
Nine FIRST PRIZES of $100 will be awarded!
How to enter:
1.)   Head on over to the Say Cheesecake Contest registration form and register.
2.)   Share a selfie with your favorite slice cheesecake between 7/30/2014 and 7/31/2014. Share it on Instagram  or Twitter with hash tag #SayCheesecakeContest or on The Cheesecake Factory Facebook page #SayCheesecakeContest tab.
That's all! Easy entry, great prizes! I can't wait until National Cheesecake Day, and plan on trying some new flavors that I haven't yet tasted. I'm excited (if you can't tell).
LOOK AT ALL THE CHEESECAKE LOVE!
Follow SocialMoms's board National Cheesecake Day Celebration! #NationalCheesecakeDay #SayCheesecakeContest on Pinterest.


What's your favorite Cheesecake flavor?
"This blog post is part of a paid SocialMoms and The Cheesecake Factory blogging program. The opinions and ideas expressed here are my own."