I'm going on a field trip with my Junior Girl Scout troop to Our Companions to learn about homeless pets and ways we can help them.  My girls all love animals and we're going on this field trip as part of the process to earn their Bronze Award for Scouts- their chosen service project is making feral cat shelters.  Last year, the girls did a pet drive and collected food, bedding, old sheets and towels to donate to the Humane Society.  Kids tend to love animals, and finding ways to encourage them to give back and do for others is always a great thing.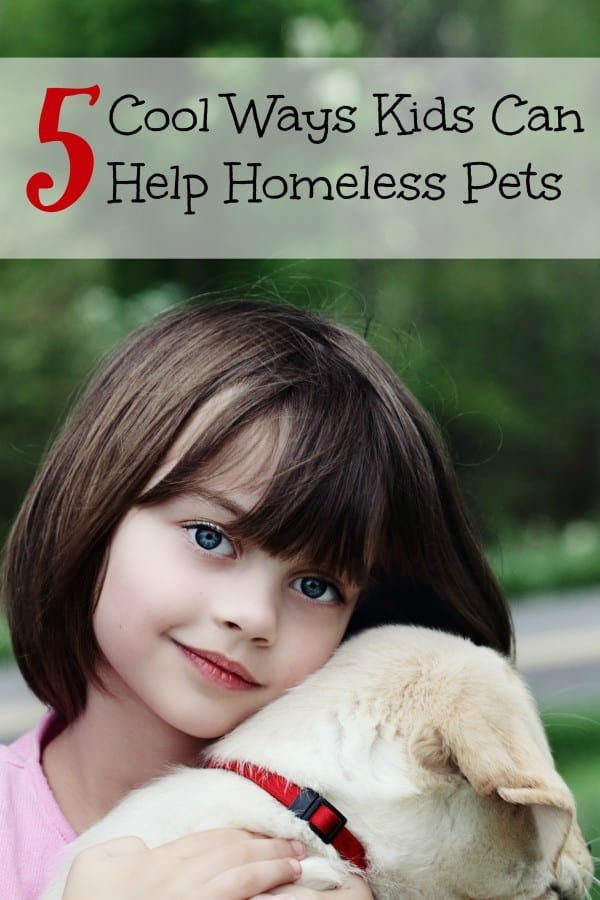 5 Cool Ways Kids Can Help Homeless Pets
Does your child dream of being a vet? Or having a big house with all kinds of animals? Or is she always begging for more pets, even though you already have a houseful? If so, check out your local animal shelter to find out what kind of programs they offer for kids.
You, like many parents, might be surprised at the many types of programs that animal shelters offer for kids of all ages, from preschool to elementary school to teenagers.
There are plenty of big and small ways that animal-loving kids can get involved and give back to the community. Here are just a few.
Make DIY Toys and Beds
Animal shelters are always in need of toys and beds. There are lots of fun DIY projects your kids can do to help. Cats love wand toys, for example. Or, your child can make a dog bed from a large piece of fleece material. Some shelters like to use ping-pong balls for toys.  Your child can decorate a bunch of them with a Sharpie and deliver them to the shelter for some kitten playtime. Be sure to check with your local group to find out what they can use and then get to work!
Hold a Supplies Drive
Your child can hold a supplies drive at his school or in the neighborhood to collect things that neighbors may not need but the shelter can use, like old sheets and towels. Some shelters love to make toys for their animals using empty paper towel or toilet paper rolls. Some collect milk jug caps (cats love to play with these!) Still others make fun toys out of empty plastic water bottles. These are all things your child can collect from friends, neighbors and family without asking for a dime!
Sign up For Camps  
Camps are a big focus for some animal shelters. The camp options range from preschool camps to teen "vet" camps where participants get to observe (and sometimes assist with!) real work in the shelter's clinic.  Some shelters offer camps for summer, spring break and over the winter holidays, too.
Celebrate a Birthday
Forget bounce houses or fancy tea parties! Have your kid's next birthday party at an animal shelter! Some shelters host super fun birthday parties that create a memorable event for guests and helps the shelter in return. For a fee, a shelter will throw the party, provide exciting animal-related activities and let the kids meet some of the resident animals. Guests can bring food or supply donations and everyone leaves the party feeling…well, warm and fuzzy.
Sponsor a Pet
Many organizations allow donors to sponsor a specific pet while he is in the shelter's care. This is a fun and unique way for your child to see the impact that giving can make. Work with your child to set aside money from her allowance to donate to the care of the pet. Visit the pet at the shelter, draw a picture of the pet to hand on his cage and keep in touch with the shelter about the pet's adoption status. Then, celebrate together when the pet you helped finds his forever home!

The types of programs available at shelters vary. To find out if there's a kids' program near you, check out Crayons & Collars, which just launched a nationwide round up of shelters offering kids' programs. http://www.crayonsandcollars.com/shelter-programs-for-kids-2/
And if your local organization doesn't have kids' programs, consider starting one! That's a great way to contribute to the shelter and your community as a whole, all the while giving your little Dr. Doolittle something meaningful to pursue.