Every parent has wished for eyes in the back of their head, usually on a daily (or hourly basis).  We've all often wished we could be in two places at once as well.  A Video Baby Monitor can help you out on both of those wishes!  Life is busy, and we need to stop, look, and listen to our children so we don't miss out on the simple moments too.  Thanks to V-Tech for sponsoring this Video Baby Monitor post- and for making video monitors so parents don't miss a moment!
 5 reasons to choose a video baby monitor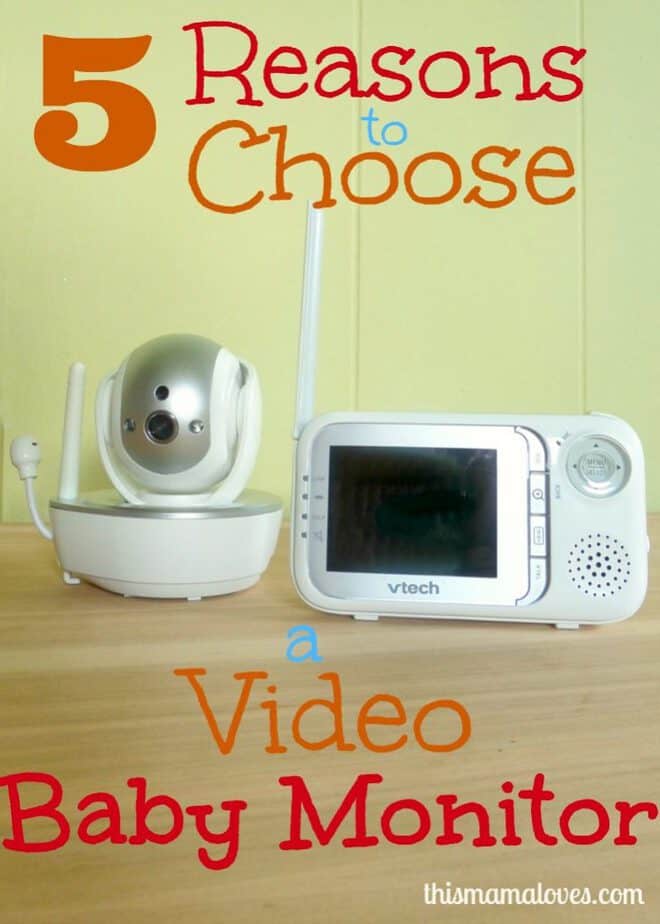 1. The advantage to a video monitor over an audio only one is that you can tell the noise coming from your child's room is just run of the mill shenanigans or if someone is about to hurt themselves.  We have two toddlers in one room (about a year apart) – one is in a crib, the other in a toddler bed so this is very useful.  Often one of them is asleep (or nearly) while the other is still playing.  Being able to watch them without opening the door and waking the other is very useful.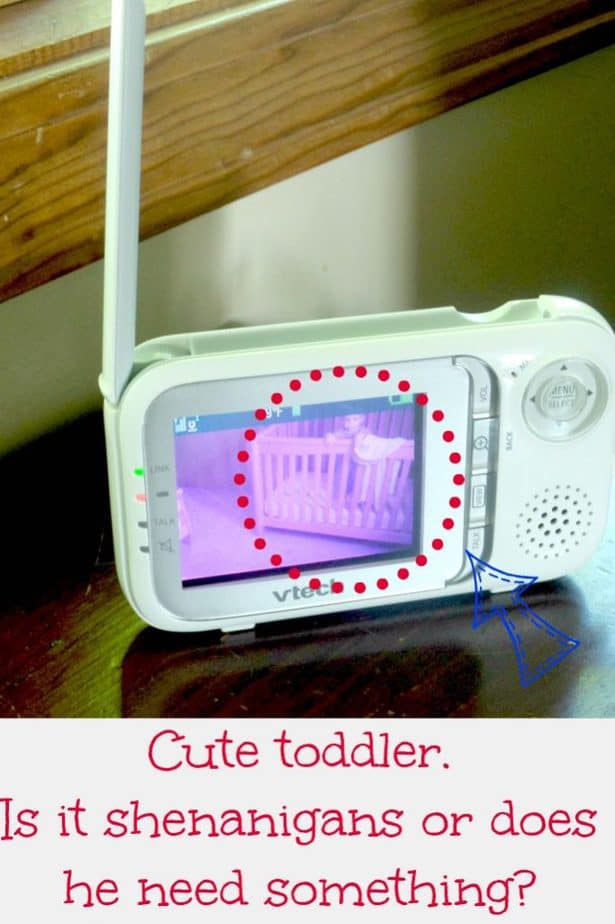 2. One of the features that sets the V-Tech apart is the remote temperature sensor, which allows you to know the temperature in the room the camera unit is in, again, without opening a door to check.  In our house, the boys room gets a lot hotter in the winter and cooler in the summer with the door shut, so this feature lets us keep them comfortable without disturbing them.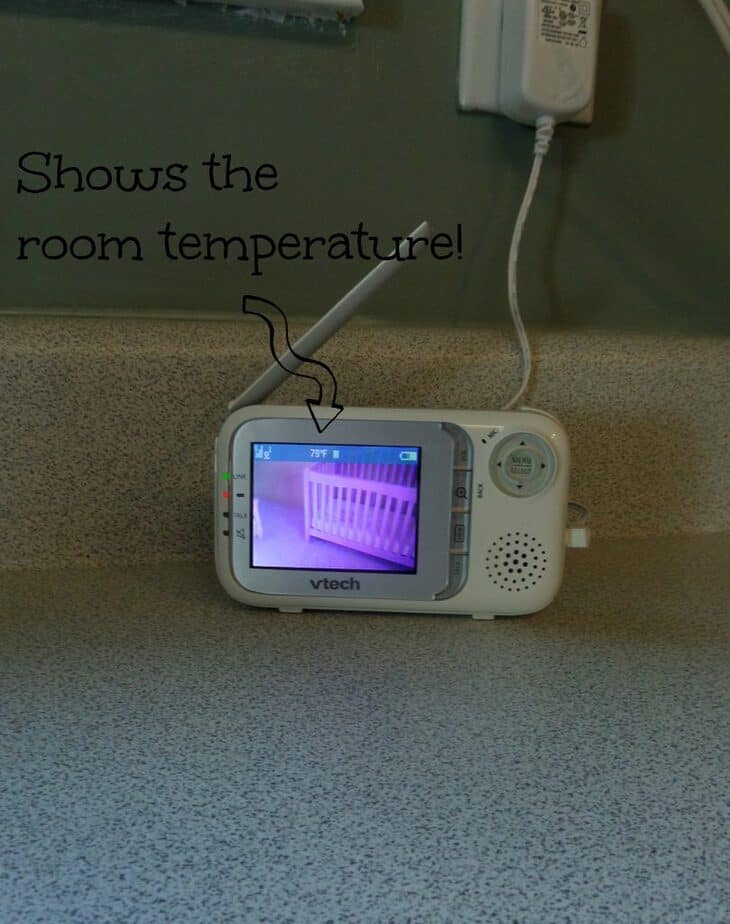 The two way radio feature is also very nice, allowing us to talk to the boys (or each other) without yelling across the house, disturbing anyone else.  You do have to be careful with this though, the first few times we used it to talk to the boys, it startled them a bit.
One parent unit can monitor up to four camera units, so you don't have to keep track of extra hardware to watch kids in different rooms.  They also have fairly good range, so that you can even go out into the yard with one child while the others are sleeping.
Speaking of sleeping, the cameras also work in the dark so they could be used for other things as well, such as having one by the front door to see who is there, giving you a bit of extra security.  Imagine how handy this might be when the kiddos become teens? 
The V-Tech Safe & Sound VM333 Video Baby Monitor units themselves are compact and solidly built, with a white and silver color scheme that will blend in with nearly any room décor.  The camera has a wide pan range of 270 degrees and tilts 124 degrees, allowing you to either watch your child move around as they play, or as in our case, watching two kids in the same room.  The camera also has a 2x zoom for more detail if you need it. The parent unit has a rechargeable battery so it can be on the move with you, while the child units need to be plugged in.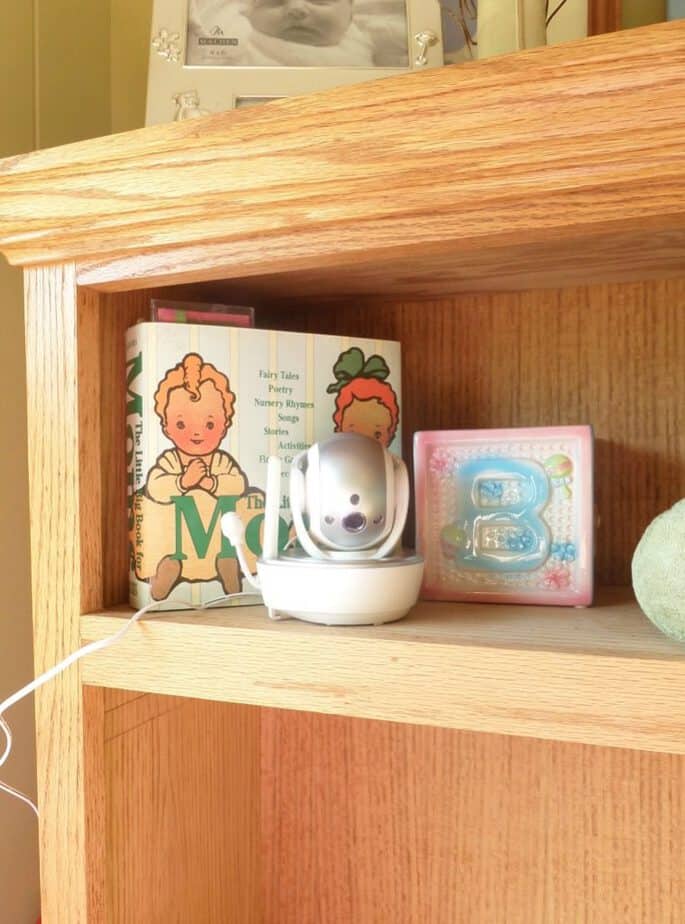 The video image is clear and high quality at 25 frames per second, so even beyond watching a sleeping baby, you can catch the little moments you might miss while they play in a different room.  There are three viewing modes, you can either fix on one camera, view up to 4 cameras on a split screen at the same time, or use the patrol mode which switches between cameras every 7 seconds.
You can find more information about the V-Tech Video Baby Monitor by visiting V-Tech's website or Facebook page.

Have you used a video baby monitor? When would you use one?