It is strawberry picking season in Connecticut.  My son and I went yesterday and picked about 10 pounds of fresh strawberries.  There is nothing like the taste of fresh picked strawberries.  But, as usual, our enthusiasm for picking turned in to a need to use the strawberries before they go bad.  Luckily, I was sent the new cookbook Vegan Eats World by Terry Hope Romero.  She has a great recipe for Fresh Balsamic Strawberry Topping.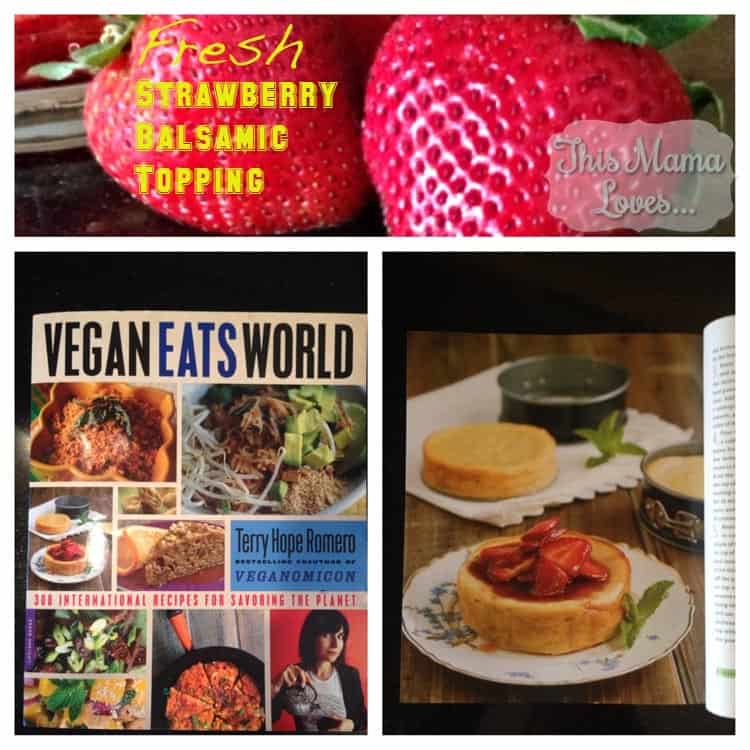 Vegan Eats World is loaded with recipes like, Savory Baked Tofu, Sweet Potato-stuffed Paratha and Mexican Chocolate Torte.  I love that they have easy to find ingredients and such a variety of ethnic influences. This will be a go to cookbook.  You can find Vegan Eats World online and in local bookstores.  Terry Hope Romero is also the Author of the bestseller, Veganomics.
More Strawberry Ideas
Fresh picked strawberries are amazing.  My son and I easily ate a pint each.  After that I made shortcakes, some simple strawberry Italian ice and I froze some for smoothies.
What is your favorite Strawberry recipe?
Fresh Balsamic Strawberry Topping
Author:
Prep time:
Total time:
A fresh and juicy strawberry topping to spoon on top of individual slices of cheesecake. This can be made up to 2 hours before serving.
Ingredients
1 pint fresh strawberries
2 tablespoons sugar
2 teaspoons good quality balsamic vinegar or white balsamic vinegar
Instructions
Clean the strawberries and remove the stems.
Slice them into thin, 1/4 inch slices and combine with remaining ingredients.
Set aside for 3 minutes before serving.
From Vegan Eats World by Terry Hope Romero. Reprinted with permission from Da Capo Lifelong, © 2014
0