Hosting a garden party can be tons of fun. Garden parties are great because they are almost always laid back and casual. Kind of like a perfect ladies' night. I have this idea in my head that I want to have a Garden Party with my girlfriends this spring. Parties are fun. Parties have food. Who doesn't like food? Parties with girlfriends are as fun as date night at home, just in a different way 🙂 This post is brought to you as part of my partnership with Ristorante pizza.  Opinions are my own.
Truth be told, I'm turning 40 in May (gulp) and I think it would be fun to have a little something to celebrate. In a dream world, we'd have wonderful comfy seating and a large screen to watch a movie outdoors, plus lots of fun snacks and beverages. There'd be all kinds of little paths to wander down and fresh flowers everywhere (as I type this, we still have snow on the ground in places).
In reality, we'll laugh and eat and drink and watch no movie, and probably won't even notice! But the garden party setting is still a fun idea, and a great change of pace from being indoors for so long during the winter months. Regardless of weather, I came up with 5 tips for hosting a garden party.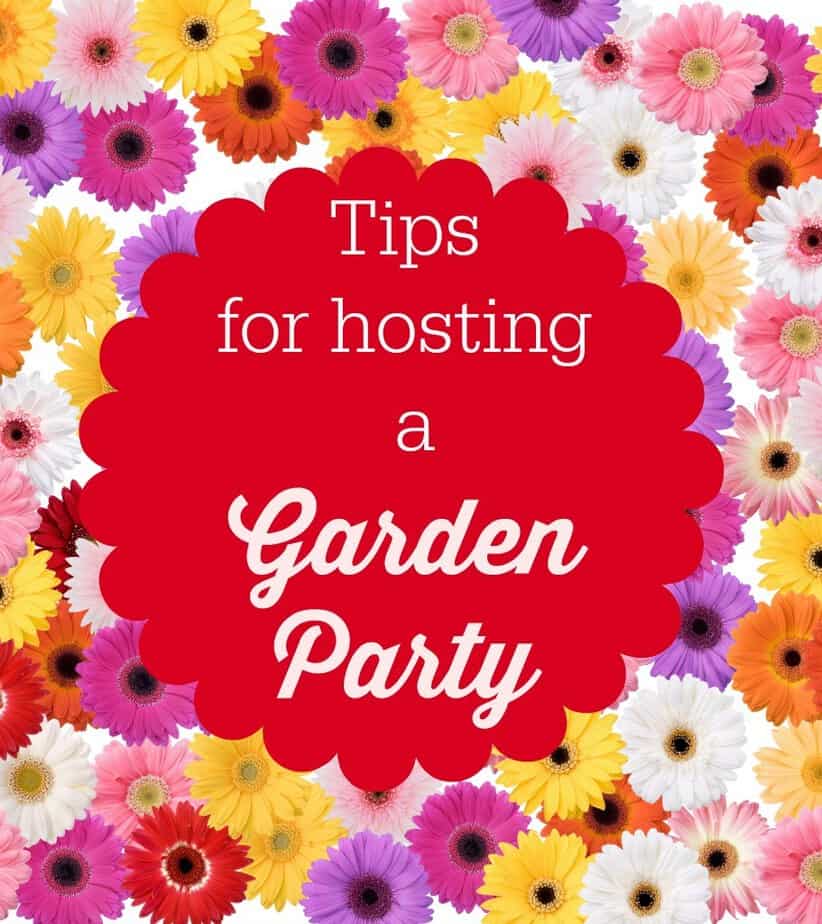 1. Lighting– I always envision garden parties being in the evening or at night. That generally means you'll want some kind of lighting available for your guests.  You don't want someone stumbling in the dark and falling.  You also don't want a spotlight on someone's face that makes them feel like they are about to perform a solo on broadway! Illuminated Garden has these Fairy Berries lights that look just awesome- and would be great for so many party themes, not just a garden party!
2. Space – Are you trying to keep guests to a patio area? Do you want to encourage them to meander? Once you make that decision, plan to define your party area either with your seating, lighting, and/or a combo of both. If you don't have tons of space, be creative. I saw a great idea on Pinterest for using a wheelbarrow filled with ice for cold drinks. This image is part of so many breathtaking photos of a backyard wedding – so many amazing garden party ideas – taken by Mel Lawrence Photography. You can place it at the edge of the area you want your guests to be – it's fun, free if you already have a wheelbarrow, and easy to access.
3. Theme and Décor – Do you want a theme? Do you want to go simple, sans theme? Match your decor to your vision for the party. If it's just laid-back and casual, then make sure your decorations and plates, glasses, etc, reflect that vibe. Mason jars are a versatile decorative item for a garden party – you can use them as lanterns, beverage holders or centerpieces. They are fun, casual and pretty inexpensive. These mason jar centerpieces from Studio DIY are so simple and so beautiful!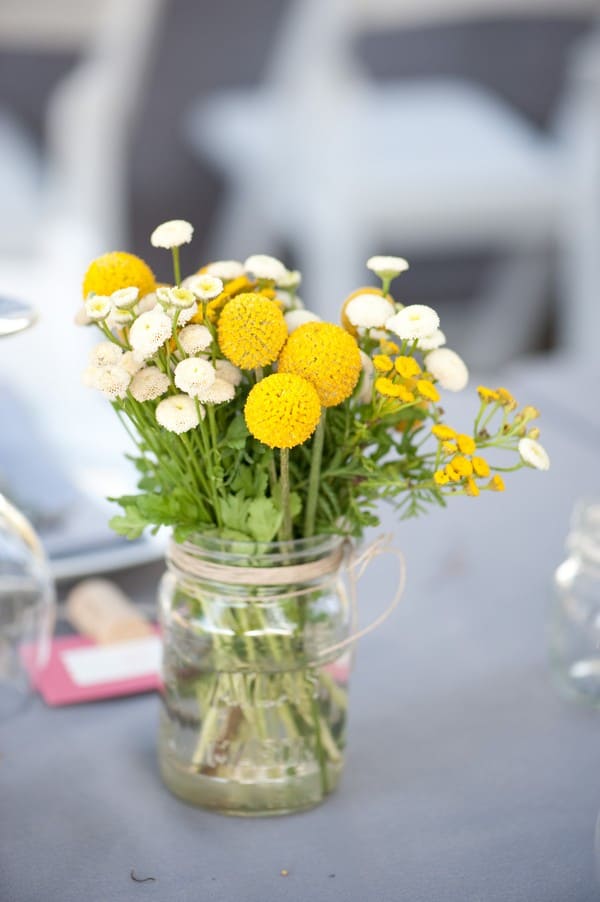 I'm loving these utensil holders from Simply Seleta the bright colors are fun but they are so practical. Plus you can reuse them!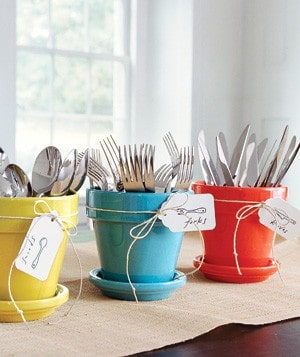 4. Bugs – Plan for a way to keep the pests away from you and your guests. Bug spray isn't always fun to wear, but some strategically placed citronella candles or propane/butane operated mosquito traps and devices can make a world of difference to keep guests happy.
5. Food – Stick with simple.  It's a garden party, so it's fun, relaxed and casual. Go for easy-to-prepare meals. Think finger foods, but with a little bit of a sophisticated twist like tea sandwiches, cheese and crackers and crudité. Cut things into pretty shapes. My favorite go-to quick and easy food is Ristorante Pizza – with their gourmet toppings and thin crust, it makes a great finger food for adults. Just cut into small pieces and serve!
To see if Ristorante pizzas are available near you, check out the Store Locator. Don't see Ristorante in your supermarket? You can put in a request with the store manager!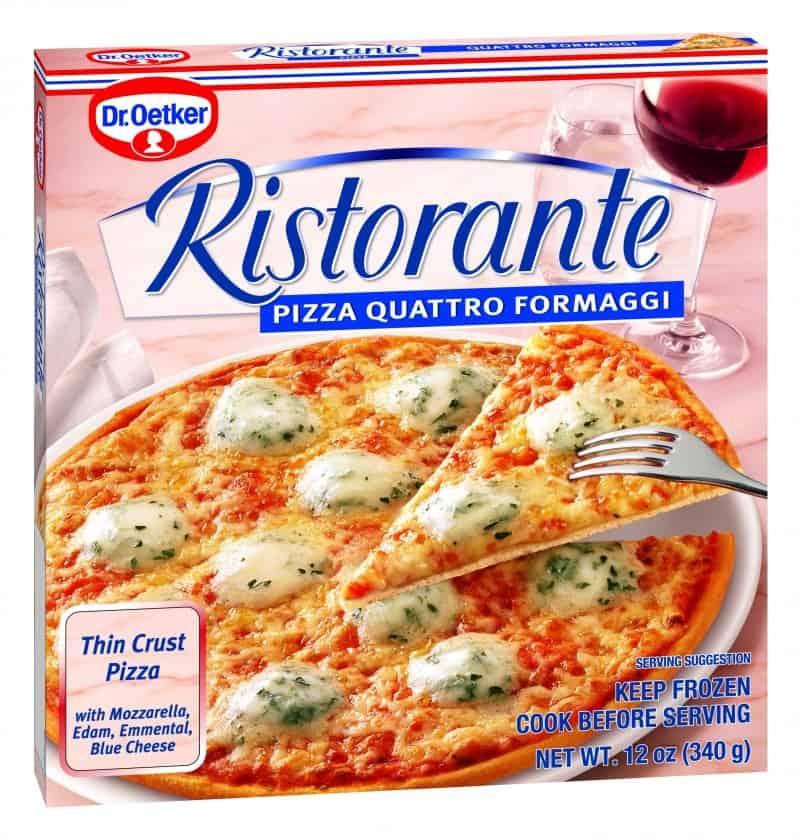 ·         Mozzarella: Fresh mozzarella, sun-ripened tomatoes, zesty pesto sauce

·         Spinaci: Savory leaf spinach, mozzarella, garlic sauce

·         Funghi: Aromatic mushrooms, mozzarella, tomato sauce, parsley, oregano

·         Quattro Formaggi: Four premium cheeses: Edam, mozzarella, Emmental, and blue cheese, with basil seasoning

·         Vegetale: Tangy chilies, tomatoes, bell peppers, onions, sour cream sauce

·         Speciale: Pepperoni, cooked ham, spicy herbs

·         Pepperoni Pesto: Pepperoni, sliced roma tomatoes, pesto, mozzarella cheese

·         Formaggi & Pomodori: Goat cheese, diced cherry tomatoes, pesto, mozzarella cheese

And, if it's a specific celebration (like someone's 40th), a cake is definitely in order.
Have you entered Ristorante's Perfect Night In sweepstakes yet? Visit the Dr. Oetker USA Facebook page, take the quiz and find out what your perfect night in looks like – maybe it's a garden party!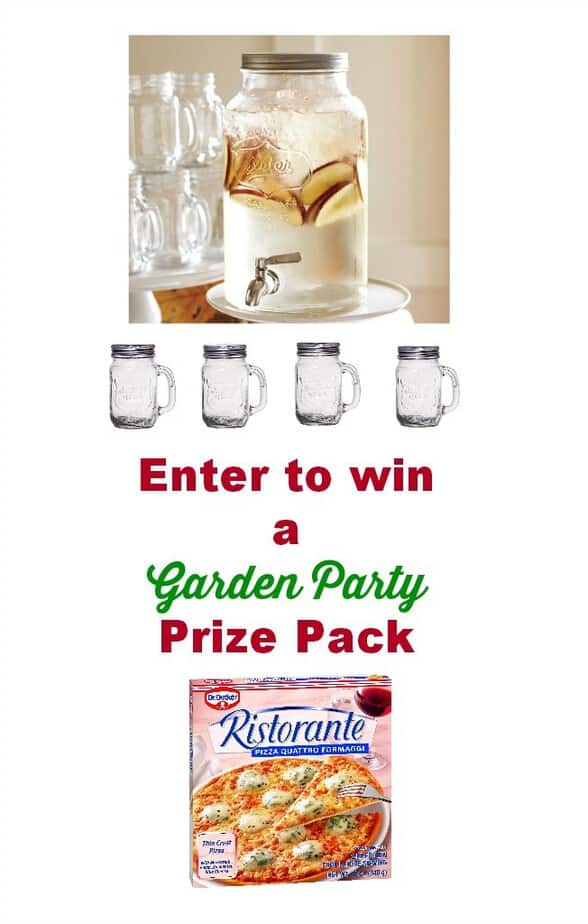 We're also hosting a giveaway to get you started with your own garden party planning! Enter for a chance to win some Ristorante coupons, a 1.5-gallon beverage dispenser and Mason jar mugs (ERV ~$100). 
0