When you don't have family around to babysit for you, and don't have a lot of disposable income, going out for date night isn't always feasible. I mean, it sure is fun, but there is the cost incurred of paying a sitter and whatever you actually do for your date night. That can add up quickly.
One thing that my husband and I have been making an effort to do at least once a month is to have date night at home. It isn't always (rarely) fancy, and it's definitely not expensive, but it's an evening where we feed the kids and get them to bed, and then have our own evening plans. This post is sponsored by Dr. Oetker.
Usually, we'll make an adult-friendly meal, which may be take out, delivery, or something we make.  Someday, maybe we'll make something together. We'll often set the table, or at least get out placemats, my china, and light a candle.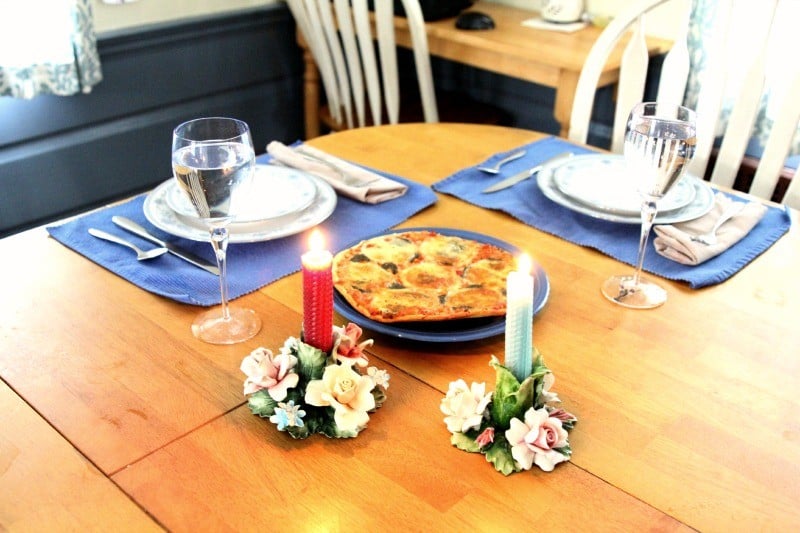 We enjoy a meal together, just the two of us.  No plastic cups (unless we decide to dine al fresco on the grass in the yard), no kids spilling, no cutting anyone's food — just a husband and a wife, reconnecting over a nice simple meal. This past weekend, I wasn't feeling well (again) so we did super simple.  We had Ristorante Pizza Spinaci and Pizza Mozzarella with some salad and ice water (normally, that would be wine in my glass!).
Dr. Oetker's Ristorante pizzas are one of my go-to meals for our stay home date nights.  They are quick and easy, with more sophisticated flavor varieties, and oh so delicious.
We had a movie night after dinner. And nope.  No romance here.  Unless you consider Catching Fire romantic… although the time snuggling on the couch with phones, tablets, laptops off and just the two of us sharing some popcorn was romance enough for this girl. I just like the dedicated time to be just the two of us, as a couple, husband and wife, and not just mom or dad.  It's really important to work on that relationship while parenting too!

Make your Perfect Date Night at Home with Ristorante pizzas! Visit the Dr. Oetker USA Facebook page for your chance to win the Perfect Night In sweepstakes and take home everything you'd need for your dream night in.
To see if Ristorante pizzas are available near you, check out the Store Locator. Don't see Ristorante in your supermarket? You can put in a request with the store manager!
Do you have date night at home?  What do you do for your date nights?
This is a sponsored post about having date night at home on behalf of Dr. Oetker USA LLC. I received compensation for this post; however, all opinions stated are my own.