6 Ways to Eat Gluten Free on a Budget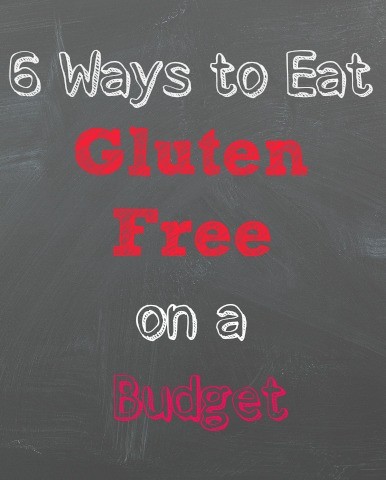 If you've switched to a gluten free diet recently, you may think your money saving days for groceries are over. But, there are ways to cut costs while maintaining this diet. Many of the techniques used to save money on traditional groceries can be applied to gluten free eating too.
Order naturally gluten free items when eating out
Thankfully, many restaurants and cafés are aware of the needs of people with gluten allergies and are offering gluten free options. But ordering a gluten free pizza, hamburger buns, or gluten free pasta also comes with a heavy surcharge. Instead, opt for items that are naturally gluten free like grilled fish or chicken. You can request to see a list of their gluten free items to make a selection. If you have celiac disease make sure to let your server know this when ordering, even if you're opting for a gluten-free item so that they can make sure none of the sauces or other components contain gluten.
Cook and Bake
The more you cook and bake yourself the more money you can save on food. Buying prepared, packaged convenience foods can eat into your food budget in a big way. Many items can be baked and frozen ahead of time and then thawed as needed. If you're uncomfortable doing this, consider looking for a gluten free baking class nearby. It's an investment that can really pay off over time – and is probably a lot cheaper than having several failed attempts at gluten free baking.
Buy online
Online shopping can save you money – big time.  Sites such as Gluten Free Saver, Amazon Grocery, Gluten Free Mall are all options to find the gluten free items you want at a discounted price. It also means you can shop from home and have the items delivered to you, so no need to run around to multiple stores looking for items. Time and money saved!
Cut Down on Breads in your diet
The best way to save money on gluten free baked items? Cut them out of your diet! The more foods you eat that are naturally gluten free, the lower your grocery bill. Buying and even making gluten free bread and baked goods make up a large part of a grocery budget. Try cutting out 1-2 items a week and think of them more as a treat than a staple.
Food Banks
Believe it or not, many food banks do end up with gluten free items. If your family eats gluten-free and is trying to reduce costs, but aren't in need of full food assistance, contact your local food bank to see if they would consider adding you to a list to contact before the food is wasted. Many times these items are not selected and end up expiring before they are used.
Tax Deductions
Yes, believe it or not, if you have been diagnosed celiac disease and do itemized deductions on your taxes, you can take the cost of gluten-free food as a deducted medical expense. There are some guidelines you must follow, for example you can't deduct the full cost of a loaf of gluten free bread, only the difference between the cost of a regular loaf of bread and the gluten free product. If you have to travel to a special store to buy gluten free items or have them mailed to you the transportation costs and postage can also be included as part of the deduction. The Celiac Disease Foundation has information available about how to do this, though you may also want to consult a tax professional about what types of documentation you need to keep.
Do you have other suggestions for how to save money while eating gluten-free?