This is a sponsored post written by me on behalf of Atlantic Luggage. All opinions are 100% mine.
In a very short time, my husband and I are traveling without the kids for the very first time on a press trip. Normally, we travel together as a family, although on our last trip, we had to beg and borrow luggage from friends and family because we were simply not prepared at all to travel with 5 people!  I decided since we have some awesome new luggage, that I would share some of the packing tips and hacks that I've learned since our rookie mistake packing for Orlando a few Januarys ago.
Check out the Atlantic Luggage Trip to Orlando Florida Sweepstakes! Someone's going to win a trip for 4 to Orlando, Florida.  You can enter right up until June 15, 2015. Good luck!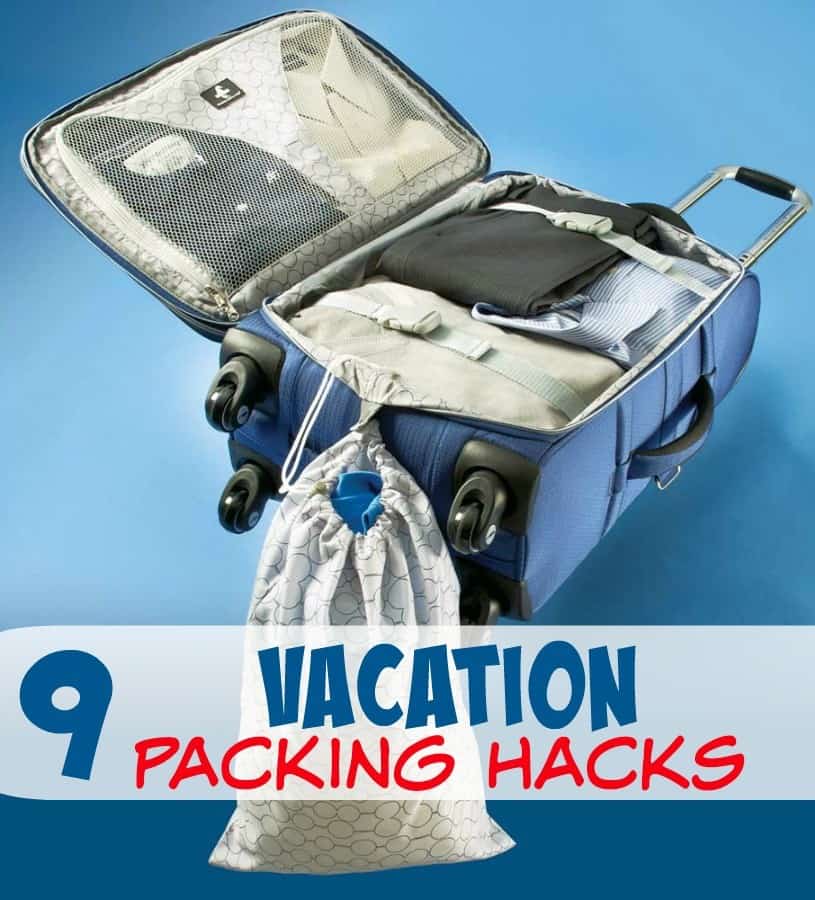 Vacation Packing Hacks
Are you ready to pack your bags and head off on vacation? Before you do, take a look at these 9 vacation packing hacks that you should know. These 7 vacation packing hacks can help you pack easier and more efficiently, allowing you to save your energy for all of the fun you will be having. Here is how you can hack your way to a better packed suitcase in no time!
1. Pringles cans
Pringles cans are great for storing small items such as socks, underwear, and other accessories. The lids of the can will also help keep all the items in place and protect them from moisture or spillage that may occur. These are also great to hold charging cords.
2. Pool Noodles
Cut pool noodles into smaller segments (12-18 inches works great) and wrap easily wrinkled items around them. They are great for keeping shirts, skirts, and even ties wrapped up nicely and cushioned while you travel.
3. Altoid Tins
Use Altoid tins to safely pack small jewelry items, medications, safety pins, and other small tools or accessories you may need. The tins are quite roomy and perfect for keeping the items safe and in one place until you reach your destination.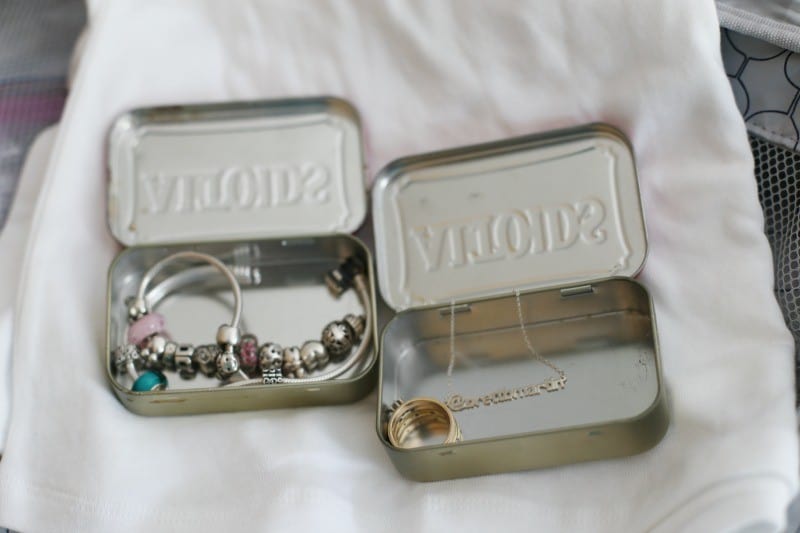 4. Plastic Baggies
Never leave home without plastic baggies such as Ziploc bags or plastic grocery bags. They are perfect for storing dirty laundry or for keeping liquids safe as you travel. Toiletries should always be packed in a zip close bag in order to prevent spillage.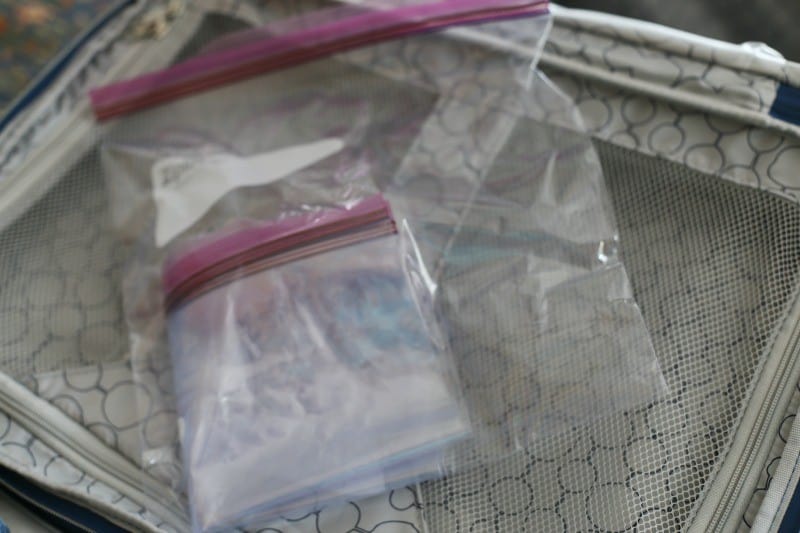 Of course, if you are using a brand like Atlantic Luggage, there might just be a laundry bag built right into your suitcase and you will just need the baggies for your liquids…dirty laundry can just go in the bag.
5. Dryer Sheets
If you are worried about your clothing smelling musty, try packing a few dryer sheets in your luggage. It can help keep things smelling fresh even after a week of living out of the suitcase. Just fold up the dryer sheet and tuck it amongst the clothing…and in your shoes.
6. Tie on a colorful ribbon.
Do you hate rummaging through suitcases at baggage claim? A simple ribbon tied to the handle can change all of that. Tie a brightly colored ribbon or bandana to the handle of the suitcase so you can easily spot it on the baggage carousel.
7. Shower Caps
Store shoes in a shower cap. Your hotel bathroom may have a free shower cap perfect for this task.
8. Pill Box
Get a pill box for medications and vitamins.Less stuff to travel with, because you aren't bringing all of the separate bottles or boxes.  I always pack 2 days extra of each medication just in case.
9. Expandable Luggage
I don't know many folks who come home with the same amount of stuff they left home with. Souvenirs, or even just not packing as neatly and carefully as before you departed can make for a very crowded suitcase. Having expandable luggage can make a big difference and save you from bringing yet another bag for those extras.  Who knows, it might even make you think twice before buying something large in size and save you from more stuff in your house!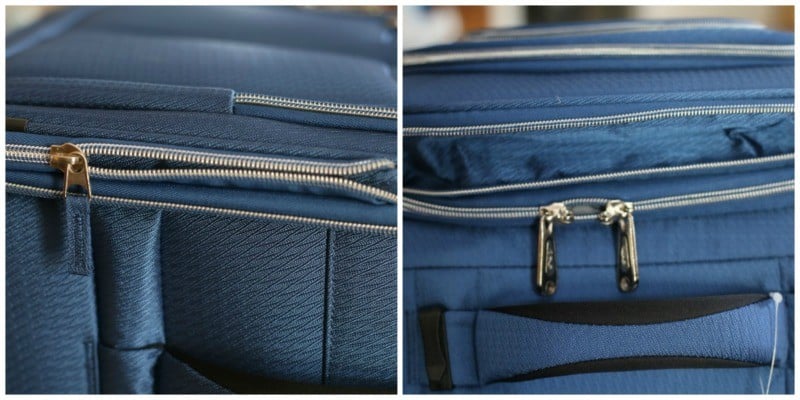 We actually just received 2 pieces of Compass Unite luggage from Atlantic Luggage It's perfect for family travel. Both the 21″ and the 25″ suitcases we got are expandable, plus they actually have this awesome Link2Go System where you can strap two pieces of the luggage together and wheel them as one.  This means that I can have my husband get all of our luggage through the airport.  (Or if you are traveling with kids, you have a hand free to hang onto theirs). Both of the suitcases are Spinners, and generously sized at 21x14x9.5 and 25.18.11.5 respectively.  While we will add either one 29″ Spinner or 2 25″ Spinners when we travel with the kids, the 2 pieces we received are perfect for both of our stuff that we'll bring for  5 days in Jamaica.  I'm actually excited to go through and airport with the luggage linked together, what do you think 25 year old me would say about THAT?!

As you can see, packing up for your vacation can be a little bit easier when you give these packing hacks a try. You will fit more, and your items will arrive to your destination wrinkle free and all in one piece. So give these hacks a try, and spend less time worrying about your belongings and more time enjoying your trip!
One reader will win a 3-piece set of Atlantic Ultra Lite 3 Luggage from our "blogger-hosted giveaway! Enter on the widget below.
Atlantic Luggage – Win a Family Trip for Four to Orlando
Don't forget to enter the Atlantic Luggage Trip to Orlando Florida Sweepstakes! Someone's going to win a trip for 4 to Orlando, Florida.  It might as well be YOU! You can enter right up until June 15, 2015. Good luck!  ​Winner will be chosen within 7-10 days following the close of the sweepstakes. Grand Prize trip must be booked by March 31, 2016 and travel must be completed by June 30, 2016 ​The trip includes round-trip airfare for four, 3 nights of hotel stay, four two-day admission passes to 34 of Orlando's best attractions, $150 spending money and 4 carry-on pieces of Atlantic luggage Total prize value of $4,270 Atlantic Luggage – Win a Family Trip for Four to Orlando