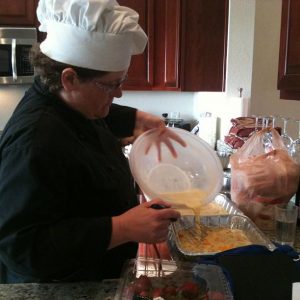 Last night was the official kick off to "Mommy Blogger Spring Break" and what a start it was!  We all arrived at staggered times throughout the day, some by car, some by plane…and we were treated to a delightful, home cooked meal by Chef Linda Page from A Chef of Your Own.  Chef Linda made us a delightful meal of lasagna, bread, caesar salad for dinner, and for dessert, a rum cake with fresh sliced strawberries and some Cannoli chips and dip.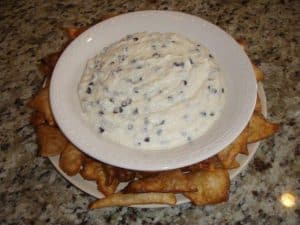 The verdict? I am fairly certain that I gained a pound at dinner last night.  Chef Linda comes into your home (or vacation home, if you are travelling in the Orlando area) and cooks an entire meal for you and and your family and friends.  She is professional, skilled and very experienced.  Her pricing is also quite reasonable- and it's so nice to have a home cooked meal prepared for you by someone else (or maybe that's just me?!).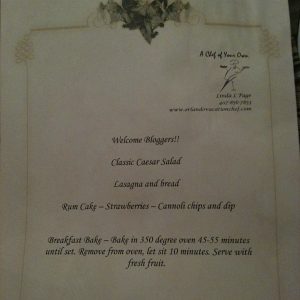 Chef Linda has been working as a chef in the Orlando area for about 16 years now.  She has customers that she cooks for monthly, (check her site for details and rates) and has worked with resorts/vacation homes for about 6 years now.  She knows what she's doing, does a great job and is so friendly to chat with!  She mentioned to us that she's often been asked to cook a meal for families or groups arriving for their stay to be ready as they arrive- what a wonderful way to start a vacation, having a home cooked meal prepared for your arrival!!  You can settle in, unpack, and enjoy some good food without going anywhere.
Chef Linda also made us some breakfast casseroles and left an enormous bowl of fresh fruit to get our mornings started before our crazy day of adventures started.  This was such a great thing, especially since most of us stayed far too late chatting and hanging out!
Heading to Orlando?  Live in Orlando?  Give Chef Linda a call!  She's wonderful, and I think you'll be very glad you did!  I also think, that it would make a wonderful gift for anyone to have a personal chef come and cook 20 meals for them to tuck into their freezer- if you or a loved one has a new baby, or has some medical issues going on, I'm sure they'd appreciate a visit from Chef Linda!  Definitely be sure to "like" A Chef of Your Own on Facebook– she shares many of her recipes with her fans and readers on there too!
Chef Linda came to cook for us as part of the #DisneyGlobalEvent that we were invited to.  All opinions are my own.