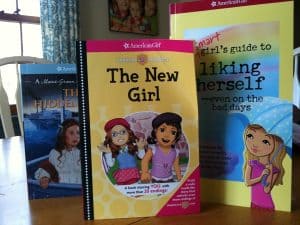 Remember the choose your own adventure books when you were a kid?  I do- I thought they were great fun- and made re-reading books that much more fun!  The folks at American Girl have some out with some new books- the Innerstar University Books– in which the girls themselves become the main character of the book as they choose paths throughout the book that can lead to 20 different endings.  Each of these books focuses on key values- 9 of them in total- encouraging girls to be confident, smart and teaching them about friendship, kindness, bravery and more.
In "The New Girl,"  each reader can imagine herself as the main character of this interactive story set in the world of Innerstar University™! She thinks Zoé, the new girl, is brave for coming all the way from her home in France. She wants to get to know Zoé, but she also feels a bit jealous about all the attention the new arrival is getting. When a couple of girls start to tease Zoé, she feels torn—can she find the courage to speak up for what she knows is right? With more than 20 different endings, girls will enjoy this book again and again to see how different decisions change the story. Plus, each book comes with a secret access code to unlock additional endings online! 120 pages. Paperback. Author: Laurie Calkhoven. Ages 8+
The Hidden Gold: A Marie-Grace Mystery holds just enough mystery to keep her interest piqued, but not so much that she'll be scared.  This series is a cute way to introduce mysteries to your little girl!
Marie-Grace can't wait to begin her journey up the Mississippi River with her father. The steamboat they're traveling on is the biggest and fanciest boat Marie-Grace has ever seen. It's crowded with all sorts of interesting passengers, including Wilhelmina Newman, a girl Marie-Grace's age. Wilhelmina is traveling alone, and she's carrying a secret in one of her trunks—clues to hidden Gold Rush treasure. Wilhelmina and Marie-Grace have to unravel the clues to find the gold—and they're not the only ones looking for it! An illustrated "Looking Back" essay provides facts about the 1850s. 150 pages.Paperback. Author: Sarah Masters Buckey. Ages 9+
There's also A Smart Girl's Guide to Liking Herself which I wish had been around when I was a young girl.  My oldest is a bit young for this content but I have it tucked away for a few years from now.  Self esteem is a tough one for me and I want to help my daughters and my son to develop a strong and positive self esteem!
Has a bad day got her down? In this advice-packed book, girls will learn how high self-esteem can turn a good day into a great day, while low self-esteem can make a bad day even worse. She'll learn tips for trusting herself, ideas for boosting her self-esteem (or for keeping it up), and how to feel her best in all kinds of situations. She is perfect just as she is, and this book will help her believe that to be true! 96 pages. Paperback. Author: Dr. Laurie Zelinger. Ages 10+
You can find these books on the American Girl website and in many major bookstores online and in "brick and mortar" stores.  I love the positive messages these books are sending.
I received samples of these books to thank me for taking the time to share this information.  Opinions are my own.
0