This is a guest post from A  Year with Mom and Dad!
Summer days are upon us. As an adult, I am so busy, I can't believe I used to complain about being "bored" when I was a child! But I remember constantly going to my mother telling her I was bored and wanted something to do. Kids are so curious that they need a good amount of variety in their activities.
I love how children's museums are popping up all around the country with hands on exhibits and specialty topics of interest. A few weeks ago, the Queen B and I toured Stepping Stones Museum for Children in Norwalk, Connecticut, a children's museum specializing in educational, hands-on galleries where children can let loose and explore.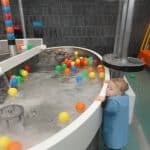 Stepping Stones houses five main galleries and over 100 hands-on activities! My personal favorite was the Energy Lab. I loved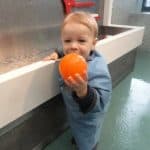 putting my little dude in a lab "rain" coat and letting him play in the wet and windy environment. Children can learn about the science of energy as they observe water carrying brightly colored balls up and down via water current.
My 15-month-old son also enjoyed climbing, sliding and driving the bus in Tot Town, a secured play place for children 36 months and under. Nearly a dozen mini exhibits allow toddlers to experience art, science, language and more – at their level! Everything is tot-sized and perfect for crawlers and new walkers with their little hands and inquisitive minds!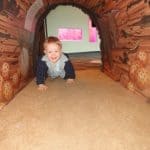 This summer's current traveling exhibit, the Rainforest Adventure was a key reason for our visit to Stepping Stones. In the Rainforest Adventure, children can climb a kapok tree, explore a gorilla's nest, meet virtual rainforest scientists, and learn how to protect endangered species. Coordinating with this exhibit is their newest multimedia learning tool: May 2011 saw the launch of an exciting Rainforest iPad Game – Rainforest Survival Challenge – from Rukus Mobile Media.
Rainforest Survival Challenge is a mobile app that teaches kids about forest conservation. Virtual flash cards engage children in learning about rainforest species. Then kids develop technology literacy and an understanding of the interconnection between plants and animals via a game set in the Amazon rainforest. The game challenges kids to use their growing knowledge of the rainforest and its species to strategize survival for their chosen species against their opponents.
The Rainforest Survival Challenge app is available on Apple's iTunes App Store for $0.99! A portion of the sales supported education at the Rainforest Alliance and Stepping Stones Museum for Children.
What I loved about Stepping Stones is how there was truly something for everyone. From Tot Town for the little ones, to Celebration Courtyard with its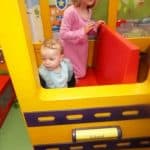 big outdoor tent and musical performances, to science, art, and multimedia exhibits… you could definitely bring your children here more than once and not run out of play and learning opportunities!
Stepping Stones Museum for Children admission is $12 per person; they offer a variety of yearly memberships for parents and caregivers who anticipate repeated visits! Children under 2 are free!
[ad#glam between posts]
0