As promised, I am writing a follow up review of A Stork's Studio 3D/4D ultrasound.  You can see my original review post here.  I first tried out this service when I was 26 weeks pregnant.  We got some great shots and were able to see the baby moving it's legs and arms around.  The Stork's Studio offers an Extended Plus Appointment ($219) which allows for two 30 minute sessions with CD's and DVD's.  I tried this service out and was lucky enough to visit them again for a second appointment.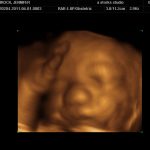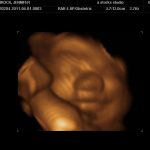 26 Weeks
As before, I arrived at my appointment and was promptly seen by the staff.  We were able to get some great shots of the baby right away.  What a difference in 4 weeks!  It was really fun to see the difference in growth and activity level.  The baby was definitely more filled out and features were more developed.  In addition, we were able to catch the baby opening/closing it's eyes, yawning and smiling.  So cute!!!  I love that the DVD that comes with this package was able to capture all of these moments.  The DVD basically documents the entire session.  I think that it would be great to post these videos for distant relatives and friends to view.  I know that the grandparents would love this!
I definitely recommend this service, and A Stork's Studio is a fabulous place to try out if you live in the CT, NY or RI area.  The customer service is great, the staff is friendly and patient and they really make an effort to accomodate their clientele.  I was very pleased with the pictures and DVD's that I received.  At each appointment I was given 4 standard black and white photos and 2 color photos.  They even let me look through all of the shots that they got and pick the ones I liked the most.  In addition, I was given a CD with all the images and a DVD that recorded the actual movements of the baby.  The DVD was set to nice background music.
Packages range in price from $95 for the Basic Package, up to $219 for the Extended Plus Appointment.  It is nice to be able to pick and choose whatever package works for you.
A Stork's Studio is located at 339 Boston Post Road Suite 182, Orange, CT  06477.  203-799-2229.
[ad#glam between posts]
0