What pregnant woman wouldn't want a real live 3D/4D picture of their unborn baby!  This is such an exciting medical advancement, and has only been easily accessable to the public for a few years.  While 3D studios can be difficult to find due to new laws regarding these types of procedures, I have found a fabulous facility, A Stork's Studio, in Orange Connecticut.
The facility is located just off the highway in a medical complex.  The office is on the first floor (very convenenient for us pregnant women!).  The accomodations are friendly and relaxed.  The people at A Stork's Studio make a real effort for their customers to be at ease and comfortable at the time of their appointment, from the soft lighting, to the comfortable seating areas and friendly, informative staff.  I love that one of the owner's is actually a physician's assistant with decades of experience.  This is a very family friendly facility.  They can accomodate several family members in the ultrasound room comfortably.  Children, spouses, relatives or friends are welcome to join you for this experience.
A little bit more about A Stork's Studio:
* They are affiliated with United Imaging Partners, the largest, fasting growing and most widely respected 3D/4D ultrasound network in the world.
*Their staff includes a medical director licensed in Connecticut and certified obstetric sonographers.
*They only used the finest ultrasound equipment including the GE Voluson System, by far the best 3D/4D imaging system available.
In addition, they adhere to a responsible set of guidelines to ensure that your scan is safe and enjoyable:
*Scan will be held well within the limits that have been proven safe for decades.
*Medical scans will not be performed, but if a medical concern should arise, your healthcare practitioner will be contacted.
*They scan at a frequency level similar to OB's scan to mirror the low levels established by the FDA for fetal use.
*They provide a safe, private and relaxing environment for you and your family.
So what's the process?
It's easy!  Call to make an appointment (usually scans are performed between 22 and 34 weeks of your pregnancy).  Appointments are made in 1/2 hour increments, but I have never seen a backed up waiting room yet.  In fact, I was the only customer there at the time of my appointment.  I was great to have personalized attention.  You will be given instructions to avoid sugar and caffeine for several days prior to your appointment and to drink plenty of water to ensure ample amniotic fluid for a good picture.  Bring with you a 2D ultrasound picture from your regular OB (to verify that current prenatal care is ongoing).  That's it!  Show up for your appointment and be amazed!
My experience:
I tried out the Extended Plus Appointment, which offers:
Two 25 – 30 minute 3D/4D imaging sessions
2 black and white thermal prints per session
2 color 4×6 color prints per session
Gender determination (if desired)
One CD with 15+ high resolution 3D photo images appropriate for reproduction per session
One DVD with 15 minute recording of 2D, 3D, and 4D segments set to music per session
One year FREE access to Babypeeks, a customized online baby website (Reg $49.95)
I was 26 weeks pregnant at the time of this scan.  I was thrilled with my experience and was able to get some fabulous pictures. It was amazing to see the clarity of the picture and the baby moving around in there.  At 26 weeks I wasn't sure what kind of pictures to expect, but they are fabulous!  I had a great experience even though my baby's hands were in it's face and the cord and placenta were in the way.  We were able to use different positions to get the baby to move and achieve some great shots.  However, sometimes the baby is just not in a position for good pictures.  What happens then?  You get to come, free of charge, to try again until appropriate pictures are attained.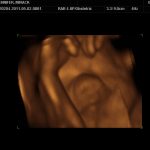 What happens if family members can't be at the appointment?
Easy, A Stork's Studio offers Sonostream.  A online streaming service that allows up to four computers to watch and hear your ultrasound live!  This is a great option for out of state grandparents or family members, or for those serving overseas.  Those watching on Sonostream Live will not only be able to watch your ultrasound being performed live, they will also be able to hear everything that is being said.
There is just something so special about seeing your baby in 3D and 4D, compared to a 2D.  It really brings the image alive, as the images are so much more realistic than your standard 2D ultrasound.  When  a 4D ultrasound is performed, you are able to see activities such as yawning, crying, swallowing, blinking and hand movements.  What an amazing bonding experience for the whole family!
A 20% discount is offered to all military families.  Packages range in price from $95 to $219. 
*Stay tuned for a 4 week update, when I will post pictures from my 30 week scan and will compare my earlier experience!   It should be fascinating to compare the pictures!
A Stork's Studio is locate in Suite 182 on the first floor of the Medical Center of Orange at 339 Boston Post Road, Orange CT.  For more information on 3D/4D ultrasounds or to schedule your appointment call (203) 799-BABY (2229).