I can't believe it's the end of the school year already! My baby will be graduating from preschool in a few weeks. How is this possible? It seems like just yesterday that I was taking him to his first day of school. He has grown so much in the past year, learning to do chores, get himself ready in the morning, counting and reading. What a little man he is now! He even helps me with the little ones. I have to admit that it is handy to have a little helper around the house.
When I was little, I don't think we even had a preschool graduation. My son's school puts on a small ceremony in the classroom, complete with paper plate hats and a diploma! They each take a turn standing on a makeshift stage to accept their diploma and shake the teacher's hand. What a perfect time for a photo opp. The little ones get so excited and proud to have their parents and family attend this special moment. It really is an important milestone that should be acknowledged.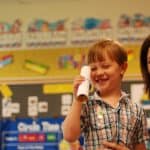 So, I was thinking that this would make the perfect opportunity to make some special cards to send to family and friends. Who says that graduation cards can only be for high school and college graduates? Besides, this time of year it is easy to lose touch with loved ones. There are no major holidays coming and people are getting ready to begin their summer vacations. What a great way to keep friends and family updated on what is going on.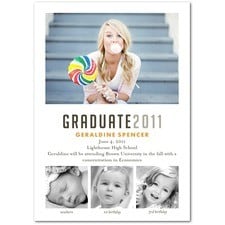 Tiny prints offers some of the most gorgeous graduation cards. I particularly like this one, with one large picture and a space at the bottom for 3 more pictures. You could either include extra pictures of the graduate, or some of the siblings. All of their designs are gorgeous, as you would expect from Tiny Prints. I have received cards from Tiny Prints in the past and have always been impressed with the quality. You can instantly tell from the quality and modern designs that these cards are special.
For those looking for some great ideas for high school and college graduation I love these cards as an alternative to the standard graduation announcement that you can order through t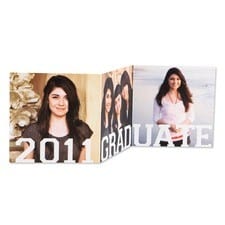 he school. They are definitely more modern and allow you to showcase your graduate with some special photographs. Heck, you paid good money for those high school photos, so you might as well use them!
Tiny prints offers some great greeting card ideas, and first time customers can get $15 off any order $75+ with code new1105! Valid through 5/11/11. That's a really great deal.
Tiny Prints provides stylish, modern and unique graduation stationery including graduation announcements, graduation invitations,and thank you cards for teens. When graduation season has come and gone Tiny Prints will still be here to fill all your stationery needs with their exclusive designs from the nation's top designers. You'll find summer party invitations, personalized greeting cards, thank you cards, business cards, and even custom wedding invitations. Come try the easy card personalization, powerful preview engine and top-notch customer service and paper quality for yourself! With Tiny Prints by your side commemorating every holiday and momentous occasion is a cinch!
0