Last month, when I found out my son has Alopecia Areata, I reached out to my friends at American Girl to see if they had images of the new wigless dolls that were not stock photos- images of little girls with no hair who were loving their dolls.  Not yet, they said, but would you like us to send you one?  Being the lover of American Girl, I of course said yes, and the doll now known as Abby arrived a few days later. I'll explain her name in a few minutes.
American Girl knows that many girls have lost their hair to medical conditions or to medical treatments.  They know it, and they decided to broaden their doll line to include dolls without wigs, so that girls with little or no hair could also have a doll just like them.  Just like in real life- there's nothing different about these dolls except they have no hair.  Same bodies, same loveableness, same sweet faces- just a soft, smooth head instead of a wig of hair.
Just like any little girl (or boy) who has no hair.  She's not different, she's just not got hair.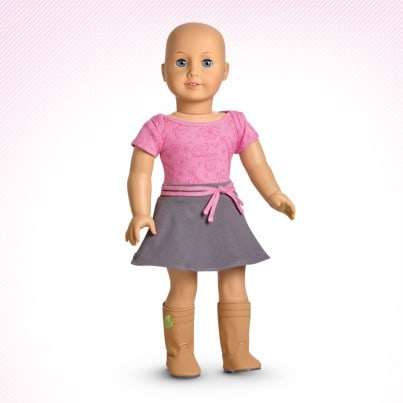 I think it's pretty awesome of American Girl to work so hard to have a product line that encourages acceptance and inclusion.  (You'll see more on the service dog and the wheelchair soon).
So after this doll arrived, I had a talk with my kids.  We came to the conclusion that perhaps this beautiful doll, no matter how much we love her, would maybe make a little girl's day, or week, or month.  Maybe there is a little girl out there, who already did lose her hair, or doesn't have any left already, and maybe having this particular doll would just be a wonderful thing for her.  A quick sendout on Facebook and my friend Andrea sent a message.  My friend's daughter Abby would love this doll, she said.  She's going through another round of chemo soon, and she's lost her hair.
So we did what many would do.  We took the doll out, hugged her, kissed her, made some cards for little Abby, and filled that box with all of the love we could (in the form of paper hearts, and a prayer chain from paper)….and sent her on her way.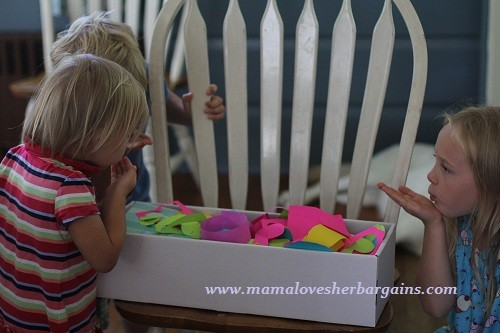 About a week later, I received this email from Abby's mom.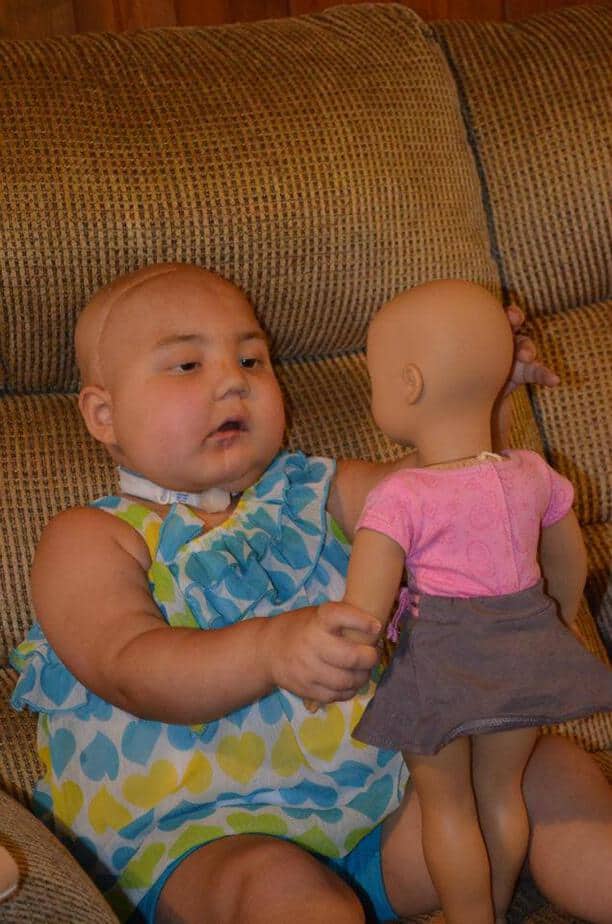 Brett,
I wanted to thank you for the American Girl doll that you sent Abby.  She was beyond excited when she opened it.  It arrived the day after her discharge from the hospital after five days of chemo, so it was a welcome distraction from all the chemo side effects.  She named herAbby because she looks just like her.  She kept rubbing her head and saying, "She has no hair, just like me.  Her head is so soft, just like me.  I have little eyebrows and my baby has little eyebrows."  She kept rubbing her head and had to put her to sleep because she felt sick from chemo too.
I am so thankful that you were able to send her this doll.  We'd never have been able to afford one for her with all the costs of treatment and being off work.  It is definitely something that she can identify with.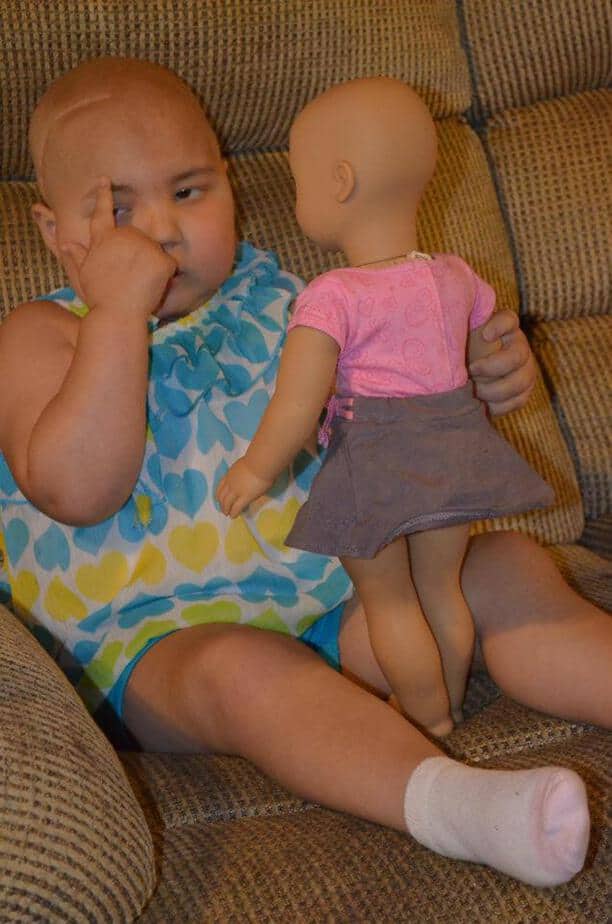 And that's how Abby got her American Girl doll, named Abby.  It's also how my children learned important lessons about doing for others, and how amazing it can feel to know that you did something pretty special for no reason at all.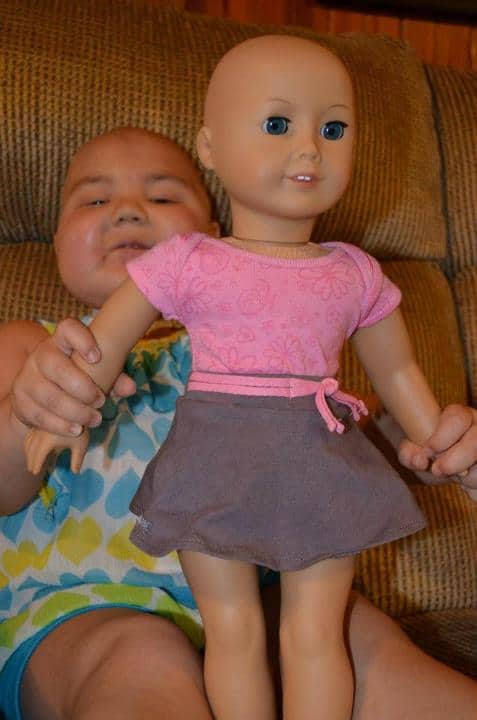 I hope that my friends at American Girl see this post, and see Abby's face, and read her mom's email sharing what Abby's reaction to seeing her doll was.  Because  I think they should know that this doll, this one doll, has made a pretty huge impact on one family's life.  I think companies should get the chance to see photos like this, that Abby's mom was kind enough to share, so that American Girl and other companies like them can see what an impact their products and decisions have on us.  I'm so honored I could be part of it.
Update: Abby passed away in the middle of 2014.  I hope that her Abby doll is bringing her sister some comfort as she plays with and remembers her beloved sister.
If you or someone you know would like to order one of the wigless dolls from American Girl, you can visit the "doll hospital" on the site- or give them a call at the number listed below.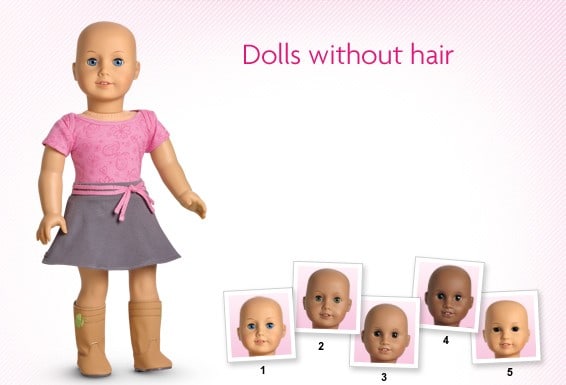 We're delighted to provide a My American Girl® 18″ doll that's just right for your girl. Each of our new dolls without hair is specially designed from a variety of doll faces, skin tones, and eye colors.

Plus, if you already own a My American Girl® doll, you can admit her to the Doll Hospital where our experts will be happy to replace her head to create a doll without hair.

For more details, call customer service at 800-628-5145to discuss options and to order a doll without hair.

I did receive Abby's doll to facilitate my review.  Opinions are my own.