Earlier this morning, I was with the kids in a busy local shopping plaza parking lot. This is an older parking lot and it does not fit today's parking needs, to say the least. It's dangerous and narrow and I only go there because I love that particular grocery store. Trying to leave a parking space in that store is harrowing every single time.  Too many large cars and no visibility. I creep out and look as many times as I can.  I'm terrified I'll miss seeing something- or someONE, and my heart skips a beat every time I pull out.  When I saw that my friend Janel from A Mom's Take had recently shared about the Back Up Better products, I started to investigate.  I wanted to know more and where I could find some for my vehicles!
 "In the U.S. at least fifty (50) children are being backed over by vehicles EVERY week." (kidsandcars.org)
Another place of concern for backing up?  At home.  We're hyper conscious when we back up in our driveway and either have the kids in the car with us or have them stand by the garage where we can see them at all times. I've heard way too many tragic stories that have devastating endings that involve children being backed over in their own driveways.
We have three older vehicles and back up cameras aren't options for us- having them installed is cost prohibitive at this point and finding an easy to install option that IS affordable was something I wasn't aware existed.  Thankfully, I am now aware these products exist.  I have some en route to my house, in fact!
Why am I so glad to find out about Back Up Better?  These are some alarming statistics.  Better safe than sorry, I say.  You can't ever be too cautious, especially with the distractions facing todays drivers.
Nearly 50% of children injured in backover incidents were 1 to 4 years old. Most backovers occurred either at home or in driveways or parking lots.

Backover fatalities happen most commonly in the driveway, closely followed by other residential areas, nonresidential parking lots and public roadways.

From 2001 to 2003, approximately 7,475 children (2,492 per year) aged 1 to14 years were treated for non-fatal motor vehicle backover injuries in emergency departments.

In November 2008, the National Highway Traffic Safety Administration estimated that there are 18,000 backover injuries annually, of which 292 are fatal.
Check these images out- one is a side view mirror without Back Up Better product, and the other has the Back Up Better.  A picture speaks 1,000 words, right?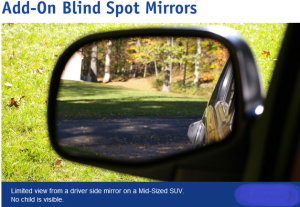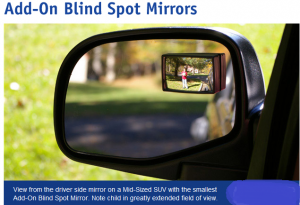 So where does Back Up Better come from?  Two neighbors. Two concerned parents.  Two people just like you and me.  They saw a problem and an affordable, simple solution.
It's simple. We're a group of parents with SUVs and Minivans, just like you.We've read all the horror stories. We've seen them in national headlines. More importantly though, we've seen them happen in the driveways and parking lots much too close to our own homes.Automobile and truck manufacturers and legislative bodies have wrestled for years over the elimination of vehicle blind spots. Legislation has been established, named after a doctor who himself ran over his own child… but we're still years away from real solutions. All the while, children continue to die in avoidable, regrettable backup incidents. And no parents want that child to be their own. We get chills when we think about all of the backup incidents we discovered? There are tens of millions of vehicles on the roads today that have no line of sight to what is directly behind them, and in many cases, what is to the immediate side.Blind spots.We've decided to do something about it — not in a few years — but today.
We've researched the subject. We've compiled the stories. We've researched solutions. We've tested products in the real world, with real people… with our neighbors and friends and with their neighbors and friends (many of whom are quoted here). We've found simple and inexpensive solutions that really work. And we offer them to you right here, right now.
So what are the Back Up Better products?
Well, there are three products.
Back Up Better Rearview Lens (comes in 2 sizes, $14.99 or $23.99) The Back Up Better Lens is a thin, flexible plastic lens that adheres easily with a little water to the rear window of your SUV, minivan, truck or station wagon. It expands your sight far beyond the field of vision normally available through your rear window. By doing so, it enables you to see much more area and objects that would currently be in your blind spots, closer to the rear of the vehicle, down, up, and to the left and right. Professional truckers have used these lenses for years on their large cabs side windows to increase their view of cars below their level of vision and outside the views of their mirrors. Viewing through the lens literally expands the world around you.
Back Up Better Add-On Blind Spot Mirrors(come in 4 sizes, $6.99 or $12.99) These convex spot Add-On Mirrors attach easily to your vehicle's driver and passenger side mirrors, greatly increasing your field of view behind and alongside your vehicle, virtually eliminating blind spots. They more than triple your side view.
Back Up Better Add-On Blind Spot Mirrors are all manufactured in tough non-reflective black ABS plastic with a quality reflective mirror surface and attach with weather-resistant Peel & Stick adhesive patches, already applied to the backs. Just clean your mirror with household (Isopropyl) alcohol, then peel and stick. These are inexpensive additions that greatly enhance your vehicle's Backup and lane changing safety – and give you a lot more comfort and confidence.
Back Up Better Back Up Alarms(one size fits all vehicles, $14.79).  These backup alarms produce a loud beeping sound that triggers automatically when your vehicle's transmission is put into reverse. Don't let their low cost deceive you. They really work. The warning sounds alert people close to your vehicle to pay attention when you're backing up. Demonstrate it for your children.
This alarm can save a life, while keeping neighborhood noise to a minimum. And their minute size and single wire installations make them quick and simple to install in all 12-volt vehicles. Very simple installation instructions for do-it-yourselfers, or your local gas station or mechanic, are included. One size fits all vehicles.
Even purchasing all three products in the larger sizes, you won't spend more than $56.00 with shipping and you can be assured that your field of vision when backing up is improved dramatically.  Definitely an investment worth making, in my opinion!  What a great gift these will make!  All three products are available for purchase on Back Up Better's website.

 This post is brought to you by Back Up Better.  Opinions are my own.
0