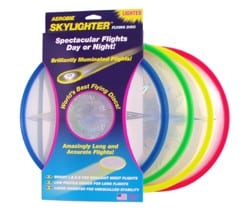 Aerobie® Skylighter™
Lighted Disc
Back in October we had a freak snowstorm that left most of Connecticut without power for as many as 10 days.  Parents were stuck trying to find ways to entertain children that were unexpectedly out of school for a week.  We played board games, took walks and waited in line for gas.  Then a package arrived with the Aerobie Skylighter lighted disc.  My husband and I have always enjoyed throwing a disc around and my little guy has quite an arm.  So, we waited until the sun went down and suited up with our coats, boots and mittens.  Out in the snow covered yard we started to toss around this lighted disc.  It was so much fun to play in the dark and actually be able to see the disc.  The next time we play I will get some glow stick necklaces to wear so we can see each other in the yard.   This disc is easy to throw and the rubber rim makes it easy for all ages to catch.
What Is The Aerobie Skylighter?
Extend the fun of playing with an Aerobie flying disc into the night with the new Skylighter lighted disc. Its bright LEDs illuminate the clear center and the translucent colored rim to make the entire Skylighter appear bright in the night sky. With the patented Aerobie spoiler rim design, the Skylighter is easy for players of all skill levels to throw well. Its narrow profile and large 12 inch (30cm) diameter make the Skylighter fly far and straight.
As is the case with all Aerobie discs, the Skylighter has a rubber rim that provides a performance grip for strong throws and a soft edge to catch. Weight: 175 grams. Available in yellow, red, blue, and green. Ages 10 and up. Takes 2 lithium CR2032 3 volt batteries. Quality made in the U.S.A.
Check out their website HERE for more information.  Click HERE to find out where to buy your Aerobie Skylighter or other Aerobie products.
This flying disc was provided to facilitate my review.  Opinions are my own.

0