Tablet computers seem to be all the rage this holiday season, for adults and kids alike. I know that there are a lot of options out there and it can be difficult to choose. The InnoTab from VTech is new on this market this year and is a great device. I was able to test out this tablet style computer for kids age 4-9 and was really pleased with the features and options. Some of the features include:
The InnoTab is equipped with a 5″ color touchscreen and an outer durable plastic case. I like that this computer can take some rough and tumble handling from kids. The screen is suitably large and the buttons are simple. There is a home button that brings you to the main page and volume control buttons. Upon turning on the device (you will need to add 4 AA batteries, they are not included), the InnoTab walks you through the sign in process. It is easy to get started with the preloaded apps and games. Simply touch the app and play.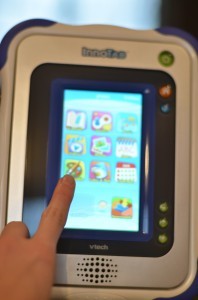 When you are ready to add more diversity to your InnoTab you will need to log onto their website and download the hardware to your computer (VTech Learning Lodge). This was an easy process but did take a few minutes. Once the download is complete you will need to insert an SD card into the InnoTab and plug the device into your computer using the provided USB cable. The VTech Learning Lodge is an easy site to navigate, but you will first need to set up an account. Once your InnoTab is located, you will be free to download apps, games and books. Your account will be preloaded with 3 v coins, which can be used like cash to purchase items on the site. Each app or book typically costs 1 v coin (an approximate value of $3 per coin). After you have used your coins, you will need to purchase the dowloads, which cost an averate of $3. You can also purchase cartridges for the InnoTab, featuring liscensed characters, including: Spongebob, Toy Story, Disney Princesses, Cars, Dora, etc… These cost about $25 each and can be inserted directly into the InnoTab. I love the look and feel of the InnoTab. It is very user friendly and easy for a young child to navigate independantly. The e-books are great for early readers. The stories can either be narrated, or read by the child. The motion learning games are fun, using tilting motions of the InnoTab. There is an organizer with a calculator and calendar. There is also an art studio and coloring book, which my children really enjoyed. One of the best features are the music and photo apps. Your child can use the InnoTab as an MP3 player and can also view some of their favorite photos on their very own device.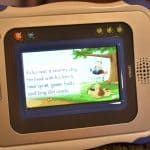 The clarity of the screen is great and the quality of the touchscreen is better than I expected. The touchscreen responded nicely to the touch. Overall I really loved this device and feel that it is well worth the investment. The age range of 4-9 is appropriate and there is diverse download content. I would recommend opening the InnoTab prior to Christmas morning and registering the device and downloading the hardware before Christmas morning. This process can take 30-45 minutes and it would be well worth the effort to have this all set up before your child opens the gift. At a price of $79.99 this is a great value and a toy that can grow with your child. By signing up for their emails you can be notified of sales. In addition, the InnoTab comes with a $5 coupon inside the packaging. "I received a sample of this product to faciliate my review. All opinions expressed are my own."