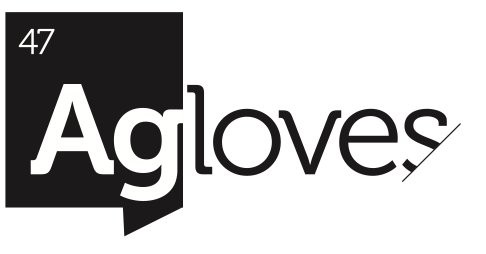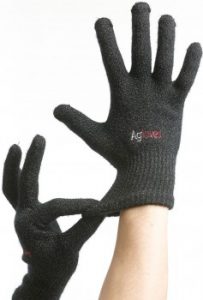 Looking for the PERFECT stocking stuffer? I ran across Agloves during my search to find a gift for my tech savy, impossible-to-buy-for brother in law. These are the greatest. Agloves are gloves that can be used with touchscreen devices. Don't let the cold weather impede your texting, internet searching or phone calls! Regular gloves just don't work with touchscreen technology. I tried out the sport gloves and thought they were fabulous. They kept my hands warms but were very slim fitting. They worked perfectly with my touchscreen phone. My phone reacted just as if I were using my fingers. The gloves were not bulky at all. What makes the Aglove so special? They are made with a silver yarn that improves the touchscreen ability.
Agloves are made with real silver, why?
"Hence the name (Ag)loves. "Ag" is the symbol on the Periodic Table of the Elements for silver.
Silver is the most conductive metal on the Periodic Table. This is important because you must have a conductive material in order to use a touchscreen device, as most touchscreens are capacitive. Normally, your hand's natural bioelectricity is transferred through the moisture (water in your skin) in order to activate devices."
The Top Reasons Agloves Make the PERFECT Holiday Gift
Fashionably black & seasonably warm.
Best holiday gift under $25: Agloves range in price from $17.99 to $23.99.
Unisex.
Machine washable.
Most accurate touchscreen glove on the market & America's top-rated touch screen glove.
Anyone with a smartphone or touch device loves them!
From the businessman busy with work emails to the teenager on the ski slopes listening to music on his iPod.
Agloves come in the original style, bamboo and sport. I loved the sport design and felt that they were nice and slim. The sizing is unisex and I tried the S/M size. They fit great, although I do have fairly small hands. These gloves are stretchy enough that they could easily fit a larger sized hand. For a man I would definitely go up to a M/L size. This is my go to gift for all the techy people on my Christmas list! Follow Agloves on Facebook for the latest updates. You can also check them out on youtube. With a retail price of $23.99 these are the absolute perfect stocking stuffer or small gift idea. Definitely a top 10 idea for me this year. "I received a sample of this product to facilitate my review. All ideas expressed are my own."