This post brought to you by King Digital Entertainment. The content and opinions expressed below are that of this mama loves.
Have you ever heard of the summer learning slide? This is a phenomenon that takes place among school age children over their summer vacation. Studies have shown these kids will lose a portion of the information they learned over the course of the school year. As parents, of course we want to do what we can to avoid this from happening to our own children. We need to find a balance so the kids can relax and have fun over the summer, while instilling some level of learning at the same time. We want to see the kids outside getting plenty of fresh air and exercising those muscles of theirs! At the same time we want the kids to flex their brain muscle while still enjoying their summer break. Well, I am here to share some great news! King Digital Entertainment, the interactive company that has brought the hugely popular Candy Crush and Farm Heroes Saga games, has created AlphaBetty Saga, a new word based game the whole family can enjoy.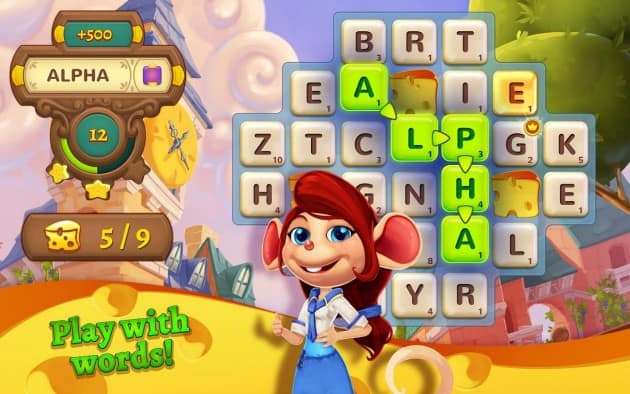 The kids and I downloaded AlphaBetty Saga and we have had so much fun! We have had a family competition this past week to see who can get the highest score. So far, my 16 year old daughter is schooling all of us! AlphaBetty Saga starts off with Betty, a young mouse living in the 1930s. She follows her grandfather, Professor Alpha, and his loyal assistant, Barney, to discover lost words to complete the "Encyclopedia of Everything". As the world's authority on collecting words, Professor Alpha will call on players to help him complete the legendary book. The game is full of fun and colorful graphics, making it even more fun to play! The game uses non-linear gameplay to enhance creative wordplay and strategic opportunities for players. As you play, you try to connect adjacent letters to create words, score points and ultimately advance through a world inhabited by mice, with much of it made of cheese!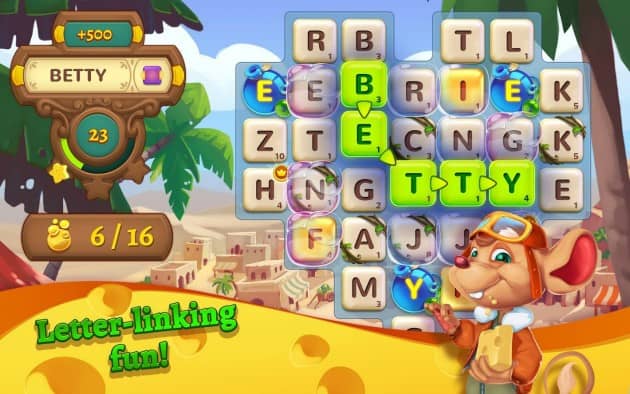 AlphaBetty Saga has 5 different game modes:
Scoring: Simply create words and achieve the target score
Cheese Falls: Bring cheese chunks down to the bottom of the game board to collect them Bubble Pop: Include a letter inside a bubble in a word to make it pop
Word Frenzy: Create and collect the target number of words containing the target number of letters
Cheddar Spreader: Spread the cheese under multiple tiles on the board- You will move through 140 Levels which are divided into three Chapters: London, Egypt, New York. You want to keep an eye out for those collectible artifacts that hold unique abilities to help you beat the more difficult levels along the way. Trust me when I tell you that these come in very handy when you get stuck on a certain level.
Download on Android or Google Play
Download on the Apple App Store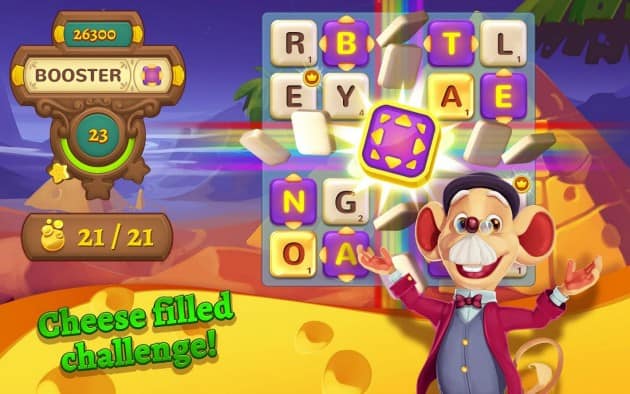 You are challenged in this game because you are not just looking for words with letters from left to right, up to down or down to up. You can also make matches from right to left, which is not as easy as you may think! You are not accustomed to reading in this direction, so your brain is not used to seeing words in this direction. It adds a whole other level of challenges to the game, which makes it more fun in my opinion! If you are hitting the road this summer, AlphaBetty Saga has a unique and fun survey for you! It helps summer travelers avoid spelling mistakes during their summer travel. How cool is that?! Follow the Betty on Twitter. You can download AlphaBetty Saga for free on iOS, Google Android and don't forget to visit the AlphaBetty Saga Facebook Page.