Apparently, one of the ways Alyssa Milano (Oh, how I adored Who's The Boss?) stays fit during her pregnancy is in part due to wearing FitFlop Florettas.  These are gorgeous!!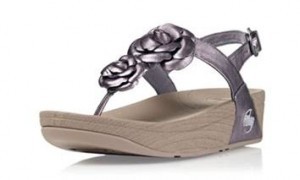 I guess Alyssa Milano has the right mindset for fitness.  While going to and from her yoga classes while pregnant, she wore these Florettas regularly.   I may just have to try this!
Although they are an adorable shoe, they are also a way to get some exercise in even when just wearing shoes and walking around the house.
FitFlop. Get a workout while you walk™

FitFlop footwear is biomechanically engineered to help tone and tighten your leg muscles while you walk in them. Studies at the Centre for Human Performance at London South Bank University (LSBU) show that normal walking in FitFlop sandals* can help:

– help increase leg and bottom muscle activity (up to 30%). (so you feel less ache in your hips and knees),
– absorb more shock than a normal shoe (up to 22%),
– help realign ground force reaction closer to your joints,
– reduce foot pressure and pain from heel spurs and plantar fasciitis.**

FitFlop sandals wearers have also reported relief from plantar fasciitis, heel spurs, chronic back pain, sciatica, osteoarthritis, RLS (restless leg syndrome), scoliosis and degenerative disc disease.

FitFlop footwear features patent- pending muscle-loading Microwobbleboard™ technology and was independently tested at Salford University in Manchester by Dr Philip Graham Smith & Richard Jones to verify their pro-muscle activity prior to launch. (FitFlop has also been approved by the American Podiatric Medical Association – APMA.
Stay in touch with FitFlops on Facebook to keep up with the latest and greatest new products and deals!
Information was provided by PR.  I did recieve a sample of this product in exchange for my post.  Opinions expressed within are my own. [ad#glam between posts]