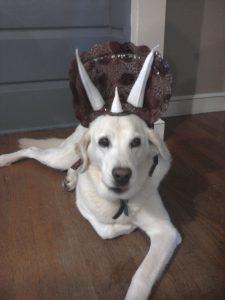 AnimalPlanet.com is celebrating Halloween with a Pet Parade- and Tobey the Bargains dog is participating!!  He's a Triceratops, if you can't tell.  (He accidentally received the wrong size costume so we had to make do- while hilarious as is, this does look super adorable on a bit smaller dog…)  Cute, funny, why not pop over to Animal Planet and cast your vote for the cutest pooch?  Hint: Tobey is cute…don't you think?
The Animal Planet costumes are adorable.  Seriously.  There's another dinosaur and a butterfly, among others:


I received a costume so that Tobey could participate in the pet parade.  Opinions are my own.