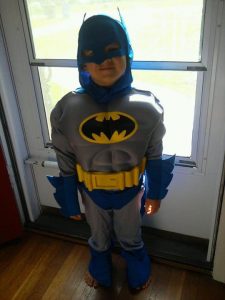 Not only are we fast approaching Halloween season, but we're also in redecoration mode around the Bargains house. You may wonder what on earth one has to do with another, but, my friends, I have a little man who is semi obsessed with superheros, and we are in the process of creating a little boy's dream bedroom in a Batman theme.  Of course, when I got to choose a costume from CostumeSuperCenter.com for review, I immediately went on the search for Batman.  (We already have the kids' costumes for Halloween).  I want to have a dress up area for him for all of his superhero stuff (and whatever else he wants!!) and we don't have much in the way of boy dress up items (yet).
I actually had to think and mull over my decision. I had no idea how many different Batman characters there are.  Batmen?  Versions of Batman?  I mean, I figured, hes got black clothes, and a cape.  Um…wrong.  SOME Batman guys have black and a cape.  Others have grey with blue.  Some have grey with black.  Its very confusing.  Just so you know, there are 71 results when you search "Batman" on CostumeSupercenter.com.  Seventy one.  That's a lot of bats.  Choosing the category "boys costumes" narrows things down to 12, and immediately you can breathe easier that this decision will NOT be so complicated.  Plus one costume on the Batman page for boys is a chef.  (Not sure why.)  So really, there are 11 to choose from, and that includes 2 Robins and a few Jokers.  Ultimately I went with The Brave and the Bold Deluxe Muscle Batman Costume. I HAD to get the muscle one.  I think they are hilarious…and it cracks me up to see my little 4 year old looking all muscular!!
I'm really happy with this costume.  My son is really happy with this costume.  I have plans for a peg rag on the back of his bedroom door for all of his superhero dress up costumes and I know without a doubt that this one will be hung to be admired when not being worn.  The costume is really well made, the muscles keep shape when bent (I had to poke them) and the velcro is well stitched and won't tear off easily. I love that the mask can be worn over his eyes or pushed up a bit (his preference) for more ease of visibility.
There are so many different costumes at CostumeSuperCenter.com, its hard to choose- but I will wager a guess that whatever kind of costume you are looking for, you are probably going to find at least part of it on this site!  The site is very user-friendly and easy to navigate.
Doesn't Batman look so nice hanging next to Robin?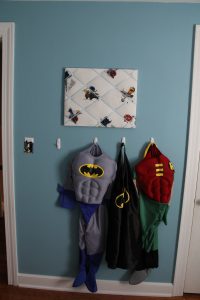 I received a sample of this product to facilitate my review.  Opinions are my own.