This is it- the final recipe for the Week of Waffles I'm sharing as a Chief Waffle Officer.  It's been a fun (and filling!) week- and I'm ending mine on a sweet and simple note.  This recipe is for apples and Eggo waffle sticks with honey yogurt dip.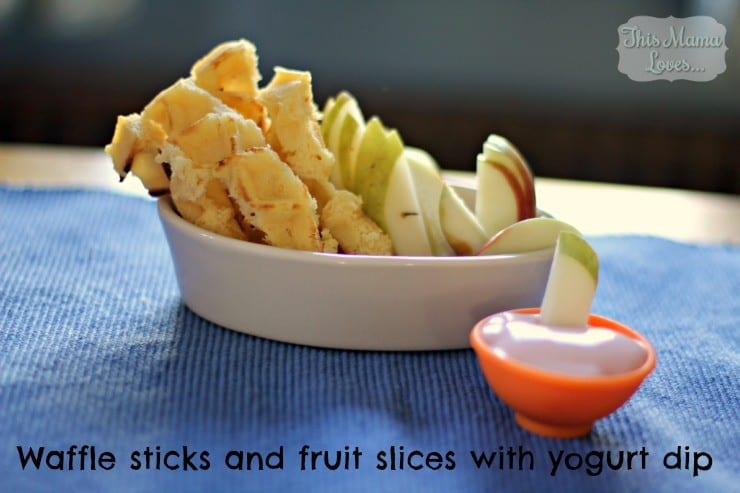 I make this honey yogurt dip using local honey (we have seasonal allergies in my house, and local honey is great for that) but you can use any honey.  I just take any chance I can to include local honey in our diets.
 My little one actually ended up making her own little Eggo version of ants on a log (waffle stick) using the yogurt for the "glue" and pieces of fruit including mandarin oranges for ants!!  Do you think the kids would do this when mommy has her camera out or is in the house? No. I was in the shower, and no one got a picture.  Definitely something we'll be doing in the future.
To make Eggo Waffle Sticks with Honey Yogurt Dip:
Eggo waffles- toasted, cut into strips (1 per person serving-wise)
Fruit sliced/cut into sticks (if applicable.  berries on a toothpick would be fun for dipping too!)
Honey Yogurt Dip: 1/4 cup yogurt (we usually do plain or strawberry), 2 TBSP (local)honey.  Stir with a spoon and voila!  Honey yogurt dip.
This is a great snack for the kids at the park or school- the yogurt has lots of protein to keep that energy up and dip is always well received! You can really have some fun with the fruits and waffles and cut them into fancy shapes- we just do "plain" old slices.
This post is sponsored by our friends at Eggo.  Opinions are my own.
0