This is a sponsored post written by me on behalf of

BarkBox. All opinions are 100% mine.
Awesome gift idea for dog lovers: BarkBox Subscription Box!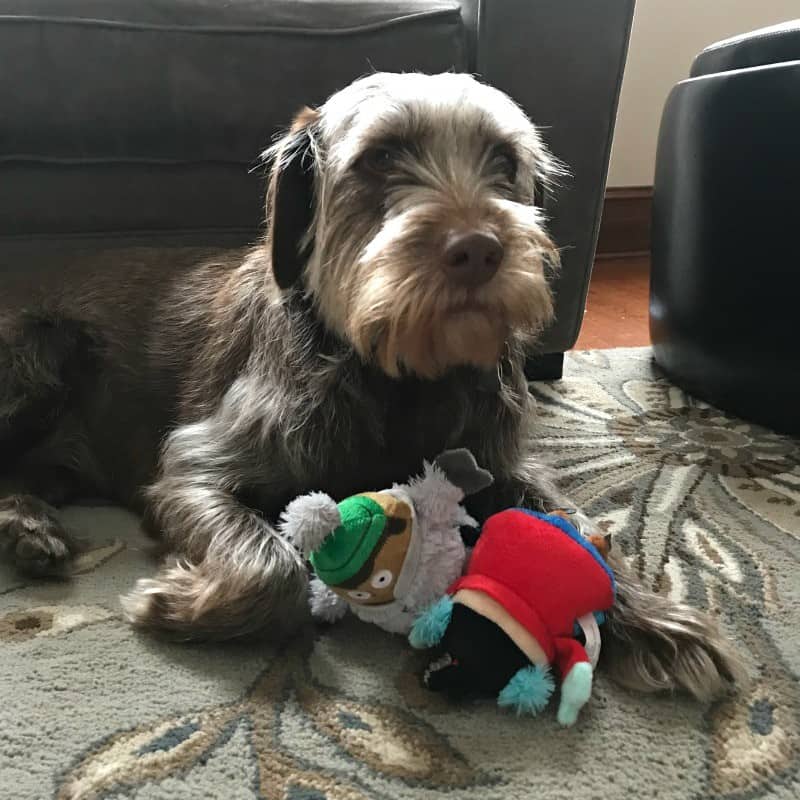 I have had a dog (or three) in my house my entire life. I think there were a few times here and there where I lived in an apartment in college and didn't have a dog, but would have friends, family and neighbors who let me go love on their dogs. So it still counts. While we only have one dog at a time at the Martin house, she's no less spoiled than any other dog we've had in my family for the past 43 years… and I have no plans to stop! My mom always made sure that each of our pets had a gift for Christmas and our pets always managed to find the time to get each of us a gift as well. You can blame her for my Christmas crazy, but I've embraced it and carry it on proudly now that she's gone. Two Christmases ago, I found the most awesome gift idea for dog lovers, and a new obsession was started. I discovered BarkBox, which is a monthly themed subscription box that comes with 2 toys, 2 full-sized bags of treat AND a chew for as little as  $20 a month. There is an upgrade option to include an extra toy in each box for an additional $9 a month.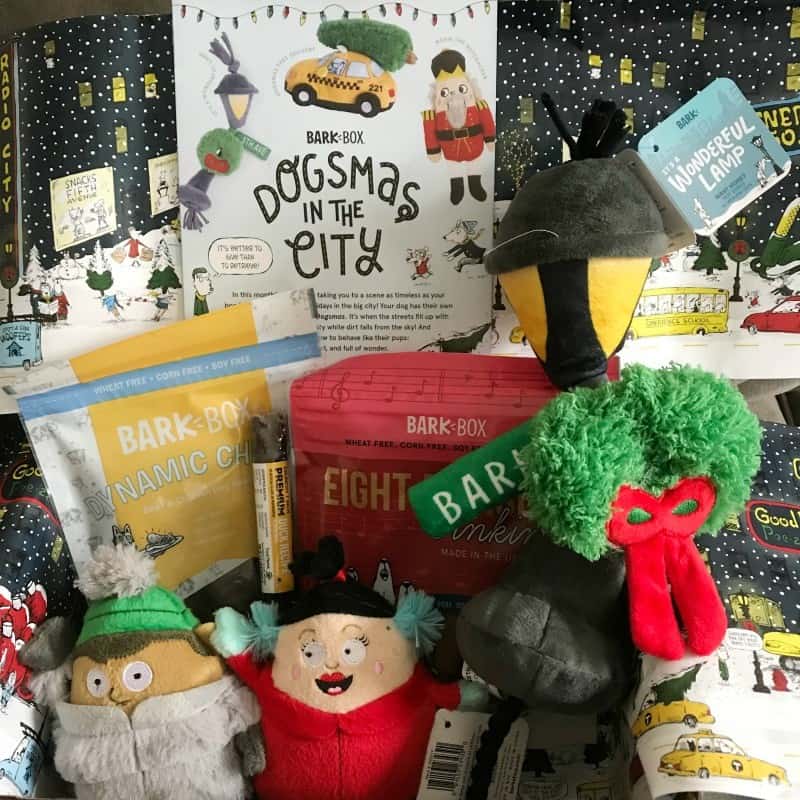 The folks at BarkBox happen to be local to Connecticut, which is SO fun and we're anxiously awaiting our invitation to come visit their offices…First box ships right away all following monthly boxes are shipped on the 15th of each month That also means our box is here super fast once shipped each month. They put some serious attention to detail with the themes they choose each month, and out of 24 boxes, we've been disappointed in exactly zero of them. From holiday themed like this month's "Dogsmas in the City" theme to "BARK University" box, a back-to-college theme featuring a stuffed frat boy named Rad Chad and a doggie version of a crinkly, squeaky beer pong set, BarkBox knows how to create a box of fun wrapped around a theme and they know how to work a pun.
This month, your dog's going to have a new best friend, one without a butt- BarkBox! While we've loved them all, given what time of year it is, I'm going to talk about this month's box, "Dogsmas in the City". From the moment you lift the lid and see the paper inside wrapped around the contents- you're living the theme. Make sure you look at the card stock and BarkBox paper liner each month, because they are always fun, but also lots of attention to detail. The paper also makes a great wrapping paper, especially for pet lovers. Reuse it!
There are a few things I LOVE about BarkBox, aside from the fun themes! First, 100% Happiness Guaranteed: if your dog does not absolutely love something in the box, let their Happy Customer Service team know, and they'll send you something your dog will love. For free. Second, they also offer free shipping to anywhere in the US and Canada. Third, BarkBox treats are all-natural and made in the USA or Canada. They don't contain any wheat, soy, or corn!

Plus, BarkBox designs their toys in house. (Again, Brownie and I need to go visit them, don't you think? She's the queen of tug!) If that's not something to wag your tail about, I don't know what is! Some of Brownie's favorites have been going strong for a full 24 months at this point, how many dog toys have you had that last that long? BarkBox delivers tail wags, butt wiggles, and howls of joy to thousands of lucky pups all over, and BarkBox is bursting at the seams with crazy dog joy. Which dog will you be gifting a happy dance in a box to this holiday?