Throwing a baby shower doesn't have to mean big bucks spent. You really need 3 main components: food, atmosphere and guests (friends and family). Once you have those main components and a willing guest of honor, you're good to go. Well, maybe not that simple. Chances are, you have a budget of some sort for the food and decorations. Perhaps you're going to an outside venue for the event.  Regardless of your budget, you don't have to spend big to make a nice spread. Full disclosure: this isn't a table spread from a shower. It's a mockup with real food that I shared with some friends.  We all agreed it was yummy.  Our friends at Chex inspired me to write about how to throw a baby shower on a budget.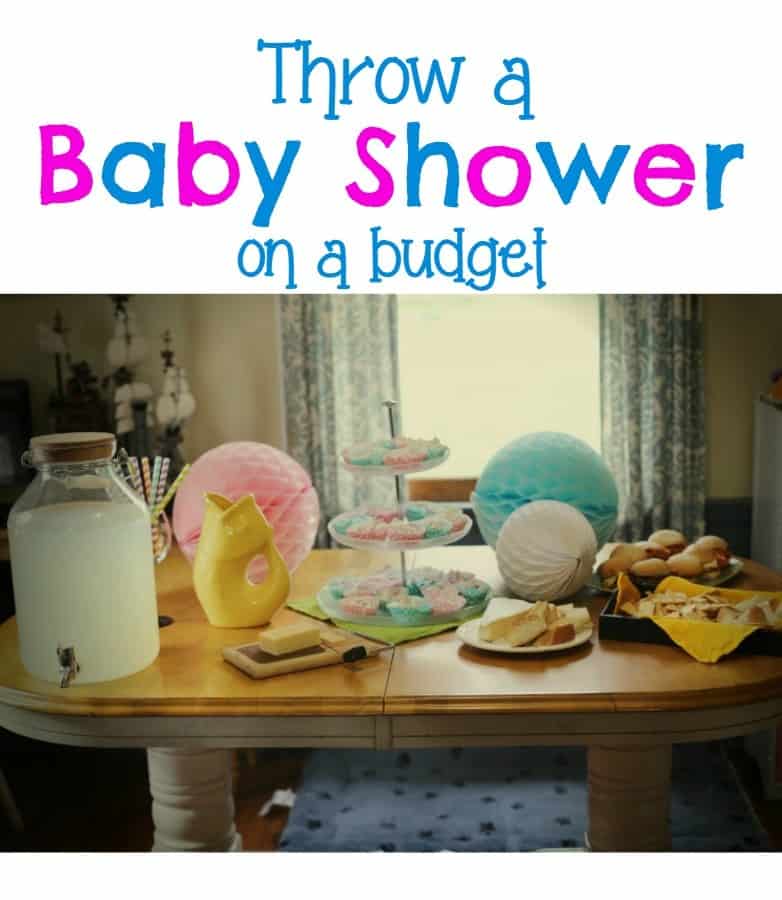 Throwing a Baby Shower on a Budget
Kiss It.  Keep it Simple, Silly!
Don't over complicate things.  A simple menu with a few of the expectant mom's favorites will be just the thing.
You don't need to go all out on decor.
I promise.  Put down the $42 centerpieces.  Get a simple bouquet if you want something special that she can bring home with her! You can spend a small fortune on decor and really, a few simple things can make just as big of an impact.
Use what you have.
Sure, you can get a super cute baby-themed tiered serving piece, but will you use it again?  Wouldn't you rather use that money on a gift the mom to be can use, or on yummy food?  Find a serving piece you already have- or ask a friend to borrow theirs.  That white tablecloth you usually pull out for Thanksgiving?  Use that with some fun colors instead of buying a whole new set.
Limit menu choices.
I'm totally serious. Make sure you have enough of everything, but simple works really well.  Some snacks, something a little more substantial (with protein), something sweet, and beverages.  Done.  You don't need to recreate a whole restaurant menu.  I mean, you can, but when we're talking about budgets…
For something sweet, everyone loves Muddy Buddies.  Why not make some fun baby girl or baby boy themed Muddy Buddies (aka Puppy Chow), served in cupcake wrappers?  Simple, inexpensive, DELICIOUS, and, as a bonus, they look adorable on the table. The cupcake wrappers also double as portion control, unless your guests have a super sweet tooth and go back for seconds (thirds).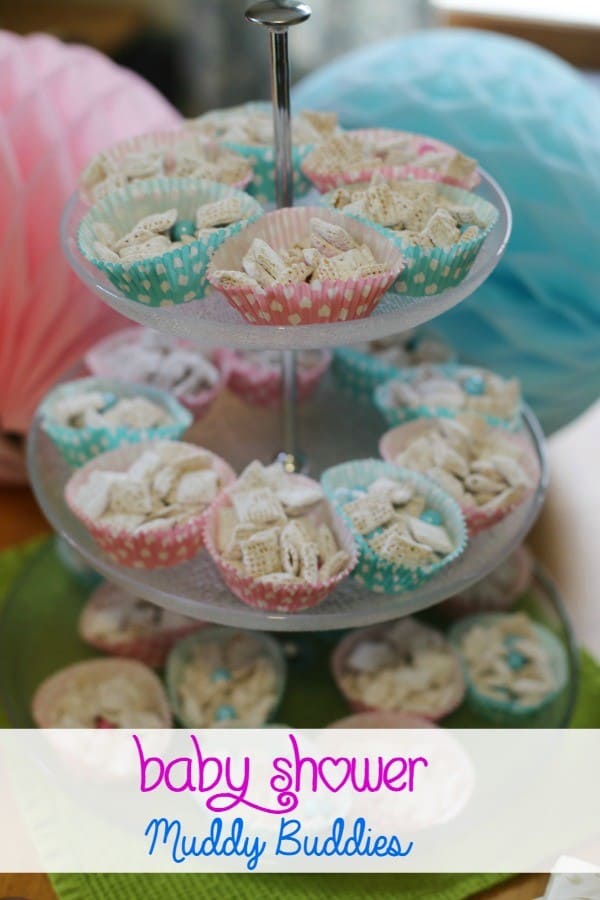 Baby Shower Muddy Buddies
This recipe is mine, but it's most definitely adapted from the folks at Chex Mix. ChexPartyMix-RecipeCards-ItsAGirl-print and ChexPartyMix-RecipeCards-ItsABoy-print if you'd like to see the original inspiration (or use for you!)
Ingredients
1 bag melting chocolate
3 cups confectioners sugar
1 box (gluten free) Chex Cereal – about 9 cups- any flavor works. I try to grab the gluten free when I'm able to just so I am sure that I can tell people there's no gluten in my muddy buddies. (I used corn flavor this time)
Sixlets in whatever color you want to use- to coordinate with the baby's nursery theme, for boy/girl, for fun- they have so many to choose from! (2 cups total)
Large plastic (sealable!) storage bag (gallon sized)
Large microwave save mixing bowl (or double boiler)
Fun cupcake wrappers
Edible glitter, colorful shots/sprinkles/jimmies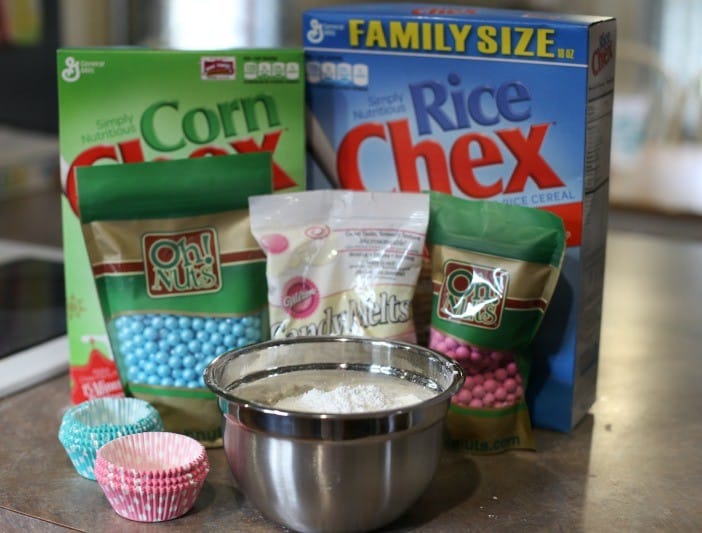 Directions
Melt chocolate in double boiler on stovetop, or at 20 second intervals in the microwave
While chocolate is melting, add your confectioner's sugar to the storage bag. Set aside.
Once your chocolate is melted, stir in your Chex cereal.  Honestly, the most effective way I have found to coat the cereal evenly is to mix by hand.  You don't want a lot of cereal breakage while you coat. It's easier to gauge the pressure you are using by hand than by spoon.
After your cereal is coated, add half of it to the storage bag with the sugar, seal it and gently shake the bag to evenly coat.  Once you have the cereal evenly coated, remove from your bag and set on cookie sheet (you can also put it into your colander to remove excess sugar). Repeat with remainder of coated cereal.
Once your cereal has been coated with chocolate and then the powdered sugar, add your Sixlets (or other colored candies) and gently mix.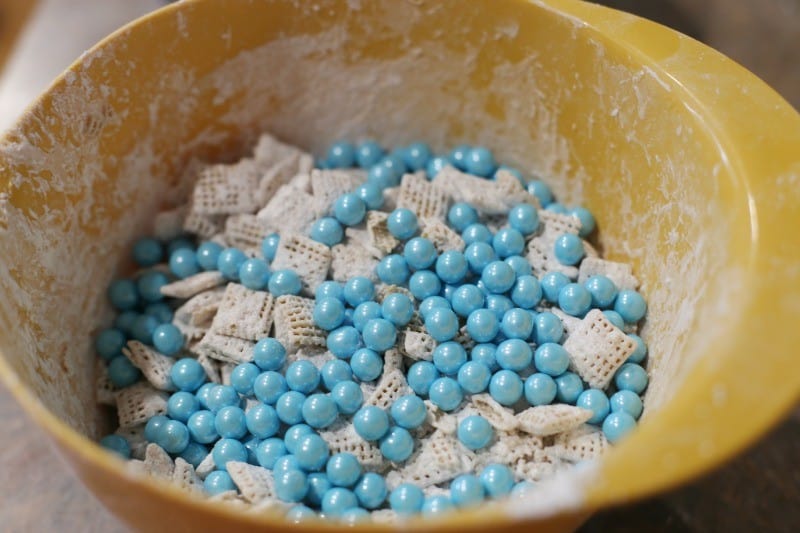 Add Muddy Buddies to cupcake wrappers and arrange on your serving piece.
Super sweet in so many ways!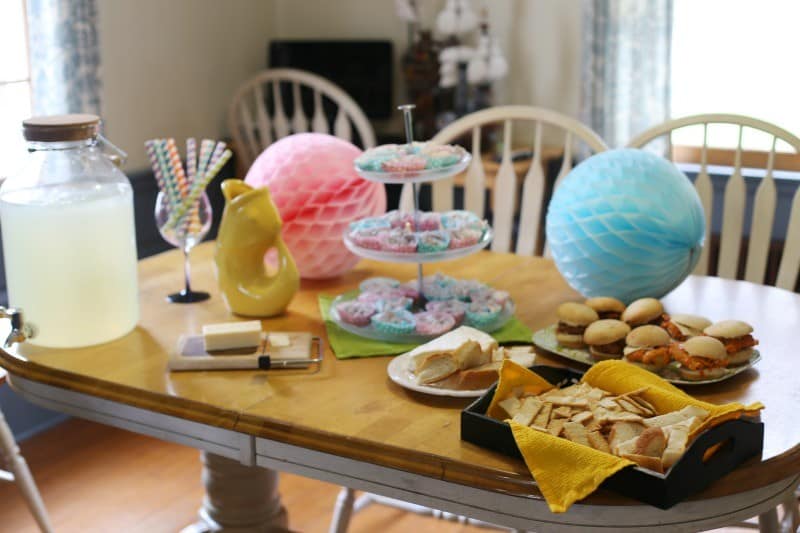 One reader will win a fun Chex Mix Entertaining Prize pack that includes a 3 tier dessert stand from Crate & Barrel, a beverage dispenser from Crate & Barrel, honeycomb decorations in blue, pink and white, assorted cupcake baking cups, and pink and blue chocolate candies!
[mpprecipe-recipe:2265]