This Mama Loves Kids in the Kitchen as much as they love being in there! My kids beg for snacks all day long and while I don't mind tossing them the occassional packaged bag of cookies or chips I prefer that the majority of their snacks be healthier- these homemade Cheez-its are made with much healthier ingredients than processes snacks and the kids love them (so does the hubby!).  They are simple and fun to make as well so I thought I should definitely include them in the Kids in The Kitchen series for you to try with your little ones as well. They get to measure, mix, roll, slice, and bake their way to healthy and tasty treats.  Experiment with some seasonings in your kitchen if you are feeling adventurous to give them various flavors- a dash of hot sauce,  or basil and oregano.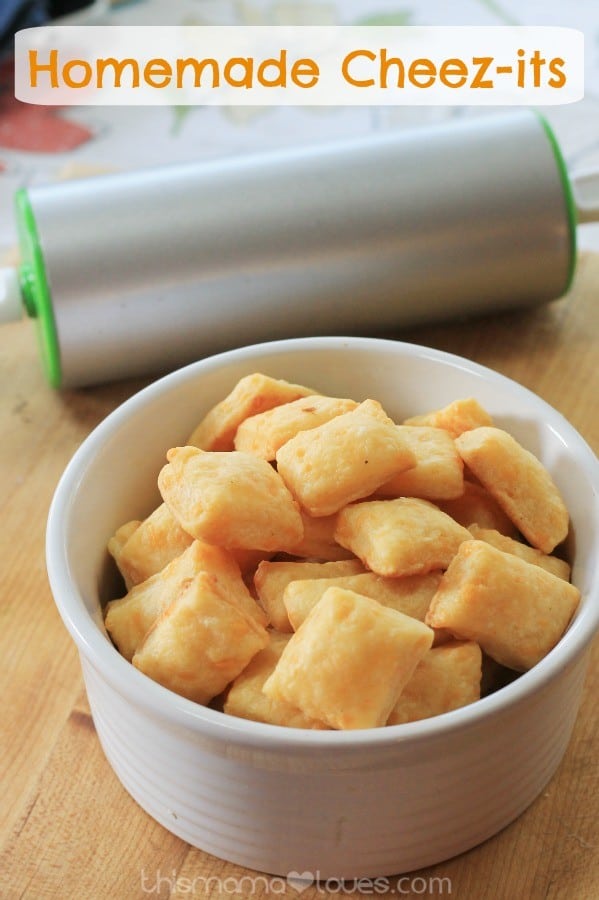 Homemade Cheez-Its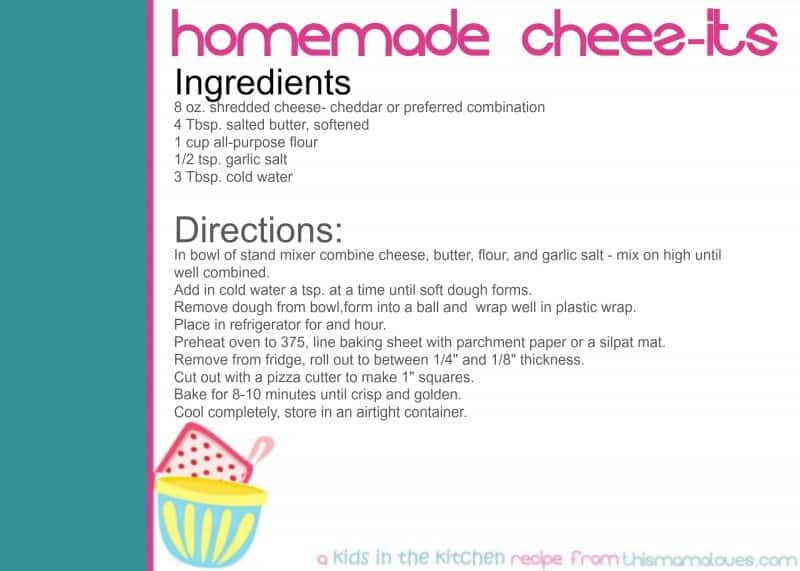 Ingredients
8 oz. shredded cheese- cheddar or preferred combination
4 Tbsp. salted butter, softened
1 cup all-purpose flour
1/2 tsp. garlic salt
3 Tbsp. cold water
Directions
In bowl of stand mixer combine cheese, butter, flour, and garlic salt – mix on high until well combined.
Add in cold water a tsp. at a time until soft dough forms.
Remove dough from bowl,form into a ball and  wrap well in plastic wrap.
Place in refrigerator for an hour.
Preheat oven to 375, line baking sheet with parchment paper or a silpat mat.
Remove from fridge, roll out to between 1/4″ and 1/8″ thickness.
Cut out with a pizza cutter to make 1″ squares.
Bake for 8-10 minutes until crisp and golden.
[mpprecipe-recipe:2264]