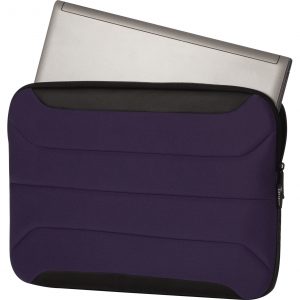 Targus sent me one of their 10.2″ Zamba Netbook Sleeves in purple(which is used for my Galaxy Tablet).  I needed to have something that I can carry my tablet in and not worry that it will be bumped or scratched when, inevitably, my bag is dropped, set down hard, bumped into, or whatever.  It is not made specifically for my tablet size so its a bit large (made for netbooks up to 10.2 inches!)  but it houses my tablet and keeps it safe and I'm really pleased with the construction and quality of materials.  Of course, I've had it dropped a few times while it was in the sleeve and it was well protected!
The sleeve is made of water resistant neoprene which is great for people on the go all the time- in inclement weather even if you have a long walk to your destination, your electronics will be protected.  The interior has a scratch resistant lining which, as we all know, is very important for electronic protection in the day and age of tablets and touchscreens! 
The Zamba sleeve retails for $19.99 and comes in several bright, vibrant colors so you can protect your electronics without sacrificing personality.  The neoprene sleeves on Targus come  in many sizes to fit different electronic products including tablets, netbooks and also MacBooks and laptop computers.    The products offered on this site seem to come at a fair price- and great quality from what I have experienced.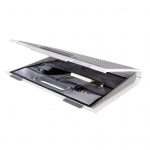 Targus also offers  a selection of backpacks and other items to cool, share, power  protect and carry your electronics around, including this Laptop Lap Desk with Storage, which is designed to work with laptops with up to 17″ screens.  Up until I received this lap desk, I was using a couch pillow to balance my laptop on and getting very, very hot when using my laptop on the couch.  As a mom blogger, I'm obviously near my laptop a great deal of the time, posting deals, reviews, etc., and I don't know what took me so long to get a lap desk.  Now I have my laptop on a flat surface that has ventilation holes so I don't roast my legs – and it sure makes it a lot easier for me to get work done on the flat surface.  Plus, the storage inside is convenient as well. This retails for $39.99.
I received  a sample of this product to facilitate my review.  Opinions expressed within are my own.
0