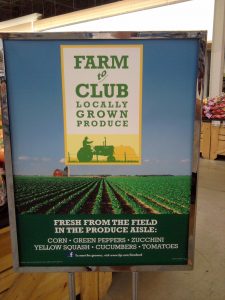 I already love  being a member at BJ's for their good pricing on warehouse items, their gas station at some clubs, and because they take coupons, but the fact that they are looking to support local farmers as well just makes me even happier.   I was quite happy to visit my local BJ's and grab some locally grown produce and check out the selection- which isn't huge, at least not here in CT, but full of local seasonal crops- but any steps to support farmers are important, in my mind. 
Our store had squash, zucchini, peppers and corn grown locally- and you can see exactly what town your produce was from before you even purchase it, so you KNOW that its local. 
I am excited to see where this goes and really hope that BJ's continues with this program!
With consumers growing more conscious of providing healthful food options for their families, the food buying team at BJ's Wholesale Club made a concerted effort to increase number of organic product offerings.

It was important to BJ's buyers that our Members understand that they don't have to spend a lot of money or go to specialty supermarkets to get the fresh, quality organic products that their families deserve.

Members will find organic offerings in most aisles of BJ's Clubs.  In fact, BJ's sells many of the same name-brand USDA Certified Organic products sold at grocery stores – as well as some exclusive brands including Earth's Pride® Organics and select Wellsley Farms® products – at everyday low prices.

BJ's ever-growing organic offerings include:

Fresh-baked breads from Wellsley® Farms made with certified organic ingredients
Earth's Pride's® Organic beef and chicken burgers  from animals raised on organic feed without the use of growth hormones or antibiotics
Value-priced organic dairy products including artisan cheeses, butter, Stoneyfield Farm® YoBaby and Wallaby® Organic yogurts, as well as Earth's Pride® organic skim, 2% and whole milk in ½ gallon sizes
Top grade organic fruits and vegetables including  fresh peaches and gala apples, Earth's Pride® triple berry blend, Organicgirl® Baby Spinach Mix and baby cut carrots
Thirst quenching  apple juice and lemonade from Earth's Pride®  and Honest Kid's® juice box variety pack
Kid-friendly snacks including Annie's® Organic Fruit Snacks and Wellsley Farms® Organic Trail Mix
Pantry staples including Rozzano® Olive Oil, Nature's Earthly Choice™ Quinoa, Wholesome Sweeteners® Organic Sugar, HoneyTree's® Blue Agave Nectar and lots more
Fresh-prepared organic meals for time-crunched families including Wellsley Farms® Organic Spinach and Cheese Ravioli

A BJ's organics expert who focuses on finding the highest quality products at exceptional value can outline BJ's organic offerings and provide shopping strategies for families who want to shop for what's best for them, their wallets and the planet.

 I buy many items that are natural and organic from BJ's on a regular basis.  I find that with coupons, I can save a substantial amount of money per item over buying in a traditional grocery store, and for things we consume a lot of, buying in bulk means less trips to the store for me. 

According to Sustainable.com, a typical carrot has to travel 1,838 miles to reach your dinner table. BJ's Wholesale Club's new locally-grown produce program, Farm to Club, is making it possible for customers to have fresh vegetables that are practically grown in their own backyard. Cecarelli Farms, LLC in Northford and Botticello Farms in Manchester are now providing all Connecticut clubs with fresh corn, cucumbers, green peppers, yellow squash and zucchini.

The local fresh-from-the-farm program seeks to involve local farmers to help build up the local agricultural industry — thus helping our own economy.

I received a gift card to purchase Farm to Club items to facilitate this post.  Opinions are my own.
0