Imagine my surprise when at Target a few weeks back looking for underwear for the kids and I saw this package.  I grabbed it, because my son, age 4.5, eats, sleeps and breathes superheroes (with the exception of the moments during the day when he's on a Star Wars mission) and I have found that most superhero shirts I find are either #1 crazy expensive #2 not in his size (ever, anywhere) or #3 far uglier than I want to pay money for.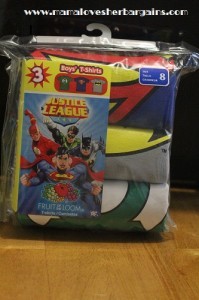 But Fruit of the Loom has saved the day.  THREE Justice League TShirts: Batman, Superman and Green Lantern, for $6.99.  Three tshirts for $6.99.
These are located where the Boys' underwear and socks are sold- not toddlers.  I grabbed a second package today in size 8 for him to grow into.  He's wearing the 6 (a bit big) now but our store doesn't have any size 4 shirts.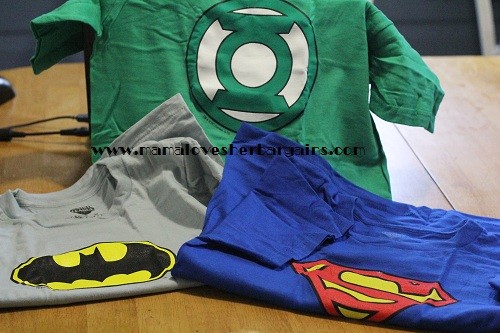 Just so you know, I've searched and searched for these online and haven't found them anyplace except ebay where people are selling them for up to $12.00 each.   If you find them, grab them.  They are awesome.  Soft, tagless, and awesome.