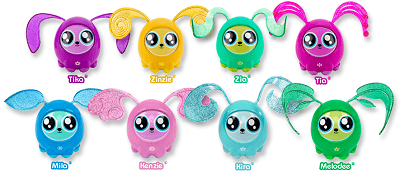 Fijit Friends® Newbies are "pocket" sized, interactive friends that are just beyond adorable.  When you squeeze their cute little bodies, they purr and giggle.  Get them near a Fijit Friend, and get them giggling and purring- you just may see your Fijit Friend® dancing right along! There are 8 of the Newbies and each has it's own look and own personality.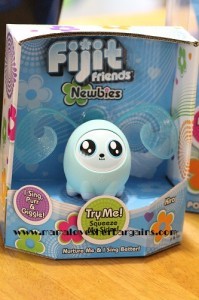 I think the kids love these for the interactive features- it's almost like a pet and a friend in one, but also because they can fit into their (larger)pockets…easy to travel with.  I don't know if your kids are like mine but they are forever tucking small toys into pockets and bags, nooks, crannies, cupholders— and as a mom, toys that occupy for any period of time that keep kids happy AND are easy to travel with earn bonus points in my book.   The Newbies actually fit right into carseat cupholders perfectly- and with the ears and tails, they won't get wedged in and stuck.  (These are the things that matter to me when looking at new toys!!)
We were only recently introduced to the Fijit Friends® andFijit Friends® Newbies, and they are so much fun!! I tend to forget to look into interactive toys like this when purchasing for my own kids, and I have no idea why- they always love them!
The more your child interacts and plays with their Newbies, the better the Newbie becomes at their song.  With Kira, our Newbie, when you squeeze her body, her ears bend forward as she interacts with you.   The Newbies are also great to interact with one another, AND with Fijit Friends.  What this means to me is that this toy isn't one dimensional- it can be used in many ways.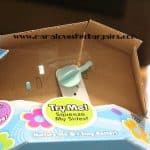 Mattel has made packaging less frustrating with the Newbies.  Look how easy it is to remove them!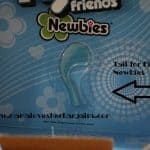 Also, and this is kind of important, the tail comes NOT attached to the Newbies.  It's on the back "wall" behind where your Newbies is placed on the display box.  Trust me on this, you don't want to dig through trash and recycling to find this later while your child sobs next to you.  Save yourself the trouble.  I've even included a photo for you!
These are not quiet toys.  They are cute, they are fun, and oh-so-very-adorable, but they are not quiet.  Unless you are able to muffle the speakers, this isn't a toy I'd recommend sending to school on the bus, or bringing to a restaurant.  I would like them to be a tiny bit quieter, or have a volume level to adjust.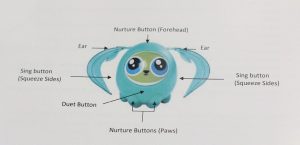 Introducing Fijit Friends® Newbies™!
Before Fijit Friends® talked or danced, they were once Newbies™ – pocket-sized singing Fijit Friends®! When you squeeze your Newbie™, her floppy ears fly forward and she begins to sing. You can pet and tickle your Fijit Friends® Newbie™ to reward her for her sweet tunes. The more you nurture her, the better she sings! Fijit Friends® Newbies™ can sing with each other in a duet, or you can collect them all for a truly singing sensation! Her skin is squishy and fun to squeeze! And, they even interact with your Fijit Friend®!

I wrote this review while participating in a blog tour campaign by Mom Central Consulting on behalf of Mattel and received two Fijit Friends Newbies and one Fijit Friends to facilitate my review