As the covid restrictions are lifted in most countries around the world; the urge to travel has surfaced largely. People with kids have waited for too long to explore new places and enjoy a thorough getaway, due to the pandemic. But as the world returns to its normal activities, we all deserve the much-awaited break; a vacation!
Traveling with kids can be a bit challenging and two years into the pandemic, we definitely want a place where one can relax and unwind at the best. Thus, you have to choose a destination that is friendly for your kids and you both. And if you are confused about where to go; then we are here to help you out!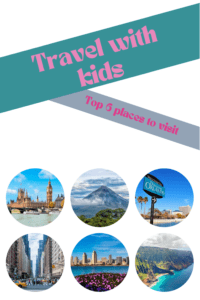 Top 6 Best Places to Travel with Kids
It is time to quench the thirst for traveling and exploring a stunning place this summer. Here are some of the top best destinations that are perfect for people of all ages. Let's dive in.
Hawaii
With absolutely no hassle of a passport or currency exchange; Hawaii is a treat for both the eyes and the soul. Your kids will certainly enjoy the beautiful collection of beaches, feeling nature at its best. It isn't developed fully and retains its Old Hawaii vibe completely. If you are someone who loves beaches, then pack your best designer swimsuits along and get lost in Hawaii. From waterfalls to the Volcanoes National Park and from resorts to snorkeling; this place has a lot to offer.
Orlando
Every kid ever wants to experience Disneyland and thus, Orlando has to be on the list. However, this place has a lot more to offer. The spas are a treat to indulge in. leave the kids with their father for a while and relax your nerves at the Four Seasons Resort Orlando, trying out their vibrational sound therapy or the anti-gravity facial. They also have a kids club every day, from 10 am to 6 pm.
Costa Rica
The best destination for a perfect family vacation is Costa Rica. it never fails to impress you with its exotic wildlife, and soothing collection of beaches and jungles. If your kid's age 6 or above, they can easily indulge in some of the best activities that this place has to offer. From zip lining to hikes and from safari floats to kayaking; there is a lot to explore. If you want your kids to experience nature-friendly travel, then Costa Rica won't disappoint you.
New York City
If you want to teach your kids about US history, then there is no better place for it than visiting New York City with your family. from the Statue of Liberty to Ground Zero; there is history in everything that exists in this place. The best part about visiting NYC is that you have a lot of fun activities as well. It is not all about history. The NYC zoo is loved by people of all ages and kids thoroughly enjoy it. Likewise, the life at Times Square is extremely energetic and deserves a visit for sure.
San Diego County
Are you looking for a relaxing and calm place for your vacation? If you are in California then hit San Diego County and you won't be disappointed. The sunny escapes and the eye-pleasing beaches are extremely calming for the human mind. If you just want to lay back and relax, then this place is the best bet for you. It also has a few emerging new hotels now.
London
London is a great, family destination to enjoy your vacation. This place feels quite foreign and has some stunning places to visit. The world that they have so often seen on screen, in Harry Potter, comes alive for your little ones. This European city has a lot of history to offer and can be fascinating for your kids. However, if you have already been here once, it is best to not pick this destination the second time too until and unless you thoroughly enjoy staying here. It might get boring for your children.
CONCLUSION
We all want a getaway, don't we? The pandemic has made our lives boring and dull. We are constantly wrapped in monotony and have been locked down in our homes several times. Now is the time to head out and have a relaxing time with the family.
With the above-mentioned destinations, you can enjoy a peaceful and relaxing trip with your loved ones. These are some of the best places to visit with your family. So pack your bags and get away from the boring routines to bring a change in your life.
MK Akram
I began writing as a professional on my personal blog and then discovered my true calling, which is writing about technology, news and gadgets in general. I have been a technical writer, author and blogger since 2010. An industry watcher that stays on top of the latest features, extremely passionate about juicy tech news and everything related to gadgets.