Top Bedroom Design Trends for 2022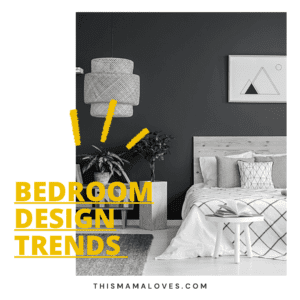 If you're looking for a manageable home renovation or refresh project to tackle soon, you might like to turn your sights to your main bedroom or other sleeping quarters at your house.
While we often focus more on making changes to the living areas of our homes, our bedrooms are somewhere we spend many hours every week and parts we want to set up as effectively as possible if we're to maximize our rest. Here are some bedroom design trends for 2022 that you might like to consider as you revamp this part of your property.
Use of Bold Colors
Minimalism has been the in-thing for many years, and neutral colors will never go out of fashion. However, this year we're seeing much more of a trend towards the use of bold hues in interior design. This is particularly the case in bedrooms, where people are moving away from a focus on soothing white and gray tones for warmer shades such as burgundy, mossy green, caramel, orange, and all sorts of other earthy, nature-based colors.
If you want to follow suit, look for warm, saturated tones you can use to paint your bedroom walls or at least a single feature wall to bring some oomph to your sleeping zones. Or, if this feels too much, add some deep colors via a modern ceiling fan, quilt cover, pillows, throws, artworks, lighting fixtures, bedside tables, lamps, etc.
Look-at-Me Patterns
You might prefer to make a statement using patterns in your home design. If so, you'll like the fact that in 2022 look-at-me patterns are becoming all the rage. You don't have to cover an entire primary or guest bedroom in exuberant wallpaper to do this, though. You could choose a single wall to dress up with patterned products or spruce up one or more of your sleeping quarters with mix-and-match patterns on area rugs, bedding, upholstered bedheads, art, and so on.
Also, keep in mind that stripes are trending big right now. Think about iconic French options such as Breton stripes and gingham patterns (a nod to French café style) that you can bring to your bedroom areas.
Biophilia
Another trend that has been building and doesn't show any sign of fading soon is that of biophilic design. Biophilia is a term that relates to reconnecting with nature and, when it comes to interior design, bringing the outdoors in. After being cooped up inside more during the global pandemic lockdowns, it's no wonder that people are becoming increasingly enamored with the idea of harking back to greenery and other parts of the natural world.
As you refresh your home, think about ways you can add green foliage elements to your bedroom and other botanical nods. This is likely to make you feel more relaxed, less stressed, and able to switch off, which can help you sleep and rest better.
Buy some potted plants for your bedroom, but ensure you choose low-maintenance indoor-suitable house plants that are happy with indirect sunlight and, preferably, don't need too much watering. For instance, a rubber plant is a good option. If this idea doesn't suit, choose interior design elements that incorporate nature, such as floral wallpaper or bedding. Or, you might plant vines, shrubs, or flowers outside the bedroom window that you can see and smell whenever possible.
Sustainable Bedding
Sustainable bedding is becoming more prevalent and popular in 2022, too. For environmental reasons and to improve quality of life thanks to reduced exposure to chemicals and other toxins, low-impact products can provide you with plenty of benefits. Source bed linen made from organic, more natural materials, such as hemp, 100-percent cotton, organic linen, bamboo, or recycled offerings.
Choose products that boast minimal or zero chemicals used in the manufacturing process, and try to pick items that don't have to be transported from too far afield, either.
Paneling
If you're keen to add some architectural details to your bedroom, why not consider paneling? This is a popular style element now as it's sophisticated, clean, timeless, and homely. Add character and personality, not to mention depth and texture, with panels on the walls or use paneling behind your bed rather than a traditional headboard. Paneling can be kept simple and neutral if that's your style, or you can opt for brighter, bolder choices, depending on your tastes.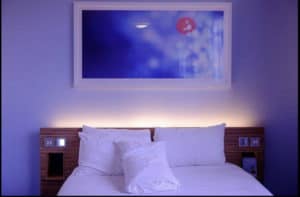 Other bedroom design trends for 2022 you could start incorporating include the use of multifunctional furniture, curved headboards and bed frames, and setting up rooms to feel like curated art gallery-worthy spaces. Have fun playing around with some of these design ideas over the coming weeks and months.