This is a Sponsored post written by me on behalf of Avocados from Mexico for SocialSpark. All opinions are 100% mine.
I don't know about you but I'm always looking for ways to make baked goods healthier. Until I'd heard of the Avocados from Mexico's Better Baking Sweepstakes, I'm not sure I was aware that avocados could be used in place of oil or butter for baked goods. I've used applesauce many times, but with all of the heart healthy benefits of avocado, I'm definitely going to try using some when we bake some brownies this week.
For folks who like to "hide" vegetables in their family's foods, here's another way to add that beneficial fat!
It's early December, and for many of us, that means we'll be baking all kinds of goodies over the next few weeks. Why not try swapping out butter or oil in one recipe for avocados this season? It's totally worth a try, right? I made a batch of Oatmeal Chocolate Chip Cookies this weekend and I used some avocado in them.
I didn't notice a difference from when we normally make these cookies. The kids definitely didn't. They were so excited to have cookies and help make them that they gobbled them up!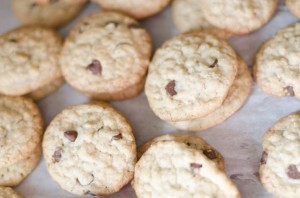 Oatmeal Chocolate Chip Cookies

2 cups flour

1 teaspoon salt

1 teaspoon baking soda

1 cup sugar

1 cup firmly packed brown sugar

1/2 cup softened butter (we did 1/2 c avocado puree)

1/2 cup crisco

2 eggs (cold)

2 cups quaker quick oats

1 cup (6 oz) semi sweet chocolate chips

Preheat Oven to 360 degrees. In a large mixer bowl cream the butter, crisco and sugars. Add the remaining ingredients except for rolled oats and chocolate chips. Stir well with wooden spoon to combine (do not use an electric mixer, you won't get the right consistency). Add the oats in two additions. Mixing well after each addition. Add chocolate chips and stir to combine.

Shape dough into balls and place on parchment lined baking sheets. Bake for 10 minutes, until lightly browned on the edges. Keep extra dough refrigerated while cookies are baking. Cookies will last 2-3 days in a sealed tuppeware container.
Avocados from Mexico is running a Better Baking with Avocados From Mexico sweepstakes! Entries are accepted through December 31, 2012. Who doesn't love a good contest!? Just visit the Avocados From Mexico Facebook page and enter there for a chance to win one of over 500 prizes! Prize details below:

(1) Grand Prize – $2,500 iCard Gift Card
(10) Second Prizes – $100 iCard Gift Card
(500) Third Prizes – $25 iCard Gift Card