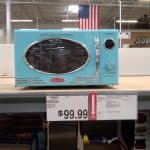 Back to School for parents of older kids, like some of my siblings, means stocking up on everyday needs to last several months in one trip.  BJ's is  a GREAT place to head for back to school shopping because you can stock your kid up on the things s/he will be needing until their first 'break' and not worry that they will run out of soap, deoderant…toilet tissue…or snacks!   My niece and sister have been shopping to get my niece ready for her freshman year of college I don't know how many times and I know most of what they've purchased could be found at BJ's in one trip- and likely at a huge savings for them!
I have to say right here and right now that I am jealous. What I see available for back to school now is so far from what was available to kids now.  We had egg crate pads for our mattresses, and they weren't very comfortable, plus very easily fell apart. The mattress pads and memory toppers for beds that are available now are light years ahead of what we had- one might even be able to get a restful night's sleep on those comfortable toppers!  Plus, the sheets and bedding options are a very far cry from the limited "twin XL" bed-in-a-bag options in the early nineties when I was shopping.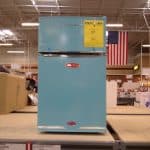 One MUST have, in my opinion, for any dorm room is a refrigerator- it doesn't matter what size but its necessary.  From water to quick snacks, its a great thing to have, and I've been very tempted just LOOKING at the Nostalogia fridges at BJs more than once…( I want one. I won't lie. I want the matchy coffee maker thing and the microwave too!!)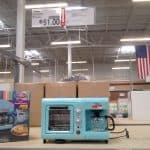 Whether freshman or senior year, BJ's knows preparing for back to college is no easy task. From traditional dorm décor and furnishings for an apartment or dorm room to all of the necessities that every student needs when going back to college, parents and students alike are faced with a challenge each August. With inflation and gas prices on the rise, stretching the dollar is more important than ever, and members can always count on finding great value under one roof at BJ's for all the back to school essentials.

BJ's back-to-school expert buyers have worked hard, researching and watching trends to determine what items are "must haves" for a successful and enjoyable school year. They have searched high and low for the most sought-after products to make any college student's school home a hip and useful haven for learning and living. 

BJ's Wholesale Club is the one stop shopping destination for style and value, featuring everything you need to furnish any space, big or small, and stock up on college essentials from late night power snacks to top-brand health and beauty items at great savings. Students can get started with these great finds:

Dorm room

These space saving solutions and convenient comforts transform any dorm room into a home away from home:

Cradlesoft University™ Twin XL Memory Foam Topper with Bonus Pillow plus Bed Bug Protectors – Includes memory foam topper, pillow, and ProtectMe™ zippered mattress and pillow cover. ($59.99)
Nostalgia Electrics® Vintage-Style Refrigerator – A retro classic re-engineered refrigerator with freezer ($199.99.) Look for matching microwave ($79.99) and 3 in 1 Breakfast station ($49.99) too!
Oster 900-Watt Microwave – .9 cubic feet microwave with LED display and 10 adjustable power levels. ($59.99)
1.5" Foam Away From Home Mattress Topper – Turn any dorm room mattress into a comfortable bed. Super soft covers come in three colors, and fit twin or twin XL. ($49.99) Also available at bjs.com
Height Adjustable Bed Risers – elevate your bed 3, 5 or 8 inches to create instant under bed storage. Includes 4 small and 4 large plastic risers. ($12.99)

Apartment

Out of the dorm this semester? Furnish your new pad in style and get the day to day essentials at great savings:

Select Marcal® Paper Products – Facial tissue or giant roll of paper towels. 100 percent recycled. Starting at ($7.49)

Barcelona Futon Sofa Bed – converts from sit to recline to sleep and back again in seconds. ($299.99)
Malibu 4×6 Shag Rug – hand tufted polyester, stain resistant and washable, ($19.99)
Samsung 23" 1080p LED HDTV LCD – Doubles as both a monitor and an HDTV so you can enjoy your favorite shows or get some work done. ($259.99)
Rubbermaid 12-slot Organizer – Versatile organizer features a sturdy black metal base. Shelves are adjustable or removable to customize individual compartment sizes. ($49.99)

All Your Needs

Whether you're in a dorm or apartment, everyone needs these must-haves for back to school:

Mead® Five Star® Notebooks, Planners and Binders – $5.99 – $12.99
Xerox® Premium Copy Paper –  650 Sheets – $12.99
Dell® Inspiron® 15.6″ Notebook Computer – HD LED display, Intel® Core™ i3-2310M dual-core processor with hyper-threading/4-way processing technology, 500 GB hard drive, 4GB RAM, 10-key integrated number pad, HDMI® port and 1MP HD webcam. ($499.99) Also available at bjs.com.
HP® Officejet® Pro 8500A All-In-One Color Inkjet Printer – This printer saves on pro-quality color, prints from the web without a PC, allows for easy sharing with Ethernet and/or wireless networking and has automatic two -sided printing. It uses HP® 940XL ink combo packs. ($149.99 after $75 rebate). Also available at bjs.com.
Brita Pitcher and Replacement Filter Packs – Transforms ordinary tap water into cleaner great tasting alternative without the cost and waste of bottles. ($21.99)

 

Stock Up and Save

Stock up on supplies that will last through the whole semester at unbelievable savings:

Snack Attacks

Monster Energy Drink, 24pk./16 oz. – $29.99
Trident® 15 pk. ($9.99), Dentyne® 12 pk. ($7.99), Stride Gum®, 12 pk. ($8.79)
Glaceau VitaminWater® Zero, 15pk./20 oz. $12.99
Kashi TLC Chewy Granola Bars 20 ct. – $18.99
Chobani Greek Yogurt 12ct. – $10.29
Health & Beauty

Pantene Pro-V Nature Fusion Moisture Balance Shampoo or Conditioner, 40 oz. $7.99 each
Old Spice Red Zone Swagger Deodorant 4pk./2.25 oz., $7.99
Secret Invisible Solid Antiperspirant & deodorant, 4pk./2.6 oz. $7.49
Crest 3D White Toothpaste 3 pk./5.8 oz., $8.99
Advil Ibuprofen Tablets 360ct./200mg, $17.49
 I received a gift card in exchange for my post.  Opinions are my own.
0