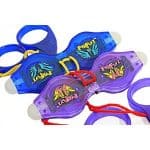 We received some of the new FyrFlyz light up toys and have been having a BLAST with them. They do recommend these for ages 8+ but my kids have enjoyed them-although to be honest? I think the grownups like them just as much! These light up toys are battery-powered LED lights that are attached to strings and safety handles, and the more you play around with the strings, the more fun you can have with the LED lights. They are available in many different colors, too!

FyrFlyz are found in many physical and online retailers including ToysRUs.com. There are all kinds of cool tricks and things you can "make" with the lights if you hold the FyrFlyz or move them in different ways- we spent many evenings at town concerts or a local winery enjoying live music this summer and we didn't meet a kid yet who wasn't enthralled with these- big or small kids all seem to be drawn to them! They are REALLY cool and lots of fun.
A word of caution- the reason these are for ages 8+ is because for littler kids, they can get moving very fast and if they put their hands or fingers in the way they may get hurt- I'm not saying this to take away from the toy, we just showed our kids a way they could use these without getting hurt because they are not yet 8. The bigger kids who tried them were having fun doing all kinds of crazy designs and moving in different ways to see what they could do!
As a mom, I like toys that encourage creativity (and figuring out how the lights make the different designs just may inspire your kids to hit the books to experiment to see what else they can do!!) and these fit the bill- and at an affordable price, to boot!
I received a sample of this product to facilitate my review from MomSelect. Opinions are my own.
0