This black bean taco bowls recipe post is part of a partnership I have with Libby's and their PR firm. Opinions are my own. One of my LEAST favorite things to do is come up with meal ideas. Give me guidance and I'll happily prepare just about anything. But leave me to figure out the ingredients and stuff? Not always my forte. I like cooking, especially when the kids are able to help. I just need help with the WHAT to cook sometimes!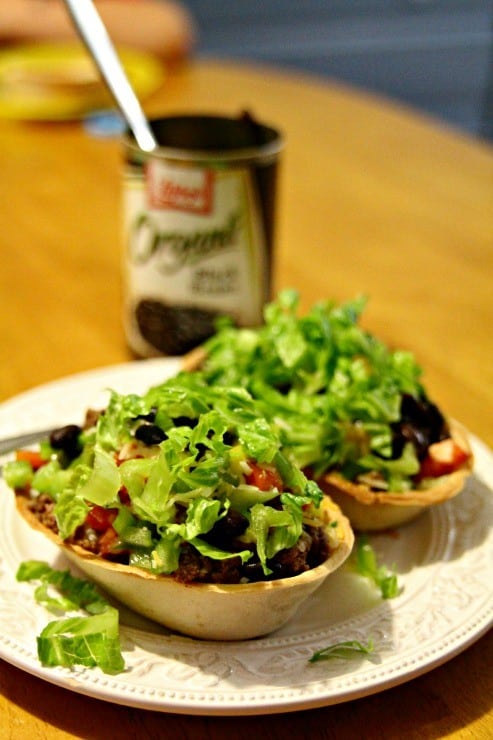 Last week, Libby's foods sent me a box of their products. In that box was a few cans of their Organic Black Beans. I saw them and thought, I should totally make a black bean chili. So naturally, when I actually went to make dinner, it only makes sense that I decided instead to make a Chipotle-inspired Black Bean Taco Bowl recipe instead. Right? I loved my "bowl" at Chipotle and the black beans just seemed to fit. Today was gymnastics and then tap class and it meant we'd not be home before 5:45. Too late to start dinner when I had a Girl Scout leader meeting at 7, that's for sure! So, I prepped almost everything while I made lunch and talked with my little one about her day, and she helped me put the chopped veggies on a plate and cover dishes for the fridge.
Black Bean Taco Bowls
Author:
Prep time:
Cook time:
Total time:
Black bean taco bowls recipe
Ingredients
1 lb ground beef
1 TBSP taco seasoning (or to taste)
1 pepper, chopped
1 tomato, chopped
Lettuce- chopped-
1 cup shredded cheese
Tortilla shells (I got the Old El Paso Stand Alone variety- SO much easier)
1 can Libby's Organic Black Beans
3 cups cooked brown rice
Guacamole (to taste)
Sour Cream (to taste)
Salsa (to taste)
Hot Sauce (to taste)
Instructions
Brown meat and drain fat.
Return to pan and add taco seasoning.
As meat browns, warm tortilla shells in oven. (You can "shape" them in muffin tins or mini loaf pans if plain tortillas)
Scoop some rice into the bottom of your tortilla "bowl"
Add some meat on top
Add veggies
Top with cheese
Notes
This recipe is EASILY done ahead of time. I browned, drained and seasoned the beef as I made lunch, as well as made the rice during that time. I chopped all of the veggies up and left them on a plate in the fridge. When we got home, I quickly assembled the bowls and popped them into a 350 oven for 5 minutes to get warm.
Sometimes it really does just take a can to inspire a great meal! I like keeping beans around- great for you and they have a long shelf life. So….what would you do with a can of black beans? (I have more cans. I want more ideas. Chili is on the menu for the weekend)

@LibbysTable #DinnerDilemma Twitter Week
Each day during the week of September 16-20, five bloggers (including me) will be partnering with @LibbysTable to host mini-Twitter parties dedicated to discussing and solving dinner dilemmas.
-Monday through Friday, each day will focus on a different theme – from how to cook for kids, to how to plan ahead or how to organize the most efficient and convenient pantry.
-MY party will be 2:30-3:00pm EST- all others will take place from 3:00-3:30 pm EST
-Each party will allow participants the opportunity to win a #DinnerDilemma themed prize pack!
-Follow @LibbysTable on Twitter to learn more!

One reader will win a Libby's prize pack including a 17 piece Magic Bullet set and assorted Libby's products!