This is a sponsored post about easy energy solutions written by me on behalf of Energems. I've been looking for coffee alternatives for a while- I drink coffee, but not because I'm necessarily in love with the taste. It's more my need of the caffeine to wake me up. Given that I'm not always in love with the coffee we brew here at home, I'm always adding creamers or sugar- which adds calories.  Which I do NOT need.  So…I'm open to trying new things.  Especially when those things include the consumption of chocolate.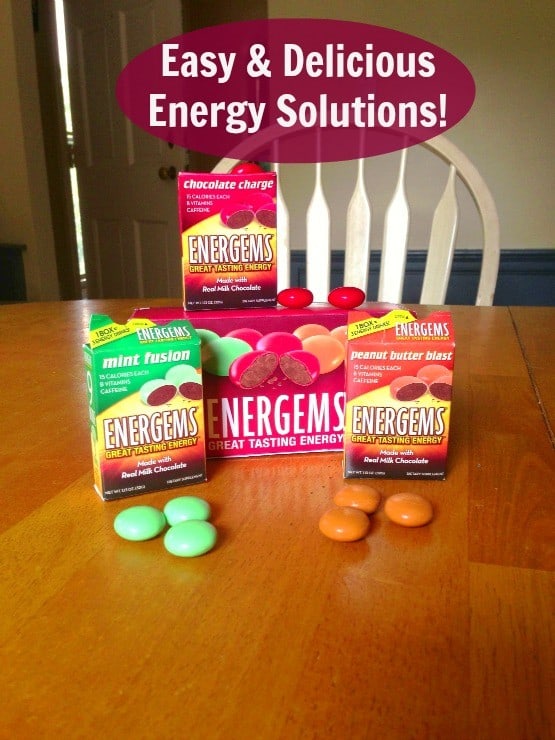 I recently discovered Energems, and I maybe have found a new love. Three varieties of little *gems* which are all CHOCOLATE and a serving of Energems has the same amount of caffeine as a cup of coffee. Plus, a serving is just 45 calories.  So I can have a little sweet treat and a little energy pick me up whenever I want without the guilt.   AND…chocolate.  They are chocolate.  Did I mention the chocolate?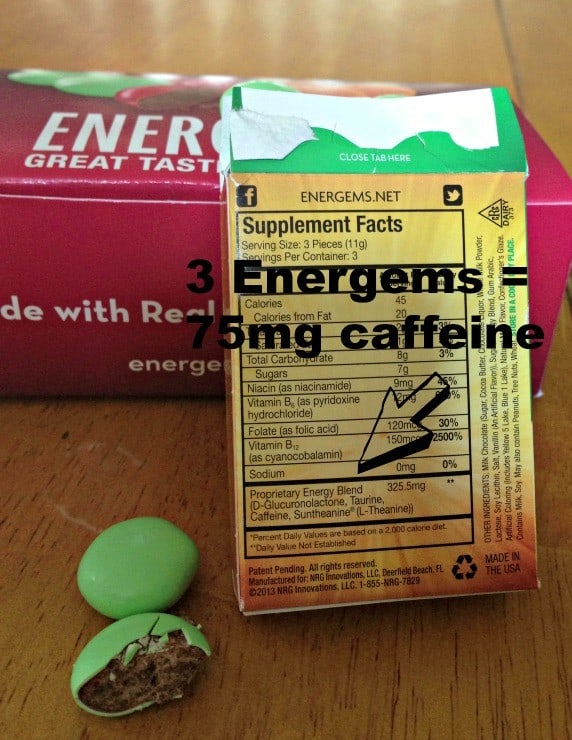 My favorite flavor is the Chocolate Charge, but the Peanut Butter Blast and Mint Fusion are both equally delicious.  I'm just a simple girl who likes plain chocolate.  There's a little crunch in the outer shell and then it's just creamy sweet chocolate delight in these little gems.  These little gems are infused with caffeine, B vitamins and an energy mix.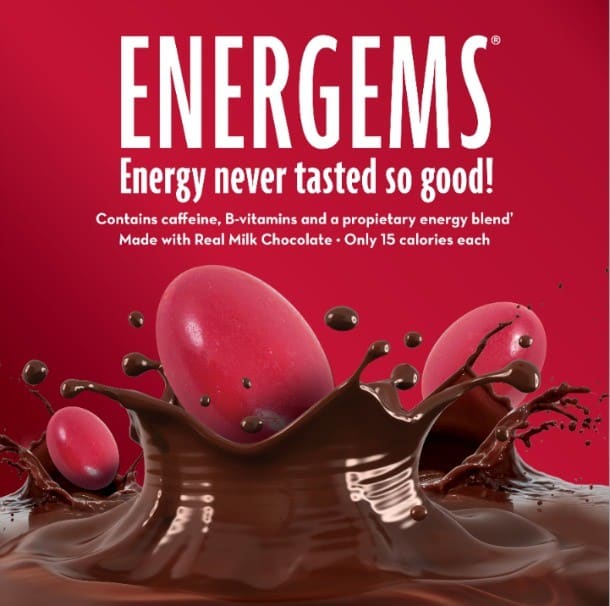 I've had more than my share of late nights and early mornings recently, trying to get everyone into the new school routines, helping my husband work on the breezeway (which may never be complete at the rate we're going!) and trying to keep up with blog work, Girl Scout leader stuff, plus my part time job.  It's a lot and my energy has for sure been waning because of it. I often feel like I need or want a boost- especially midday!  3 little Energems make me feel a little more pep in my step and give me a little extra energy to get through.  You can have more than one serving per day, but the folks at Energems caution you (as do I) to space out those servings and don't ever have more than 2 boxes/packages per day.  You don't want too much energy.
A note of caution (you knew this was coming, right? I mean, it's me…)
These are made of CHOCOLATE.  Which means they can and will get melty if you leave them, say, in your car on a hot day, or maybe next to your laptop fan that's blowing really hot air.  Learn from me and keep these away from heat sources.
When you are wanting a little easy energy solution – definitely check out Energems.  A great little boost of energy, not too expensive, and CHOCOLATE. Use the code, GETLUCKY, at energems.net to receive 30% off your order!
Please be sure to keep these away from children- these are intended for adult consumption only.
 FREE samples of Energemsare available on  Energems' Facebook fanpage at http://on.fb.me/152n9pb.

Energems are energy supplements that are bite-sized, hard-coated gems made with real milk chocolate. Designed for the modern, on-the-go consumer, they contain caffeine, B vitamins and a proprietary energy blend. Think of them as a great alternative to traditional energy drinks and energy shots!
You can try Energems absolutely for FREE! Just click over to their Facebook fanpage and sign up now: http://on.fb.me/152n9pb
Energems are a delicious and low-calorie way to boost your energy, focus and concentration! Please visit http://energems.net/ for more info.
This is a sponsored post written by me on behalf of Energems.