This post talking about Remodeling Your Kitchen is brought to you as part of our new #HouseExperts partnership with Sears. Opinions are my own.
I went to college for architectural technology and during my first year in school I took a job at a local lumber yard as a kitchen and bath designer.  I quickly realized how much I loved kitchen and bath design and eventually chose that as my career.  The kitchen is the heart of the home, where so much of day to day life happens and special memories are created.  Designing a kitchen for a new home has always been fun to me but remodeling a kitchen in an existing home is really my passion.  You can really Bring New Life to Your Home with a Kitchen Remodel.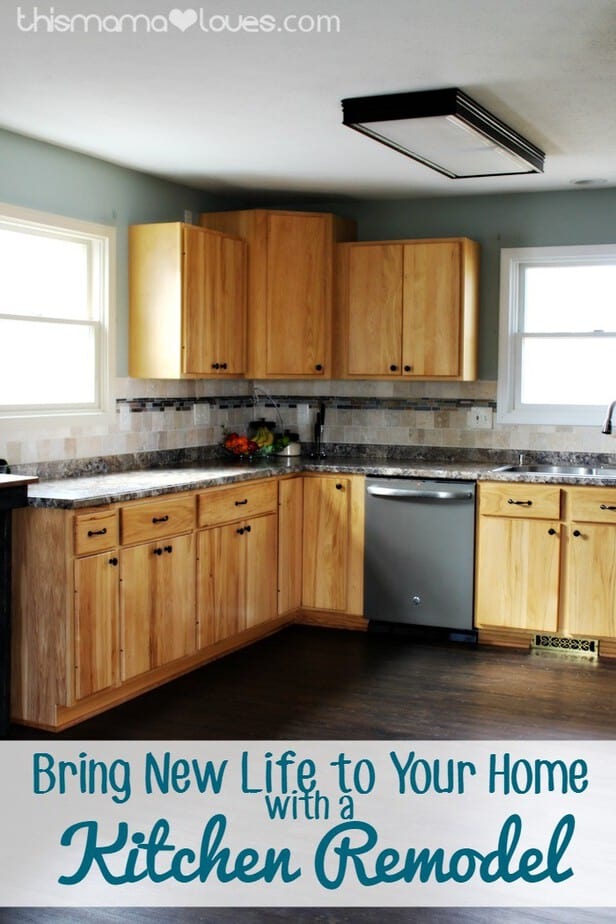 Bring New Life to Your Home with a Kitchen Remodel
We recently did several updates to our own kitchen and it's truly amazing the difference it makes.  Simple updates can transform your kitchen from a space you very much dislike being in, or using, to a space you love and our remodel did just that for us.  We've always loved to cook but now we're finding that the whole family loves to be in the kitchen together.  Kitchen remodeling doesn't have to mean a complete overhaul where walls are torn out and everything is replaced, although it can.  We chose to update just certain things and you can remodel your kitchen with the help of Sears Home Services and the wide range of remodeling services they can assist with, for any budget.  So…what are you dreaming of changing about your kitchen?
New Cabinets
The biggest aspect of a complete kitchen remodel is new cabinets, or refacing your existing cabinets.  This is typically the most expensive part of complete remodel too.  There are so many styles and finishes of cabinets to choose from and they can really transform your space.  There are also many different levels of quality when it comes to choosing cabinetry from stock cabinets (those that are built and waiting at a warehouse) to semi-custom (those that are made to order for you but with limited customization), to full custom (those made to order with little or no limitations on offerings).  Each of these is typically constructed differently with different materials for example particle board vs. real wood.  Think of them in terms of good, better, best.
Refacing your cabinets means just freshening them up, typically with new doors and drawer fronts.  This can sometimes be a cost effective option and less work because it doesn't involve completely tearing up your kitchen.
Maybe you love your current cabinets but there are parts of the space that just don't work.  This was our situation so we did a lot of measuring and thinking and found a way to rearrange our appliances and a few cabinets to give our kitchen a better layout and a great feel!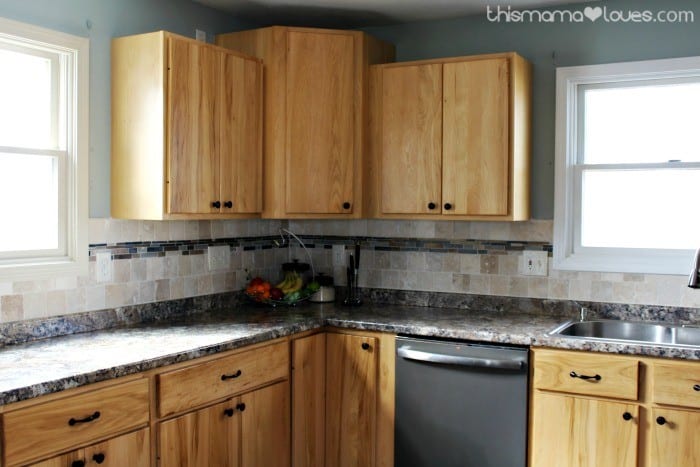 Now through October 31st, 2016 you can save $500 on cabinet replacement or refacing purchases of $1,500 or more with Sears Home Services.  This offer is not valid on prior purchases or in combination with other offers.
New Countertops
Whether you're replacing your cabinets or keeping them, new countertops is a great way to transform the look and feel of your kitchen.  After we rearranged our cabinets and appliances we purchased new countertops and they changed the way our kitchen looked so much.  There are many types of countertops to choose from in a variety of price ranges including: laminate, solid surface (or acrylic), quartz, and real stone.  These materials not only range in price but in durability as well.  Sears Home Services can help you with your new countertop needs.

Now through October 31st, 2016 you can save $250 on countertop only purchases of $1,500 or more.  This offer is not valid on prior sales or in combination with other offers.
Appliances
Kitchen appliances are BIG, physically.  They make up a big part of what you see in your kitchen.  The refrigerator, stove, dishwasher and microwave have a big visual impact on how your kitchen looks.  They also can really make a difference in how efficient your home is.  Old appliance can use much more gas or electricity to operate than newer.  We replaced all of our appliances as part of our remodel and they not only made a big difference in how are kitchen looked, we saw an immediate difference on our energy bill!  Sears was our choice for new appliances, with so many to choose from.
Flooring
Flooring is another big part of a kitchen remodel.  If you're keeping your existing cabinets and not moving them around you might choose to keep your existing floor.  Maybe it's in great shape or was already replaced as part of a different home renovation project.  If you are changing the layout of your cabinets, whether using existing or purchasing new cabinets, it may be necessary to change your flooring.  Regardless of whether you NEED to replace your flooring or just want to, this too has a huge impact on the look and feel of your kitchen.  There are so many options out there such as rolled vinyl, vinyl tile or planks (we chose vinyl planks), porcelain or ceramic tile, laminate, real wood or engineered wood…the list goes on for what seems like forever!  Sears Home Services can help you with this part of your kitchen remodel too!  Right now, through October 31st, 2016 they are offering up to 12 month Special Financing on installed Flooring purchases over $1,500. This offer is also not valid on prior sales or in combination with any other offer.
Other Kitchen Remodel Options
There are so many things to think about when remodeling your kitchen.  These big items are just a few.  Whether you tear everything out and start from scratch or decide to do just a little bit of remodeling, these minor things make a big difference.  Other things you may want to add or change include fresh wall paint, cabinet hardware, lighting, backsplash, sinks, faucets, and over the range hoods as well as considering the need to replace windows while things are torn up.
Here is our before.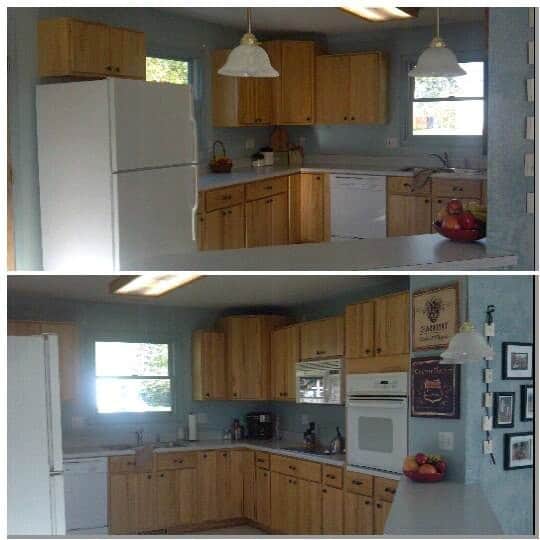 And our after….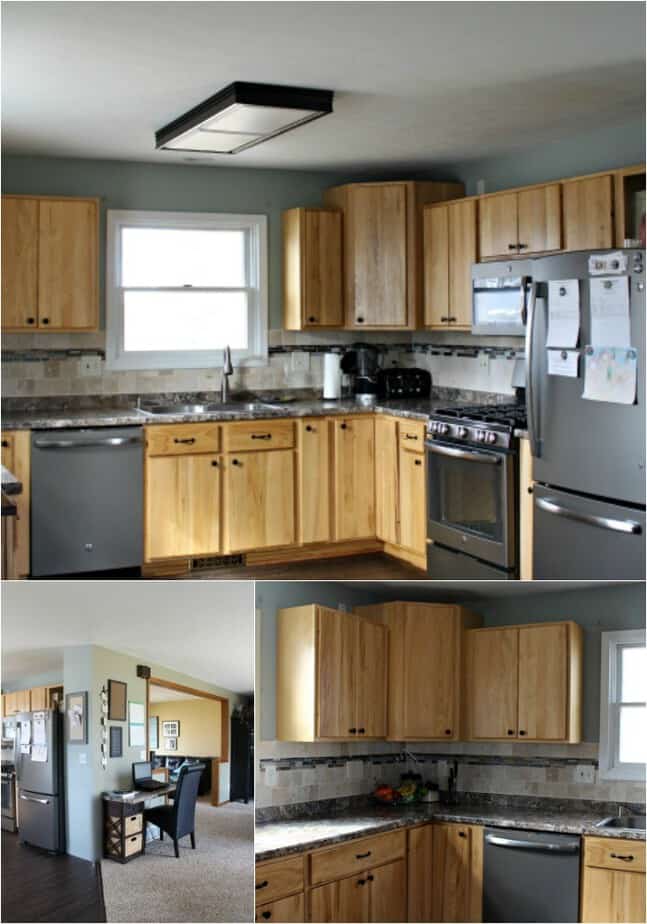 Now is a great time to talk to a Sears Home Services expert about remodeling your kitchen.  Now through October 31st, 2016 you can save $500 on kitchen remodels of $1,500 or more.  Not valid on prior sales or in combination with any other offer
What parts of your kitchen are you dreaming about remodeling?  Or have you recently finished a remodel where your learned some valuable lessons?