Cinnamon Roll Mummies Halloween Treat Recipe
It's October and we're getting ready for Halloween and fun themed treats (and "regular" foods). One of our must-have things to keep in the pantry? Candy eyeballs.  There are a few different kinds. But grab them. You guys. Look what Jill made.  SUPER cute, right? It's also super simple to do! But be really sure to let your rolls cool all the way…otherwise, you'll have melty mummies and you'll lose the oh wow factor of your Halloween Treat surprise. You can also find gummy eyeballs, but for us, we find the "plain" eyeballs actually stay put the best. There's a few varieties of the candy eyes – some are large, some small, some have red veins and some are colorful. It just makes food more fun!

Cinnamon Roll Mummies
Ingredients
1 package of 8 ct Cinnamon Rolls
1 tub of white frosting, any brand
large flat piping tip
large piping bag
large candy eyes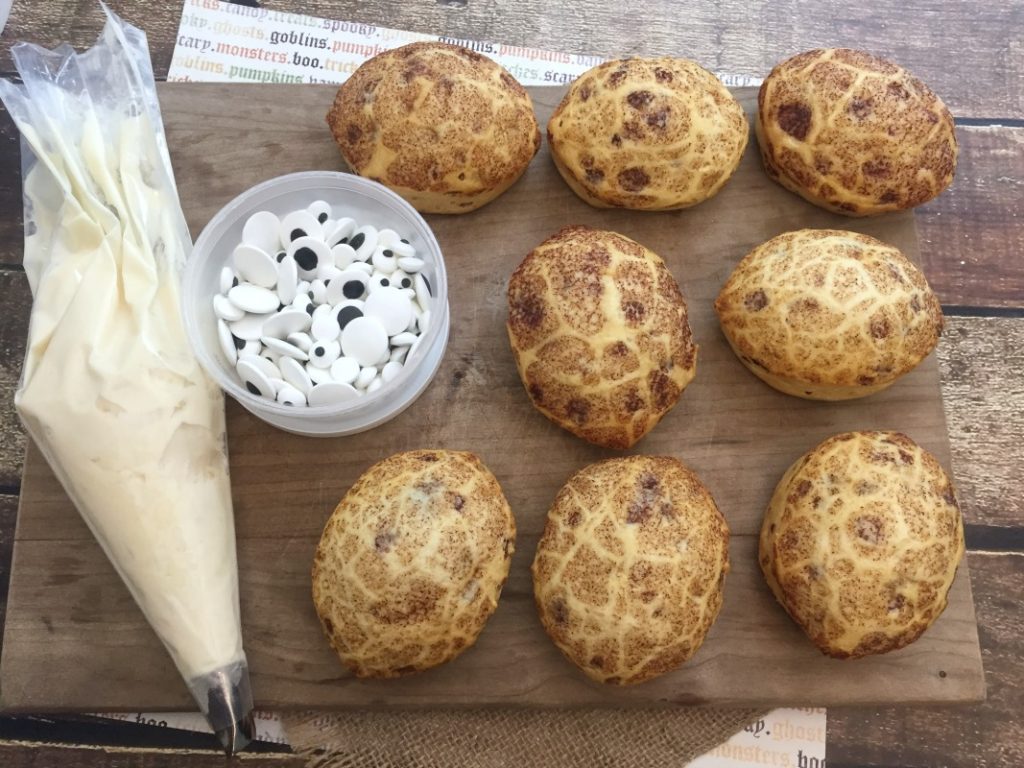 Directions
Preheat the oven to 350 degrees.
Open the Cinnamon Rolls and place on a baking sheet about 2″ a part.
Bake 12-14 minutes.
Remove from the oven and let cool completely. A warm cinnamon roll will melt the icing and you'll lose your mummy effect!!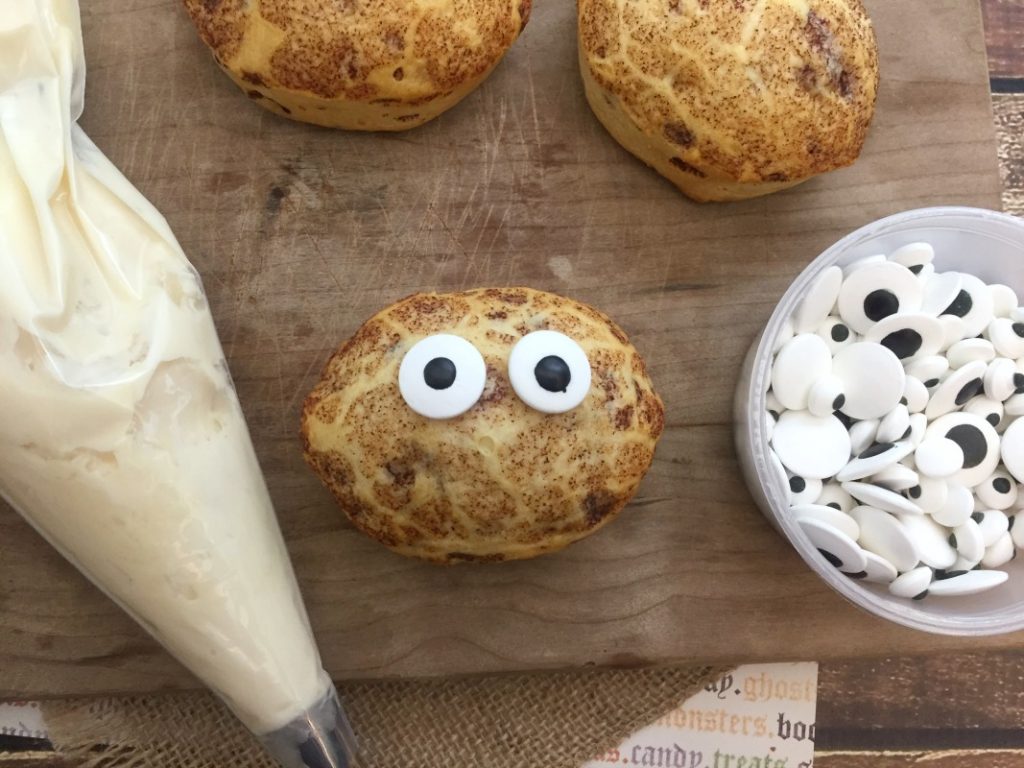 Place a small dab of white frosting on the back of each candy eye and give each cinnamon roll 2 large eyes.
Attach the large flat piping tip to your piping bag and fill with white frosting.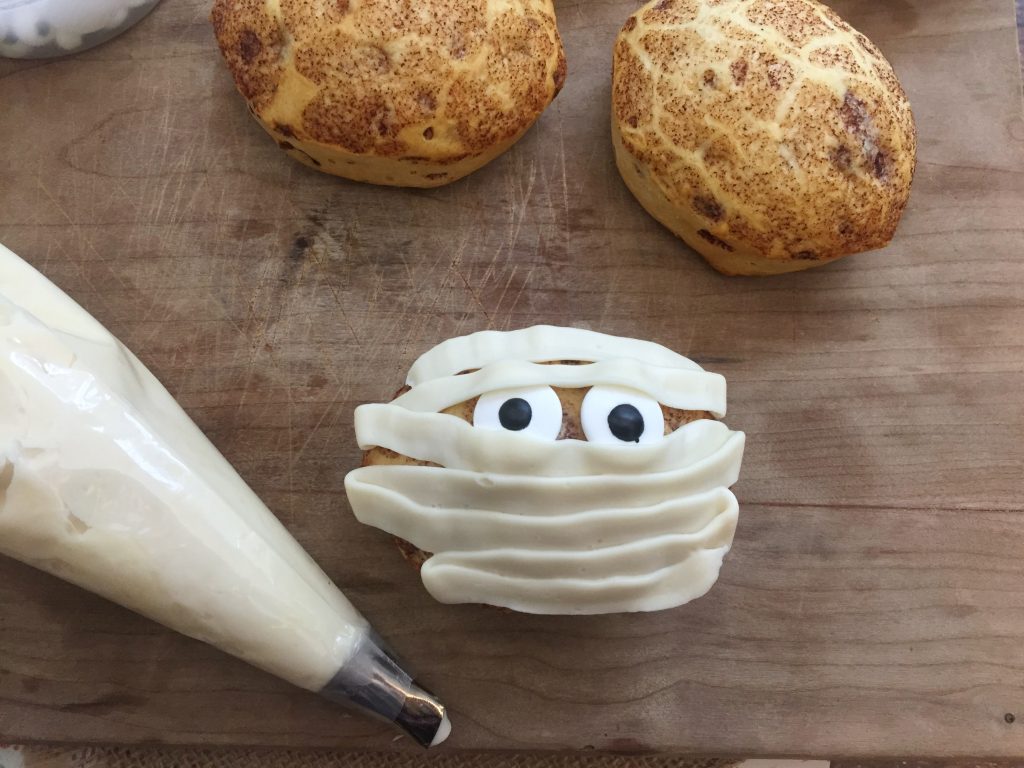 Gently squeeze the frosting out of the bag starting at the top of the mummy's head and working your way to the bottom.
Repeat with each cinnamon roll.
*Makes 8 cinnamon roll mummies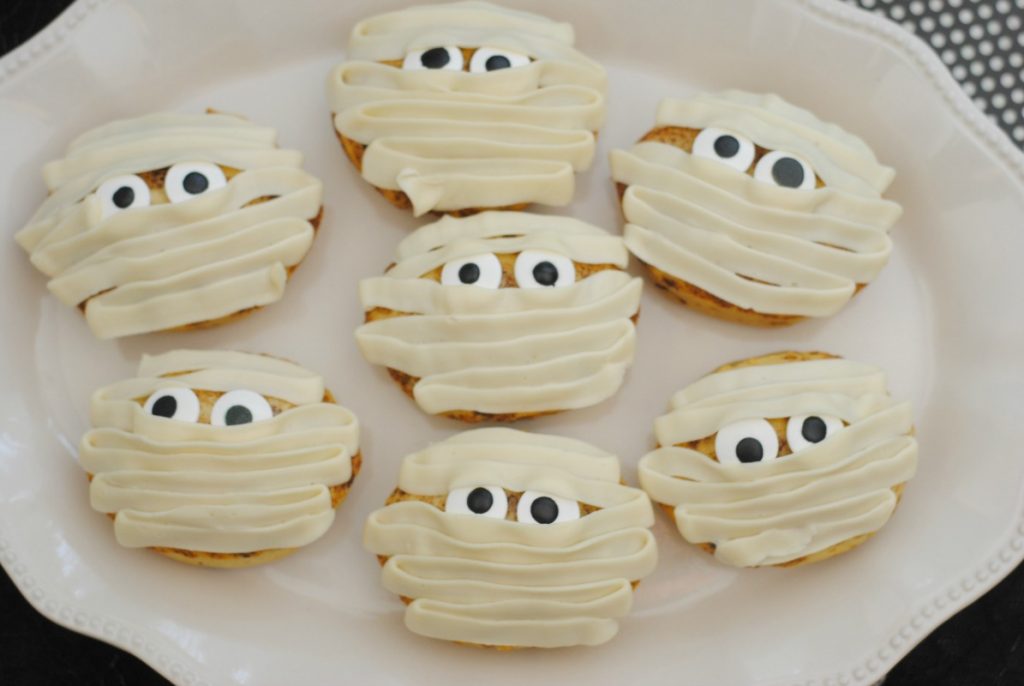 That's it! Serve immediately or pop them into an airtight container to store for a few days. A not so spooky but delightfully frightful Halloween Treat for sure! Want more Halloween treats to make? Check out our Candy Corn Crunch popcorn recipe, or our Witch Hat Cookies!
[mpprecipe-recipe:2208]