Brown butter is beyond amazing. I'm obsessed. It all began with my friend Jenni's Brown Butter Krispie Treats and it's never stopped…this time, we have brown butter cupcakes with cinnamon sugar frosting.  Downright sinful. I'm not apologizing. They are divine.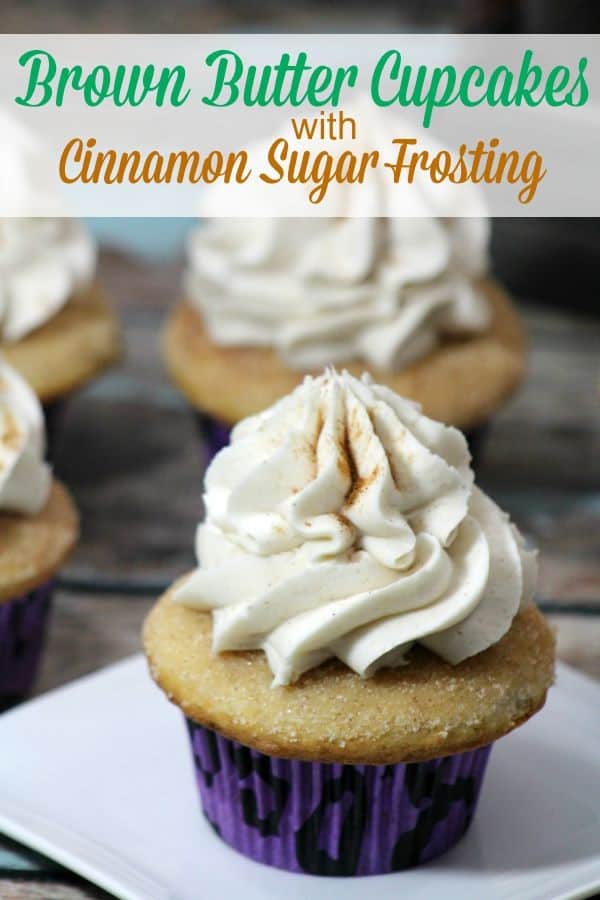 Brown Butter Cupcakes 
Cupcake Ingredients
1 1/2 cups all purpose flour
1 Tbsp baking powder
1/4 cup sugar
3/4 cups brown sugar, packed
1/2 tsp salt
1 stick unsalted butter
2/3 cup milk
1 egg
3 egg whites
1 tsp vanilla extract
1 tsp Almond extract
Cupcakes Directions
Preheat the oven to 350º.
Fill a muffin tin with cupcake liners
Set aside.
In a bowl of a stand mixer, combine the flour , baking powder, both sugars, and salt until well combined. Add butter and 1/3 cup of whole milk beat on a medium for 3-4 minutes, or until fluffy peaks form
In a small bowl, whisk together the remaining 1/3 cup whole milk, egg, egg whites, almond extract and vanilla extract.
Add in the egg mixture and mix well
Fill the prepared muffin pan 3/4 of the way full.
I use 1/4 cup measuring cup to evenly distribute in the muffin cups.
Bake the cupcakes for 20-22 minutes, or until a toothpick inserted in the center comes out clean.
Transfer the cupcakes to a wire rack to cool for 30 minutes.
Cool completely before frosting.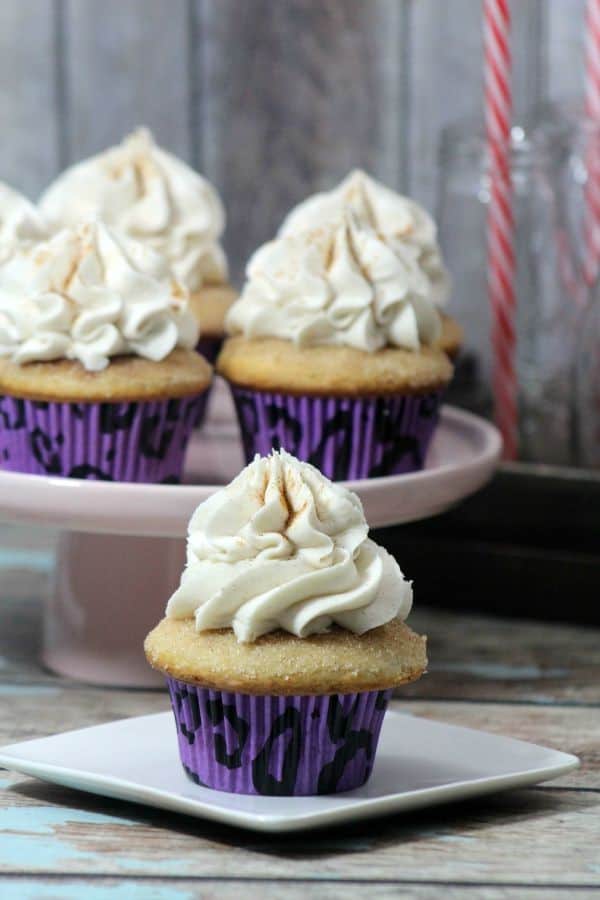 Cinnamon Frosting Ingredients
3-4 cups of powdered sugar
2 Tbsp Heavy Whipping Cream
3 tbsp Pure maple syrup
2 tsp Cinnamon
Cinnamon Frosting Directions
Using the wire whisk attachment, whip heavy cream, powder sugar on medium high speed for several minutes until stiff peaks form.
Slowly add maple syrup one tablespoon at a time, ensuring that each tablespoon is well mixed before adding the next.
Add cinnamon.