I don't know that these need an intro.  I do know, however, that I need a chocolate fix something fierce and this is a great way to use up leftover candy from the kids' baskets, buckets, stockings, etc. I love a good brownie recipe and I love Snickers so this was kind of a perfect brownie recipe for me!
Snickers Brownies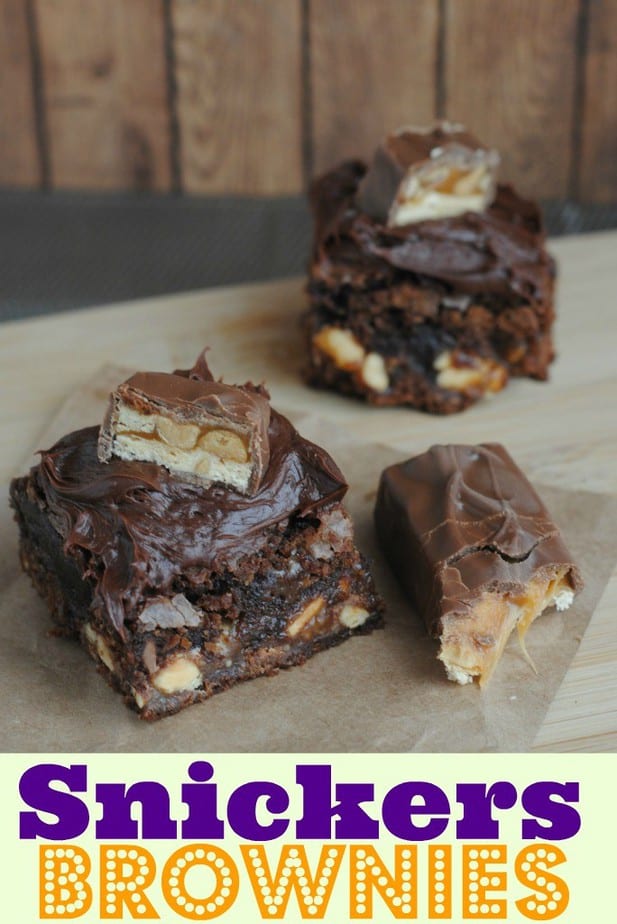 Ingredients –
¾ C. flour
2 C. semi-sweet chocolate
2 tbs cocoa powder
4 tbs. butter
3 eggs
1 ½ C. sugar
½ C. packed brown sugar
1 tsp. Vanilla extract
1 tsp. Baking powder
½ tsp. Salt
10-12 Snickers candy bars
8×8 or 9×9 baking pan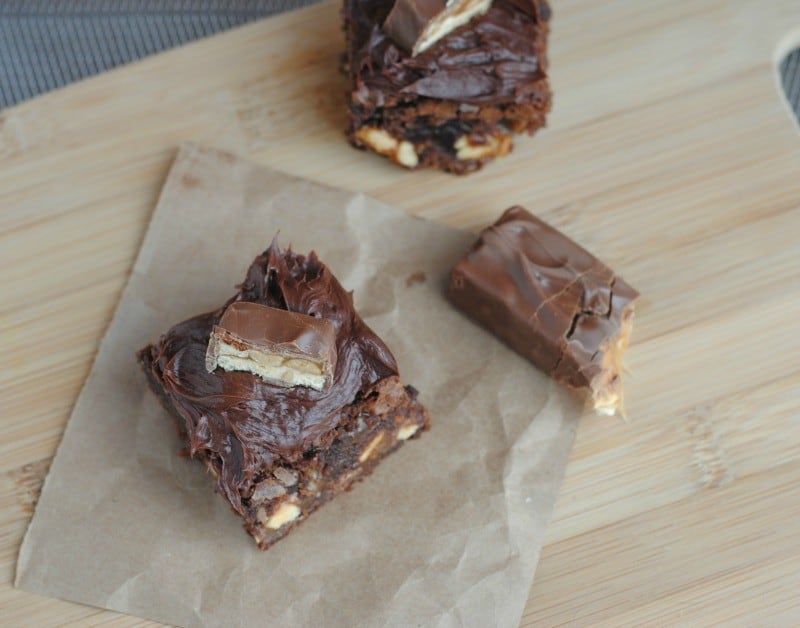 Frosting ingredients –
¼ C. butter or margarine, softened
1/3 C. cocoa
2 C. powdered sugar
1 tsp. Vanilla
3 tbs milk
Directions –
Preheat the oven to 350 degrees. Line your 8×8 or 9×9 baking dish with foil and spray with a non-stick spray.
#1. Combine the flour, cocoa powder, baking powder and salt. Set aside.
#2. In a microwave safe bowl, melt the butter and chocolate in 15-20 second increments, stirring until completely melted. Let cool 2-3 minutes.
#3. In another bowl, combine the eggs, sugar and vanilla. Add in the melted chocolate mixture and then slowly add in the flour and cocoa mixture and mix well.
#4. Pour enough of the batter into the bottom of your baking dish just to cover the bottom. Spread with a spoon or spatula if needed.
#5. Lay the Snickers bars on top of the batter about 1 centimeter a part – you will need about 8 bars for the entire pan and may need to break 1 or 2 in half. Once all the candy bars are in place, pour the rest of the batter over the top and bake for 25-30 minutes. Insert a toothpick around 25 minutes to check them. If it comes out 'clean' they are done.
Let the brownies cool completely.
Frosting directions –
#1. Combine the cocoa powder, butter, sugar and vanilla. Slowly add in the milk 1 tbs. at a time. You may want to add in more milk depending on how thick you like your frosting. Using a hand mixture, beat on high for 2-3 minutes.
#2. Once the brownies have cooled completely, lift the foil out of the pan (love the super easy clean-up!) Evenly spread the chocolate frosting over the top of the brownies.
#3. Cut into *12 squares. Break the rest of your Snickers bars into quarters and gently press one into the top of each brownie. **You could double the servings by cutting the the pan into smaller size squares – 24 if desired
*Makes 12 servings is cut into 12 squares – 1 square = 1 serving. Store in an airtight container up to 1 week
 Come link up your recipe or check out some others'!
Snickers Brownies
Author:
Prep time:
Cook time:
Total time:
From scratch brownies with snickers and frosting
Ingredients
¾ C. flour
2 C. semi-sweet chocolate
2 tbs cocoa powder
4 tbs. butter
3 eggs
1 ½ C. sugar
½ C. packed brown sugar
1 tsp. Vanilla extract
1 tsp. Baking powder
½ tsp. Salt
10-12 Snickers candy bars
8×8 or 9×9 baking pan
Frosting ingredients –
¼ C. butter or margarine, softened
1/3 C. cocoa
2 C. powdered sugar
1 tsp. Vanilla
3 tbs milk
Instructions
Preheat the oven to 350 degrees.
Line your 8×8 or 9×9 baking dish with foil and spray with a non-stick spray.
Combine the flour, cocoa powder, baking powder and salt. Set aside.
In a microwave safe bowl, melt the butter and chocolate in 15-20 second increments, stirring until completely melted. Let cool 2-3 minutes.
In another bowl, combine the eggs, sugar and vanilla. Add in the melted chocolate mixture and then slowly add in the flour and cocoa mixture and mix well.
Pour enough of the batter into the bottom of your baking dish just to cover the bottom. Spread with a spoon or spatula if needed.
Lay the Snickers bars on top of the batter about 1 centimeter a part – you will need about 8 bars for the entire pan and may need to break 1 or 2 in half.
Once all the candy bars are in place, pour the rest of the batter over the top and bake for 25-30 minutes. Insert a toothpick around 25 minutes to check them. If it comes out 'clean' they are done.
Let the brownies cool completely.
Frosting directions –
Combine the cocoa powder, butter, sugar and vanilla. Slowly add in the milk 1 tbs. at a time. You may want to add in more milk depending on how thick you like your frosting. Using a hand mixture, beat on high for 2-3 minutes.
Once the brownies have cooled completely, lift the foil out of the pan (love the super easy clean-up!) Evenly spread the chocolate frosting over the top of the brownies.
Cut into *12 squares. Break the rest of your Snickers bars into quarters and gently press one into the top of each brownie.
**You could double the servings by cutting the the pan into smaller size squares – 24 if desired.
*Makes 12 servings is cut into 12 squares – 1 square = 1 serving. Store in an airtight container up to 1