Once upon a time, my kids were itty bitty and had all the confidence in the world. "I can do ANYTHING!" has been shouted many, many times in this household. I'm sure it has in yours, too. And somewhere along the line, the shouts of confidence in the ability to do/sing/say/try/read/jump/play whatever, finally wavers, and for some, falters so long they lose their confidence. We could talk about how and when this happens on another day, but I'm not a psychologist and I don't pretend to be one. This post about helping boys have confidence is sponsored by Mirum, but opinions expressed are my own.
Building Confidence in Boys
What I DO know, is that I'm a mom to three children. Three very different, unique, and wonderfully amazing children. Three children who have each faltered in their confidence a little or a lot, as many kids do. As their mom, as so many moms are, I'm all too aware of this and work to do what I can to help inspire confidence in my school-age son- I think because we moms understand all too well that it's important to keep building confidence in boys.
I'm not talking about constantly telling our boys they are the best or the fastest, smartest, strongest. I'm talking about building their confidence.  Just last month I was looking for books as resources or even workbooks for all three of my kids- for both girls, I quickly found many options. But books for boys? Nope. I did wonder if part of that was because people have come to assume that males have a natural confidence or simply just grow into it. But not all of our boys have a lot of confidence. Our son's confidence was shattered when he played on a team with toxic players, coaches and players' parents for three seasons in a row. It's taken us a full year to help him regain any of that confidence, and it makes my heart leap and soar as I see it coming back bit by bit. A whole new concept of pride, that's for sure!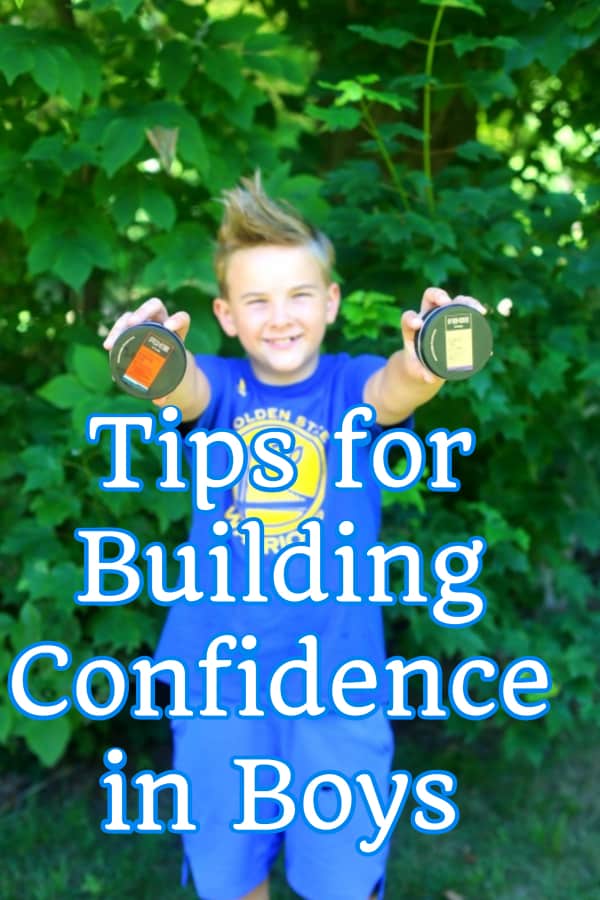 So how do you help in building confidence in boys?
Patience.
This is kind of the big huge generic answer to most things relating to parenting. But if your son falters in his confidence, you'll need patience to help him learn and rediscover that confidence.
Downplay the competition.
Seriously. Ok, so that kid is super fast. Maybe the fastest kid in town. But you are growing stronger and you are faster now than you were x time ago… We need to teach our boys that comparing ourselves to others isn't healthy! Someone who works hard can inspire us to work harder or strive toward a new goal, but we cannot ever become that person. Our son is still on the smaller size for his age, and he's very aware of it. We've worked really hard to instill in him that hard work and effort go far in life, with coaches and teachers, and he's finally seeing that pay off on his soccer team. He goes out and gives 110% at practice and at games. As others have seen his work ethic and dedication, I think he's become more able to realize that his size doesn't define him.
We also make a point to talk about how differently kids grow and change, especially in the middle grades right up through high school.  If you've seen middle school aged kids, you've seen some who look like full bodied adults, and some who look like they are in elementary school, and every size in between. No one can control when their bodies grow and change, and we need to remind our boys of this.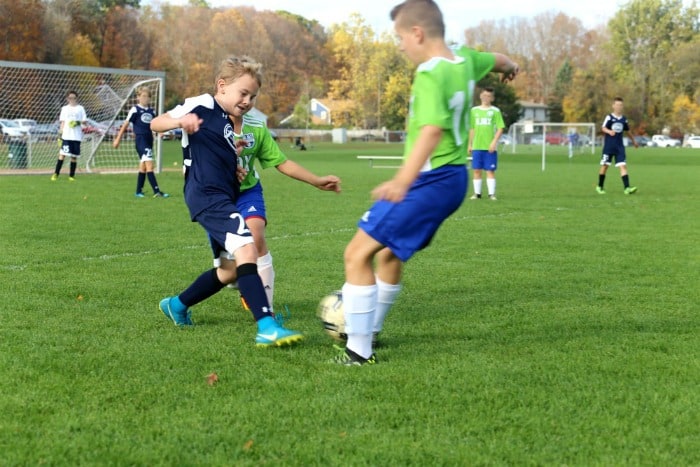 Skip the trash talk, and teach empathy.
Just because someone isn't a strong/tall/thin/muscular/fast/slow whatever doesn't make them less of anything. Trash talk benefits no one, and reinforces comparisons and competition needlessly. This also includes sportsmanship. No matter how happy your kid is to win a game, or a match, someone else had to lose, and that doesn't feel good. Especially with a close match! It's ok to let your son be excited to win, but encourage them to also be empathetic because they've been on the losing side at some point as well.
Let them have feelings.
It's ok for boys to cry. It's ok for men to cry, too. Crying is a release. Frustration, anger, grief? Even happiness can bring tears. For a long time, society has said that males shouldn't cry.  "Man up" "Toughen up" etc aren't helpful. Acknowledge the emotions they feel and help them to work through them.
Step back.
Way back. Yes, even you. They have to make mistakes in order to learn and grow. They have to fail sometimes. If we're always there to correct, they won't learn to do this on their own. Those successes they have after they fail are meaningful and they NEED them. Teach them and encourage them to keep trying, or to try another way to solve a problem. I'm totally guilty of this, myself, especially when my kids are disagreeing vocally within my earshot.
Goals are good!
Encourage your son to set goals, with some gentle guidance if they seem a bit far-fetched, and then let him work towards those goals. Remember, these aren't the goals we want for them. These are the goals THEY want to achieve.
Find what THEY like to do
Speaking of goals, let them explore their interests. Just because I was a big fan of athletics doesn't mean my son is. If your son really loves drawing and music, then encourage him to pursue those activities.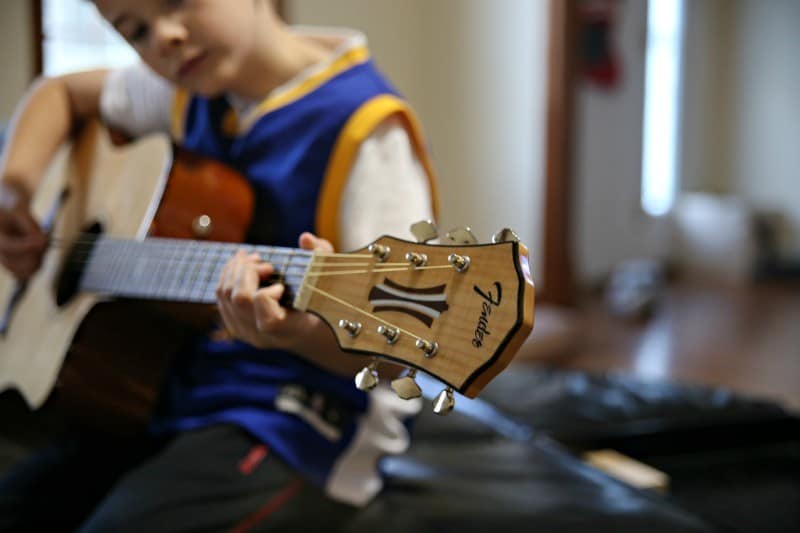 Give them chores.
Totally serious. From a young age, even. Toddlers are capable of walking their dishes over to a dishwasher and placing them in. Will they do it right each time? Nope. Does it matter? Nope. You can always put the plate right side up after they leave the room, but as kids have chores and tasks to do, they learn and grow and that helps build confidence. My kids grumble a lot about chores, but I've seen their faces when other parents comment on how helpful they are when visiting, or how amazed they are that the kids can make breakfast for themselves and others. That helps build confidence as well.
Self Expression
One of the hardest!!  Ready? Let them express themselves. This is a hard one. It's hard for me, with all of our kids. I still laugh remembering how one of my kids wore two different kinds of shoes for months in Kindergarten. It drove me bananas, but the support was the same and the shoes were the same height and I couldn't see a reason NOT to let them do it. The one thing I really let them have their own way with? Hair. Why? It grows back. It's not a permanent change, no matter how much we love/hate the color or the style…and it gives them a sense of control. I swear that my kids turn 10 and have this newfound obsession with scented products for hair and body, both girl and boy…and quite frankly, it's another way they can express themselves.  For boys, that always seems to be AXE products. (One of my nephews discovered AXE about 10 years ago and I still remember his stocking was full of AXE stuff, and I think he used it all.  At once.  Super expressive. He toned it down a bit after that and didn't mix scents quite so much!!)

Self care is important
A really big part of helping our boys to build confidence is to teach them to take care of themselves. It's sort of common sense, but is it? It's not innate, at least not from my totally unofficial observations through life. My son is only recently a willing participant in bathing and grooming, and it's fun to see him come down with his hair (style chosen by him and expressed to the stylist at the salon without my help) styled how HE wants it to look.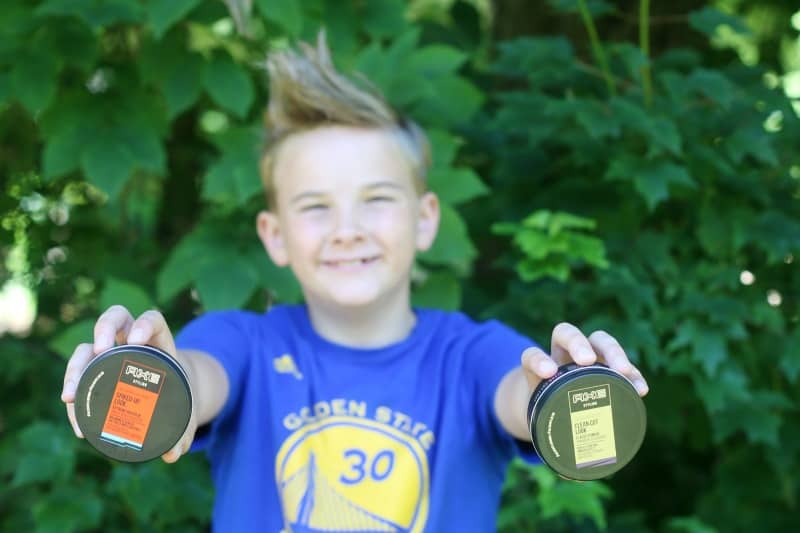 Right now, when we shop AXE for our boys,  a portion of that purchase goes to a great cause—Ditch the Label, an anti-bullying campaign that helps build confidence in young men. PLUS, this summer, AXE style could help you win, too! By reposting a look you thinks would look great on your son to Instagram using #shopritesweepstakes and #AXEpressYourself, you'll be entered for a chance to win the grand prize: a $500 gift card to Foot Locker and an AXE swag
bag—with everything your son needs to feel and look his best.
When you purchase AXE products at ShopRite stores, you're supporting the AXEpress Yourself Ditch the Label Program. It begins on 5/21/18 and ends 8/26/18. For each purchase of an AXE Styling product at ShopRite,
AXE will donate $0.25 to Ditch The Label, to combat bullying, with a guaranteed min
donation of $50k and a max donation of $125k.**
Enter the sweepstakes for a chance to win a $500 gift card to Foot Locker and an AXE swag bag with everything your child needs to feel and look their best. All you need to do is repost a photo of a brand approved AXE model who's sporting a hairstyle you'd like to see on your son (or give your son the tools to create on his own) using #shopritesweepstakes and #axepressyourself to both trigger entry and a donation to
Ditch the Label. Two additional winners will receive a $100 ShopRite gift card and a bag
of AXE styling products.
To recap: you get AXE stuff for him at ShopRite, and they make a donation to Ditch The Label. Also, when you decide to reshare one of the AXE models' photos from you'll get an entry into a pretty AXEtastic sweeps and trigger a donation to Ditch The Label as well!

Find AXE products in the hair aisle of your local ShopRite (or grocery)
AXE Natural Look Understated Cream:
Create natural, relaxed styles without looking like you tried too hard. Lightly
holds for an effortless look.
Hair cream, also known as styling cream, adds a subtle, natural-looking shine to
hair
AXE Natural Look Softening Cream:
Get that casual style (without looking like you tried too hard). Effortlessly create
natural looks, that stay put all day.
AXE Messy Look Matte Wax:
Finally, effortlessly great hair that lasts all day. Get epic hold, texture, and
definition without the shine or hard crunchy feel.
A messy, matte, bedhead needs a product that's light, but still gives hold:
nothing's worse than a surfer-style look that can't handle the wind.
AXE 3-in-1 Total Fresh:
Shampoo + conditioner + body wash. Clean superior style from head to toe. This is a favorite of my son and my husband too because it's everything in one! Plus it leaves more room in the shower for my many products…
Finish your look with Axe styling products.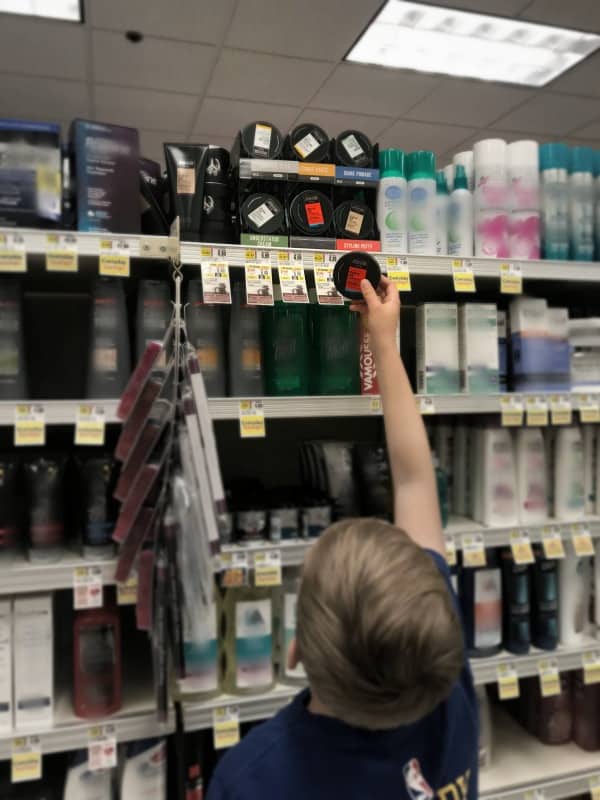 The AXEpress Yourself Ditch the Label Donation Program begins 5/21/18 and ends 8/26/18. For each purchase of an AXE Styling product at participating retailers, AXE will donate $0.25 to Ditch The Label, with a guaranteed min donation of $50k and a max donation of $125k. Void where prohibited. Complete donation terms available at www.axe.com/axepressyourself. Offered by Conopco, Inc. d/b/a/ AXE. Information concerning Ditch the Label, including financial, licensing or charitable purpose may be obtained, without  cost, by visiting https://us.ditchthelabel.org/.