I've been really wanting to get back into doing crafts again.  It's been a long while since I've really delved into any kind of creative expression and I've missed it. It's almost like a therapeutic activity! Kohls recently contacted me to see if I'd be willing to try out the new Cricut Explore Air machine (um, you don't have to ask twice?!) and make a craft of sorts for Mother's Day.  Now, I did do a craft for Mother's Day. But it's for me, myself and I.  Or my house anyway. I loved it too much to give it away…although were my mom still here, she would not only want one for her house, she'd be wanting to do a whole bunch of other crafts.  This one combines some of my favorite craft materials of late… burlap, buttons AND trees. I call it the button tree burlap canvas and I love it!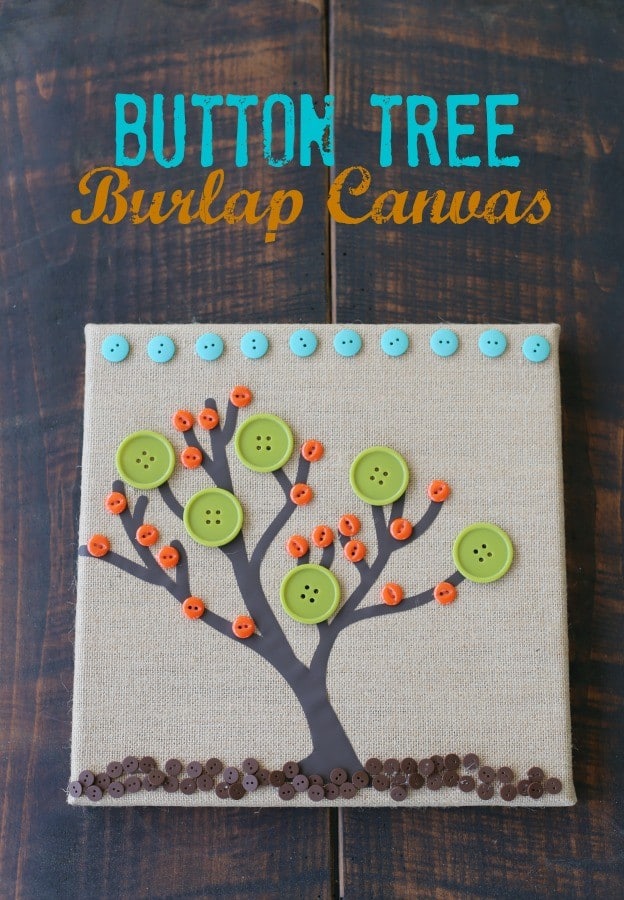 Want to make a burlap canvas for your house?
Materials
Grab a 12×12 burlap canvas (You can probably do any size, I'm just liking squares lately
Brown self-stick vinyl roll
assorted buttons – your choice of colors
Cricut Explore Air (or whichever Cricut you have)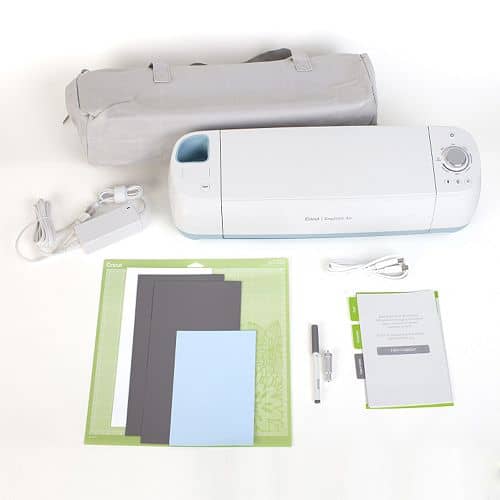 Glue gun, glue sticks (I used 2 1/2 small sticks for this project)
Standard grip cutting mat
Newspaper (unless you have a craft table… mine is my kitchen table or counter)
Instructions
Decide on your tree design/shape.  I'm pretty new to this crafting realm so I went with a simple tree from Cricut. I wanted simple and clean, so the tree could be a base for the buttons to really pop.
Figure out the size your tree will be on the mat- I chose to go with it just a hair over 10 inches wide (the mat is 12 inches wide, like the canvas and I didn't want it to overwhelm things)
Trim and lay your vinyl onto your Cricut Standard Grip Mat and load it into your machine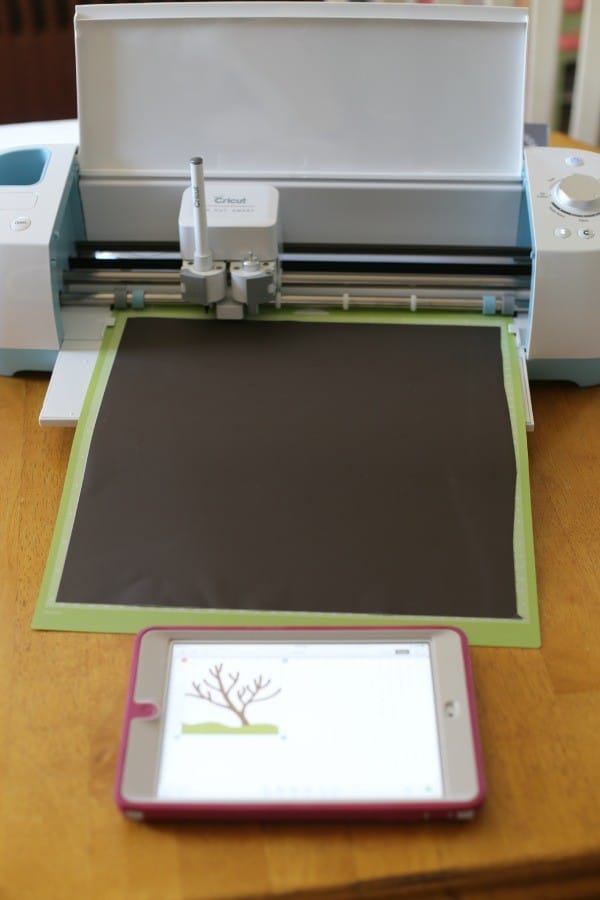 While your vinyl is cutting, get your glue gun warmed up
Once your vinyl is finished cutting, unload it from the machine and remove it from the cutting mat carefully.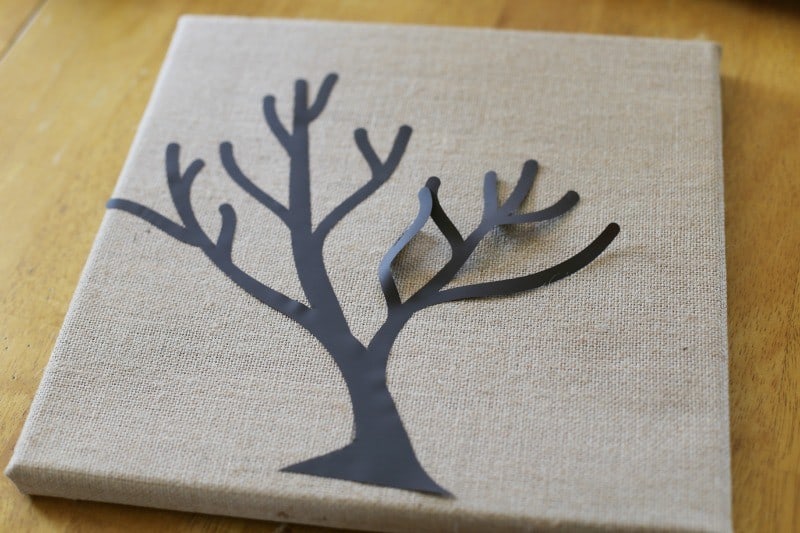 Before removing the backing of your tree shape, figure out exactly where you want to place the tree on the canvas.  Remove paper backing and adhere to canvas.
After your tree is mounted on the canvas and you're happy with where it's placed, grab your  buttons and have fun placing them.  I recommend placing them where you want them and gluing once you're happy with the look.

Hang on the wall or place on a shelf and voila! Beautiful, simple and fun craft.  Perfect to surprise that special Mom in your life for Mother's Day, or for your own house.  If you have space where you are placing the canvas on the wall to do a family quote, I think that would look great as well- we do not have the wall space as this will be on a shelf .
I am loving the Explore Air machine.  First and foremost, with the "air" function, I can go wireless, so I can keep the machine off to the side near my computer desk.  It's bluetooth enabled.  I can design on my iPad, my laptop or computer (or my iPhone), and as long as I'm in range to the machine, I can get things going wirelessly.  Pretty cool feature.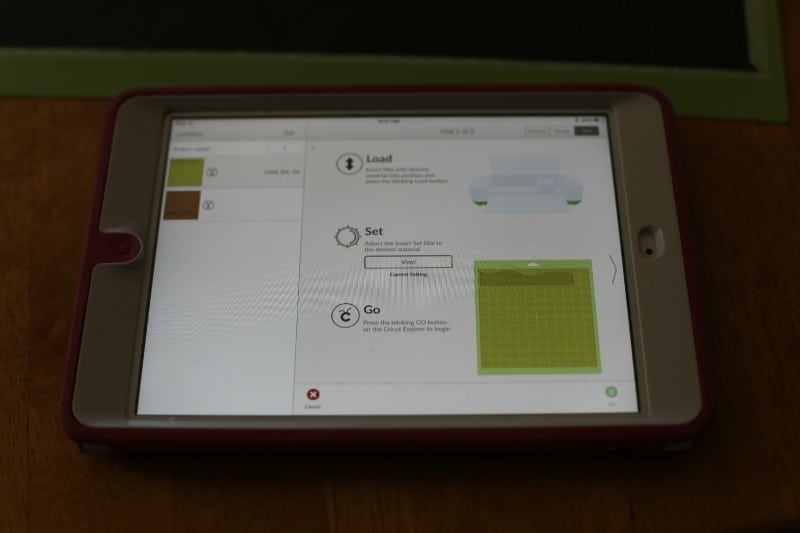 Since Cricut uses cloud storage, I can start a design on my laptop, work on it, say, while the kids are at gymnastics on my iPad, and come home to finish up and execute the craft on anything I want! That versatility makes the extra cost of bluetooth functionality worth it for me. I cannot always sit at home and play around to make cards, signs, crafts, boxes, etc., but when I'm at gymnastics for team practices for 3+ hours in a row?  I absolutely can.  I'm just not going to bring a full craft room of supplies with me.  Being able to at least work on and design what I want makes my life a whole lot easier. Plus, crafting is usually pretty relaxing- its nice to have something I can *do* while out that's still helping me cross items off that never-ending to-do list. Cards, invitations, banners, and this whole new world of window clings and vinyl…. paper crafts… I can do "allthecrafts" "allthetime"!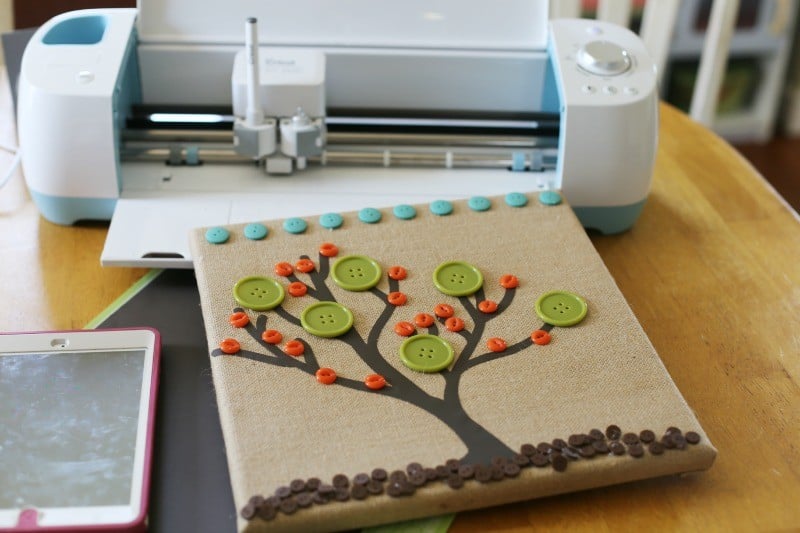 (Please excuse the finger prints on the iPad, this is what things really look like when you have kids in the house…)
The Cricut Explore Air Machine at Kohls comes with

PRODUCT FEATURES

Embedded Bluetooth allows for wireless cutting.
Dual cartridge lets you cut & write or cut & score at once.
Upload your own images for free to personalize your projects.
Explore Air machine cuts through a wide variety of materials.
Smart Set dial provides one step material setting.
Integrated storage compartments keep your space organized.
Free Cricut Design Space online software & iPad app offer more patterns to cut.
Cut Smart precision cutting creates a clean line every time.
Cricut Explore Air Machine works with all Cricut cartridges.

WHAT'S INCLUDED
Cricut Explore Air Machine

Storage bag

USB & power cords

German carbide premium blade

12" x 12" StandardGrip cutting mat

Accessory adapter

Metallic silver pen

Cardstock sample

Iron on sample

50+ free projects, 100 + free images

Getting started guide
What are YOUR favorite Cricut crafts?  And how excited are you that Kohls has so many fun craft supplies available online now?