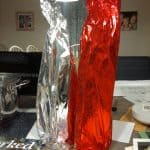 When the delivery guy dropped off my California Wine Club shipment, I had a suprise waiting.  When I opened the box, my wine bottles were WRAPPED festively!!  My first presents of Christmas 2011!!  Yet another pair of wonderful selections from the folks at California Wine Club, allowing Mr. Bargains and I to enjoy some really nice wines without the headache (for us) of trying to figure out what to buy.  I have to note, that previously, my husband VERY rarely even sipped wine.  Rarely like once every few years.  I think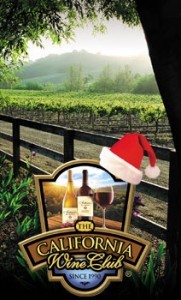 the only wines he tasted were maybe from when we were more fresh out of college without a dime to spend nor a clue…but he's actually been enjoying wine the past few months and it's been really quite nice to sit by the fire and sip wine together.  It's almost like we're real adults.  Almost.
If you have a wine lover or a wanna-be wine afficionado on your holiday list, I really do think that a membership to California Wine Club might be the perfect gift for them.  The wines come very well packaged each month, hand picked by the folks who run the club, and are very likely coming from wineries and vineyards that your gift recipient hasn't encountered before, which adds a dimension of adventure to the gift.  I'm hoping someone would consider this for ME!!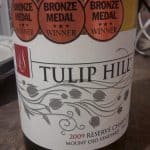 This month, we received wines from Tulip Hill– a 2009 Tracy Hills, Mount Oso Vineyard Reserve Chardonnay which we enjoyed with our Thanksgiving meal, and it was delicious.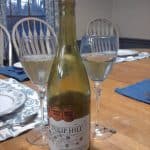 A very nice pairing.  I'm still not super savvy when it comes to wines but there's a lot of fruity goodness swirling around in each sip of this Chardonnay.  I guess you can tell we enjoyed it since half the bottle was gone in this photo, and dinner wasn't yet begun…
Our other selection this month was Tulip Hill's  2009 Tracy Hills, Mount Oso Vineyard Cabepulciano- which intrigued me from the get-go because it has hints of dark chocolate.  Wine and chocolate paired together, even a tiny bit?  Yes please!!   This wine has a bit of a spice to it- which I'm starting to learn means it will pair nicely with a heartier meal, which is just perfect as we're settling into the start of an inevitably long, cold winter.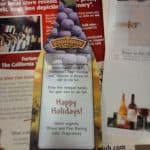 I'm still not 100% sold on red wines, but I'm opening that door just a tiny bit more as I'm exploring new wines and flavors.  That's why I like this wine club so much- for as little as $49.99 a month you can have 2 bottles of hand-selected wines chosen by regular, normal folks like you or me (and not the highest bidder, or lowest bidder?) delivered to your door.  Guesswork?  Gone. Thing of the past.  New wines at affordable prices that you maybe never would have heard of otherwise?  Every month!!  As a bonus, the "Uncorked" newsletter accompanying each shipment has information about the winery the wines are from, plus pairing suggestions and recipes.
Don't forget that you can save 10% on your order by entering the code mamaloves at checkout!
Plus, how cool is it to be all "Oh, hang on, I have to go sign for my monthly wine shipment" when you are on the phone with a friend?
I received  a three month membership to California Wine Club through my affiliation with Mom Spark Media.  Opinions are my own.
0