Can teens use Invisalign? Can tweens?
My child is receiving complementary Invisalign® treatment, but all opinions expressed are my (and her) own.
When I was a kid, I had braces not one but twice. Not for any reason but orthodontist #1 had said "go ahead and toss the retainers after 6 months, you won't need them anymore" and guess what? My teeth went right back to where they were. About 18 months later they went on again and stayed on for 2+ years. I hated them, especially playing field hockey with a mouthguard! I was forever getting something loose and it would poke and irritate my mouth. I'm happy my parents were able to get my teeth straightened out and give me a nice smile, but I wished so often there was another way.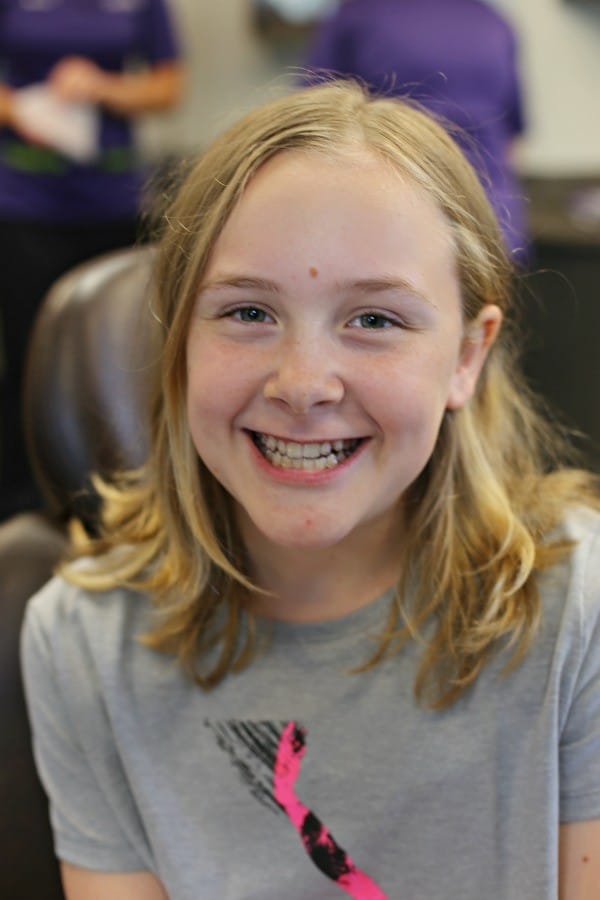 Now we're decades (only 2, right?) later, and I have kids of my own that are needing some work done in their mouths. My oldest finally lost the rest of her baby teeth and we were SO excited to learn that YES, she was able to do Invisalign treatment even not being quite 12 yet!  She has a crossbite, a gap and some other issues and our provider told me that Invisalign treatment can effectively treat this condition. I was delighted. She was too, although she did ask a few times if they could do  "purple" Invisalign® clear aligners. I think she missed the 'clear' part of what this teeth straightening system is about… at least at first. She is really quite pleased with her "trays" as we call them, and has been really diligent about wearing them as needed.
Can teens use Invisalign? Or Tweens?
Now, you might be wondering if your teens can use Invisalign, or if your tween can use Invisalign. The short answer? Yes, it's possible. But you will want to speak with an Invisalign provider to find out if you're a candidate. to find out specifically if your child's orthodontal needs can be met with this program. I encourage you to do so, because this experience has been such an easy and pleasant one for both myself and my daughter! **Just like with any other medical treatment, doctors may have different opinions.  Consider getting a second opinion if you are told you are not a candidate for Invisalign treatment.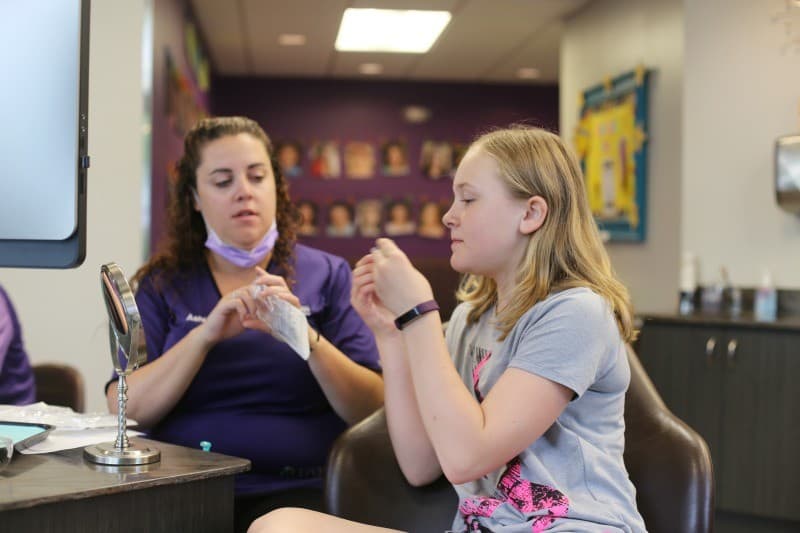 Aesthetics
The look of clear aligners is pleasing to my child when she looks in the mirror. She removes her aligner trays to eat or drink, and brushes them again before she puts them back in, so there's no worry of food getting stuck in the brackets or wire and not realizing it until later. She feels confident because people can hardly tell when she's wearing her Invisalign clear aligners. She's in middle school, and it's hard enough to feel like you aren't sticking out. This helps with her confidence.
Am I going to be at the orthodontist every week? Every month?
Life isn't dictated by frequent orthodontist appointments. Our son is actually in the middle of a "phase 1" of treatment and is in traditional braces, so we're seeing day by day the differences and I can tell you, the 12 year old is very happy she's not going to appointments as frequently as her brother, or running out of wax or goopy goo when springs or wires start. She has several weeks worth of the aligners that come home from an appointment with us and she swaps them out on Thursday mornings. She's going about half as often as her brother does for appointments.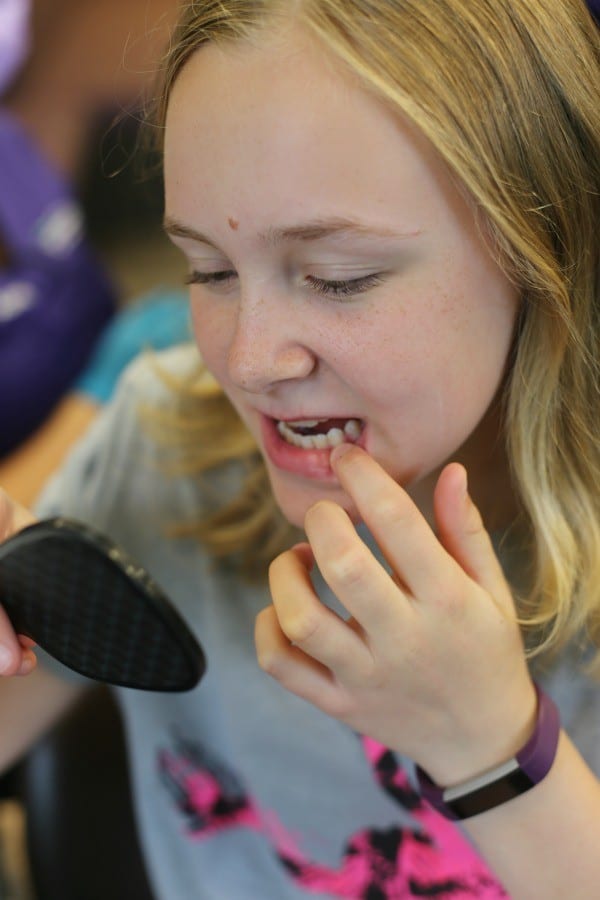 Does Invisalign Teen cost more than traditional braces?
Nope! It's about the same cost as 'regular' braces. Be sure to check with your dental insurance policies- some, like our own, will cover this treatment, which means up to 50% of the cost could be covered by insurance. Our dental insurance has a flat amount per person that covers orthodontal treatment, so we can opt to do traditional braces or Invisalign. If you have a healthcare savings account, you can also apply those monies toward your treatment as well.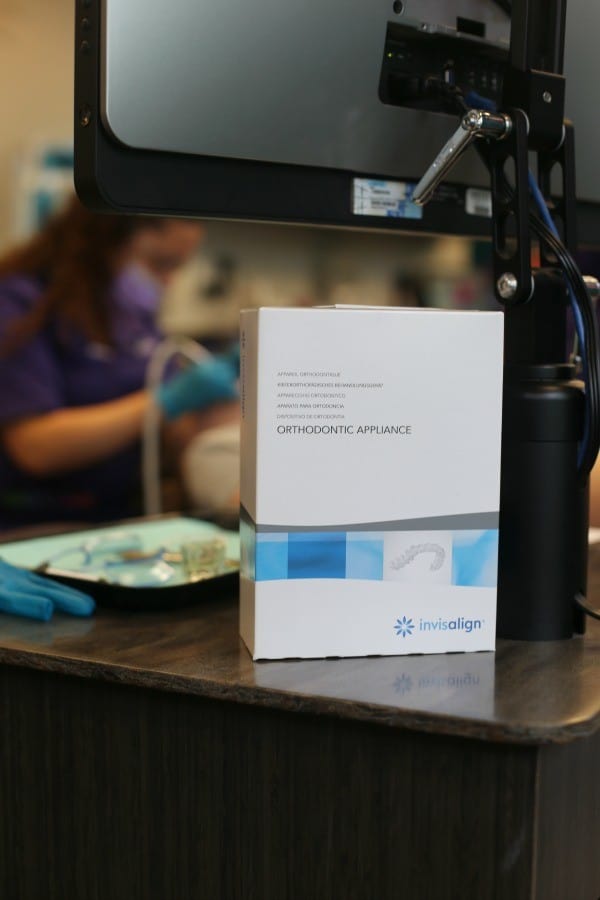 Will most people find that they have less pain wearing Invisalign aligners than traditional braces?
Most people find that they have less pain wearing Invisalign aligners than traditional braces. My daughter fits in that "most people" category as well.
Are there restrictions on what you can eat when you're having Invisalign treatment?
Aside from the basic rules of things you shouldn't eat because they aren't good for your teeth regardless, there's no restrictions. Since the clear aligners are removed to eat or drink anything other than water, all of the things that are taboo with traditional braces are still (literally and figuratively) on the table during Invisalign treatment! Popcorn, anyone?
Connect with Invisalign Teen on social
Website ● Facebook ● Twitter ● Instagram ● YouTube
We'll be sharing our experience with how we got started with the Invisalign Teen program- it's a really cool process and this mom found it fascinating!
Have you thought about having your teens use Invisalign? Or tweens?
0