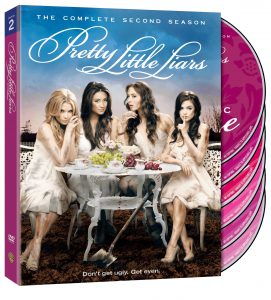 Pretty Little Liars: The Complete Second Season  comes out on DVD June 5th! (Coincidentally the same day that season 3 premieres)  I can't believe it's out on DVD already, but I'm glad- I didn't get into this show until late in the game and I've missed a lot that I want to catch up on.  It's like a nighttime soap opera! I can't wait (of course my birthday just passed, but I may have to treat myself…) to have season 2! The drama, suspense, twists and turns and stories unfolding…questions start being answered (but not enough! what will season 3 bring??)
The drama continues in Pretty Little Liars as season two begins moments after the explosive season one finale. The girls are the talk of the town — and not in a good way. Surprises and challenges will be in store for each this season, and "A" may succeed in her quest. Whoever said that change is good has never visited Rosewood, PA … or come across four pretty little liars. Loaded with behind-the-scenes featurettes, unaired scenes and a hilarious gag reel, Pretty Little Liars: The Complete Second Season on DVD is a must have for any PLL fan.
Can you 'Find the Pretty Little Lies?' Leading up  to the release of Pretty Little Liars: The Complete Second Season on DVD is a fun online promotion which entails video clips from the second season. The challenge will be to guess who said specific lines or to find hidden characters from within the season for a chance to win Heather Belle Bags, Accessories and DVDs Signed By The Cast. Um, winning bags?  Sign me up please! I never say no to a chance to win a great bag!! Not me!!   There are different lies to discover each week, and different prizes for the pretties who uncover them.  FUN!
Let me know if you enter- and especially, if you WIN!  
"I have been hired by Warner Bros WBWord division to raise awareness for Pretty Little Liars."