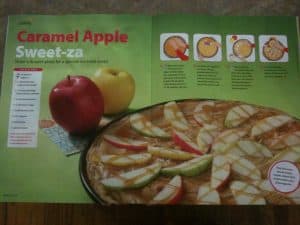 In the last issue of American Girl Magazine, there was a recipe my daughter could not wait to try.  Caramel Apple Sweet-za, a dessert pizza. Oh my goodness.  This is the sweetest pizza you will ever try!!  It is delicious, although you won't be able to eat very much- it's rich, sweet and filling so a small slice will suffice. This would be so much fun for a sleepover treat!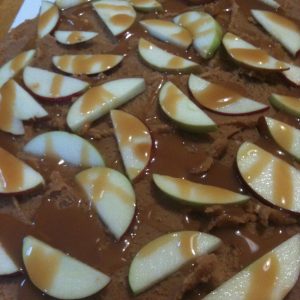 Caramel Apple Sweet-za
Ingredients
1 tube/roll  refrigerated sugar cookie dough
3 apples, sliced thinly
caramel dessert sauce
1 8oz package cream cheese (softened)
1/2 cup peanut butter
1/2 cup brown sugar (we used 1/4 cup and it was fine)
2TBSP milk
lemon juice
Directions
Preheat oven to 350.  Remove cookie dough from packaging and roll/press into a greased cookie sheet or pizza pan (we don't have a pizza pan, so ours was more oblong in shape. Still delicious).  Bake for 15 minutes.
While "dough" is baking in the oven, slice the apples – toss them with a bit of lemon juice to keep them from browning.  Then mix milk, softened cream cheese, sugar and peanut butter in a bowl.
Remove pizza from pan (we put onto a serving platter) and let cool a few minutes.  Then spread the sauce, lay apples on top, and drizzle with caramel sauce.
Enjoy!
I found this recipe in American Girl Magazine, which arrived in our mailbox as a surprise.  Opinions are my own.